For me, magic doesn't usually require waking up an hour before my work day morning routine, but when you save an hour waiting in line for Space Mountain, it definitely feels like the right decision.
Since moving to the Bay Area just over 10 years ago, I have made many trips down to LA but never quite made it to Disneyland. We typically would leave at earliest on Friday afternoon and drive back to be at school or work on Monday morning, so we never found the time to make the price of admission worth it. However, my cousin Owen's high school graduation was on a Wednesday, so since we had to dip out in the middle of the week, we extended our vacation through the following weekend and cut out a day to spend at Disneyland.
Knowing how much there is to do in so short a time, we deferred to Owen to plan out the perfect, most complete Disneyland experience possible. The first step was waking up at 5:30 to be at my uncle's place by 7 to arrive by 8. The last step was seeing the Fantasmic show at 10:30 just before the park closed. Everything in-between would be magic.
And how do you make a magical, seemingly unique experience for an estimated 44,000 people a day? Details. There are a lot of ways to have fun, but it only takes a minor frustration to dispel the magic. A rude employee. A dirty bathroom. Getting lost. I think that's what impressed me the most.
Starting from parking, we had nice big, colorful, memorable signs to remind us where we had left our car.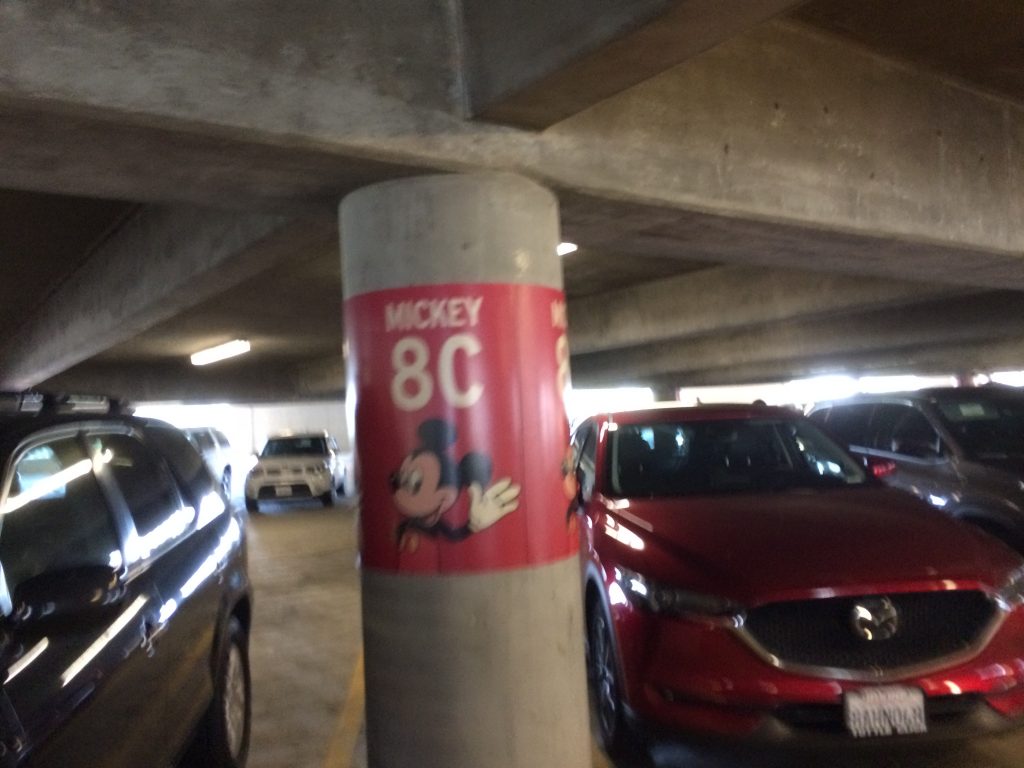 We started in Tomorrowland to do Space Mountain while the lines were still short in the morning. We walked up into the plaza where we could see the area where the line would loop back and forth later during the day, which we thankfully avoided. As the line moved forward, I noticed another nice touch of adding a water fountain in the line to tackle another basic human need.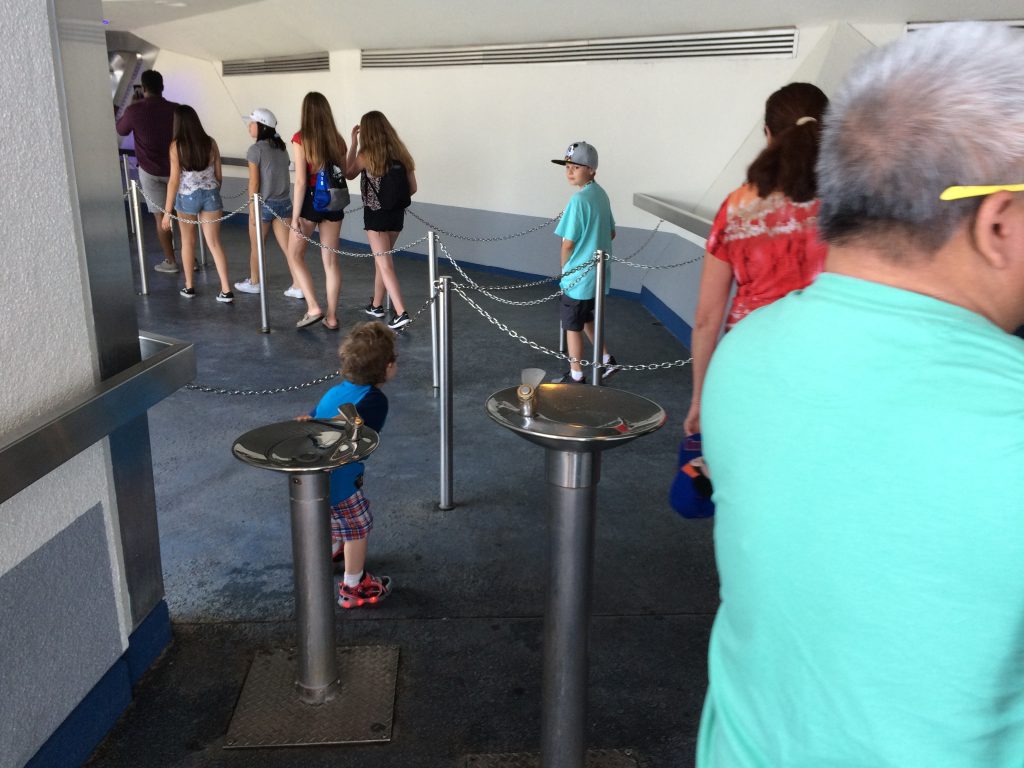 We next did Astro Blasters where Julie decisively outshot me, then my favorite ride of the day, Star Tours. I'll skip the pictures and details so that others can still enjoy a fresh experience. However, I'll note that I thought the experience waiting in line was almost as much fun as the ride itself. That is probably the closest I have ever come to living Star Wars.
Afterwards, we went through several other lands riding Thunder Mountain, Pirates of the Caribbean, the Haunted Mansion, and Winnie the Pooh. In between, we stopped at the Golden Horseshoe for lunch where I had a decidedly muggle-ish experience of eating amusement park food. Despite the extra effort put forth everywhere else to do better than other parks, I found the food just fine. Presumably they do it to manage the quantity of guests quickly. I would assume that they have done studies to understand the guest priorities and decided to invest elsewhere. That's a mystery to me.
Next, we went into Adventureland, where we rode Indiana Jones Adventure. We had been warned that the ride frequently breaks down, and while we were in line, it did indeed break down, but it was okay because we were standing inside the Temple of the Forbidden Eye and enjoyed the cool air and ambience.
We got Dole Whip Floats just outside the Enchanted Tiki Room, an animatronic musical show put on by birds. For a frozen dessert, Dole Whips are a big deal, and the word-of-mouth marketing worked because I was excited to try it. Although the line was slow due to inefficient payment processing, we enjoyed both the pre-show and blatant Dole propaganda. The Tiki Room itself was also great. Wikipedia explains that they have renovated the experience several times since 1963 to keep up with better technology, but the concept is still the same, and that has held up great.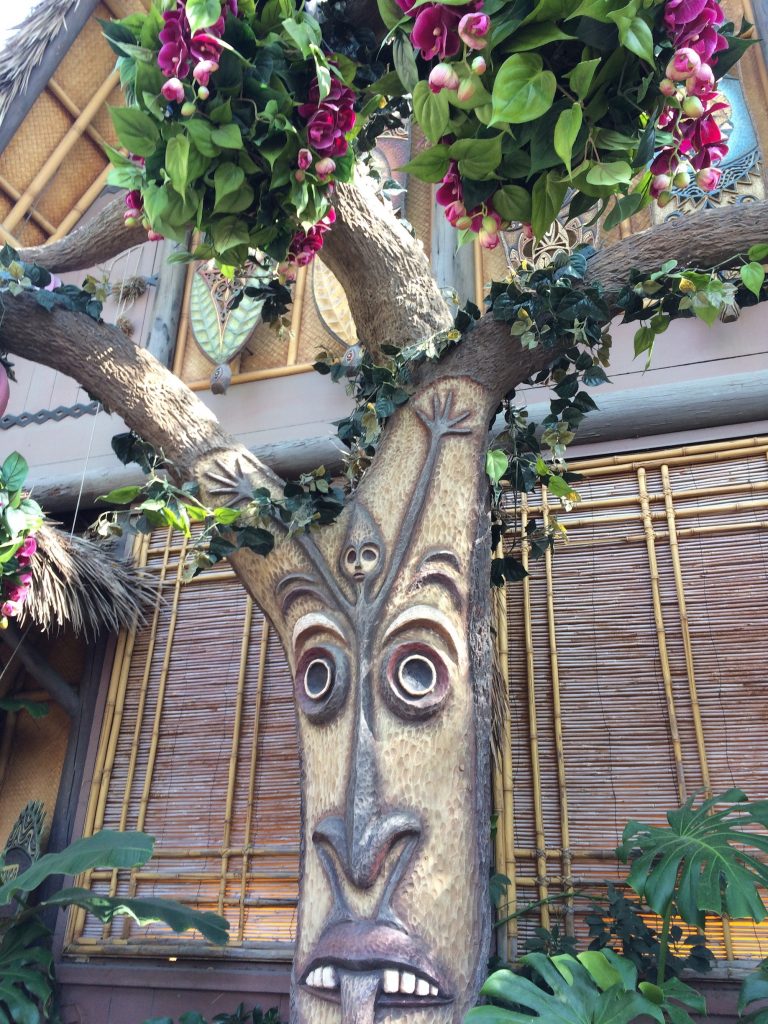 We saw a live musical show in an amphitheater then found a spot to watch to watch the evening parade. Parades and fireworks are special occasion entertainment everywhere in the world except in Disneyland, where everyday is a special day for many of their guests.
In the evening, we first rode the Matterhorn, which had a brutally long line that at least had an announcement with a hilariously bad German accent at the end. I was surprised on the ride by the appearance of the Abominable Snowman not because it didn't fit but because I thought he took up residence in the Himalayas, not the Alps. He must be on vacation in Disneyland, too.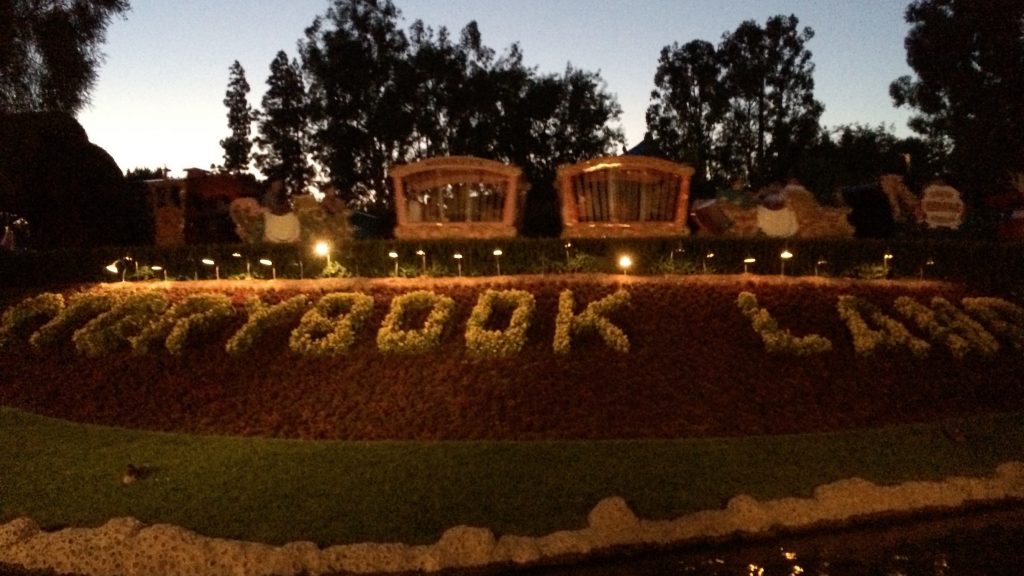 We finished up with Storybook Land and the Jungle Cruise, which were similar as boat tours but remarkably different experiences because of our guides. We journeyed through Storybook Land with an older guide who gave a calm, clear, serious explanation of each miniature scene. We went on the Jungle Cruise with a younger, enthusiastic guide who only told jokes the entire time. I was impressed by how well-rehearsed she was: I assume that she tells the exact same jokes every 10 minutes for hours everyday, and she still sounded energized and loose. That's real magic.
Fantasmic was a great show to cap of the night, and they did a great job with logistics. Even with guests waiting on walkways, they had plenty of staff directing traffic with lights to keep the crowds moving or positioned as necessary. They have plenty of practice, but so do sports arenas, and I thought it was far smoother here.
And our Disneyland adventure ended at 11PM, a full 14 hours of fun later. Many people complain about the crowds and lines, but I thought the pacing was largely good. Much of the credit goes to our guide Owen, but for an amusement park experience, I didn't mind the waits. I have learned to take breaks in museums, and I think I need breaks in amusement parks to fully enjoy the experience. And the crowds make for great people watching as well as a communal sense of experiencing this together.
The following day, we talked about our Disneyland experience extensively with others, and I learned that LA residents are generally very familiar with Disneyland. I like to think I would remember the rides and experience well enough, but everyone seemed very fluent in the experience as we described our day. I guess the magic follows guests out of the park as well.