In various aspects of life, I have experts that I trust implicitly. Ialways look at the Wirecutter first for product reviews. I didn't miss Obama's summer reading list. And in cooking, I just do whatever Kenji says.
Mostly. I appreciate that Kenji believe that taste is subjective and that you should always experiment, but more often than not, his techniques and recipes have yielded great results for us. They aren't always conventional, but when he does something wacky, it's for a very good reason.
I don't think he has published much on cookies, but he did come up with his best chocolate chip cookie, so I knew I would make it one day.
Of course, I haven't made it up until now because I rarely brown butter. It isn't hard, but I mostly use nonstick pans with black finishes that make it hard to judge the color of the butter.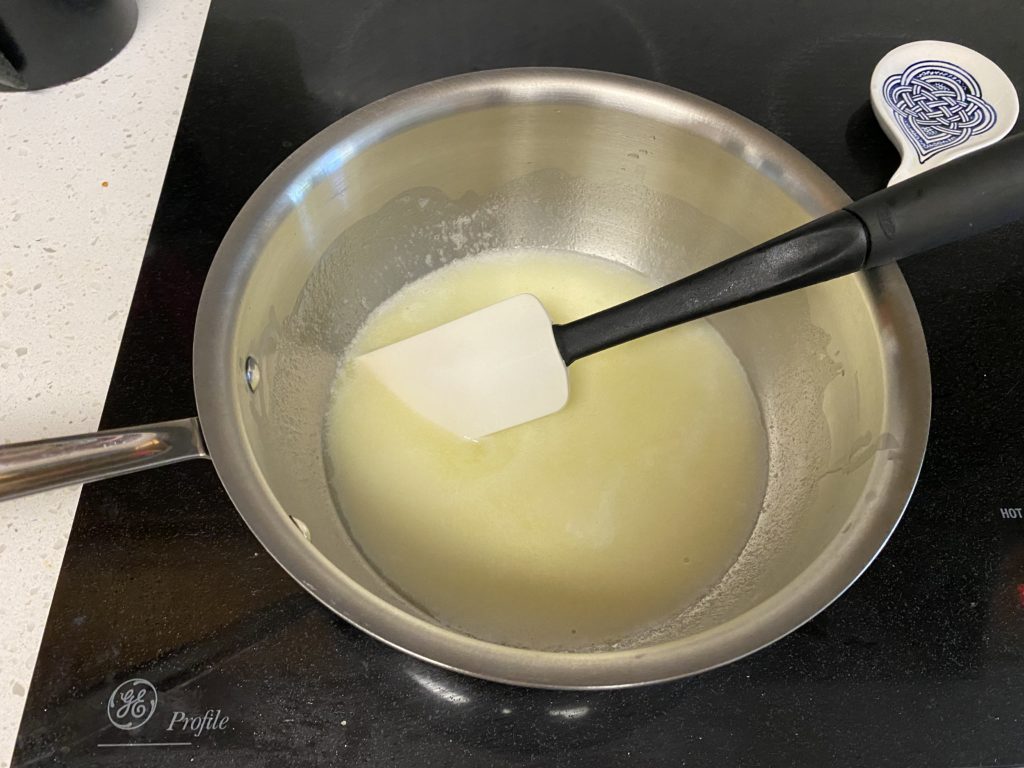 However, we recently got a stainless steel saucier to replace the saucepan I have been making oatmeal in for years. Turns out it's a lot easier to watch the butter brown now.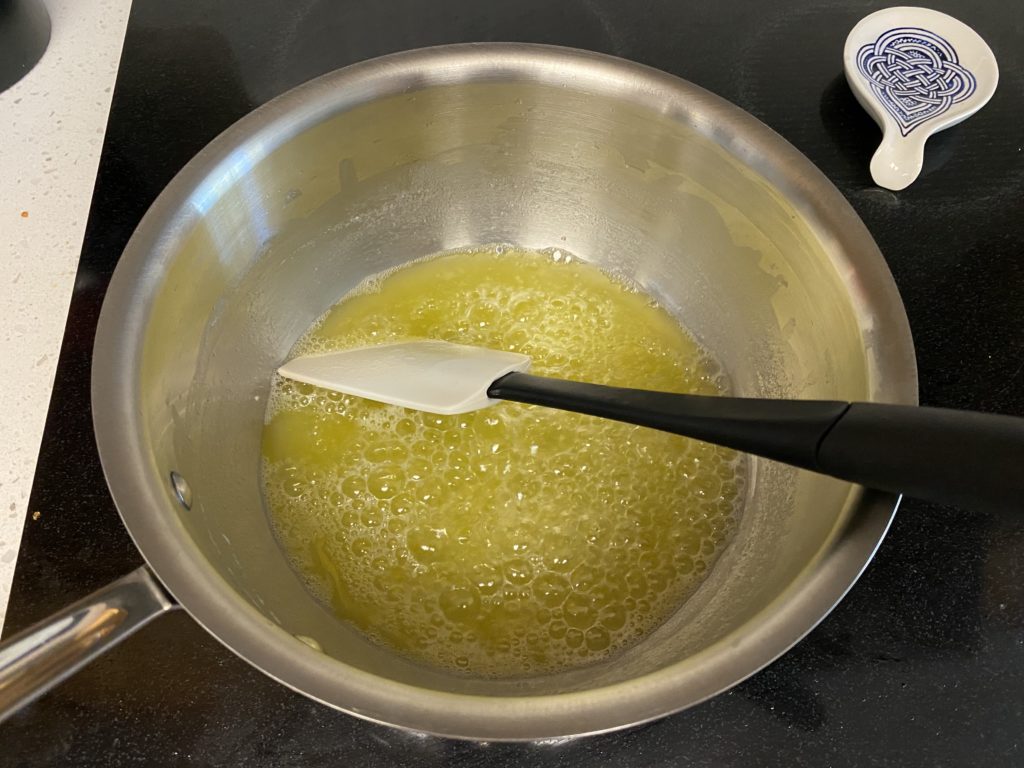 The recipe calls for an ice cube to add more moisture and cool the butter faster.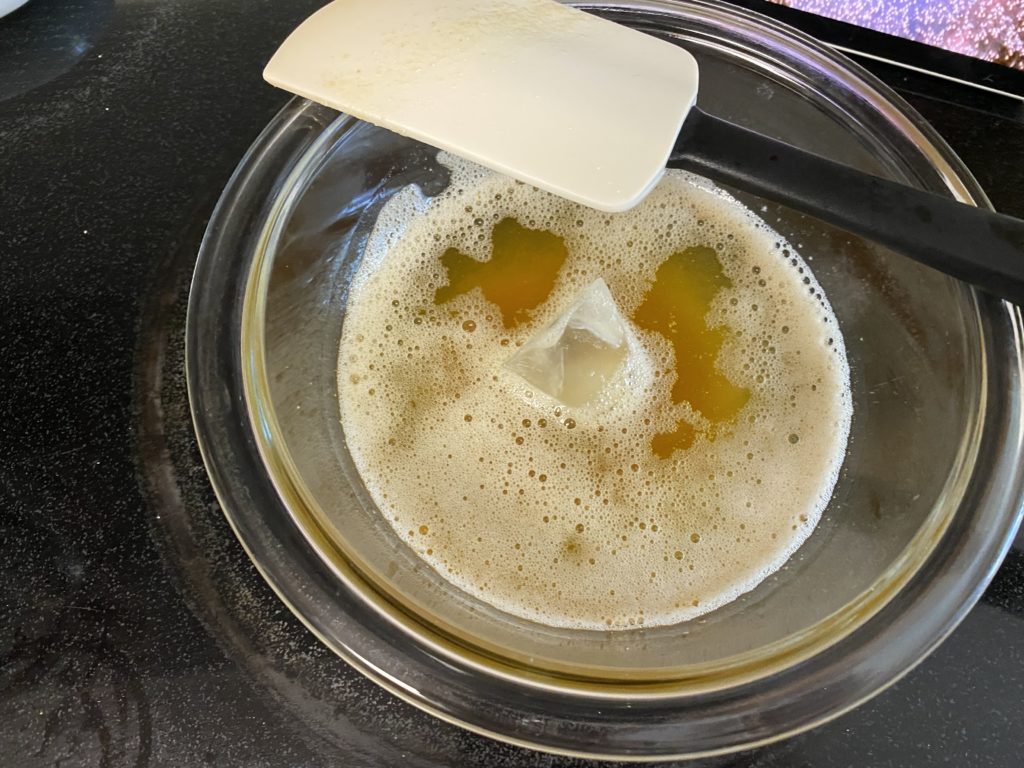 I next chopped up a few different bars and threw in chocolate chips to fill out the volume.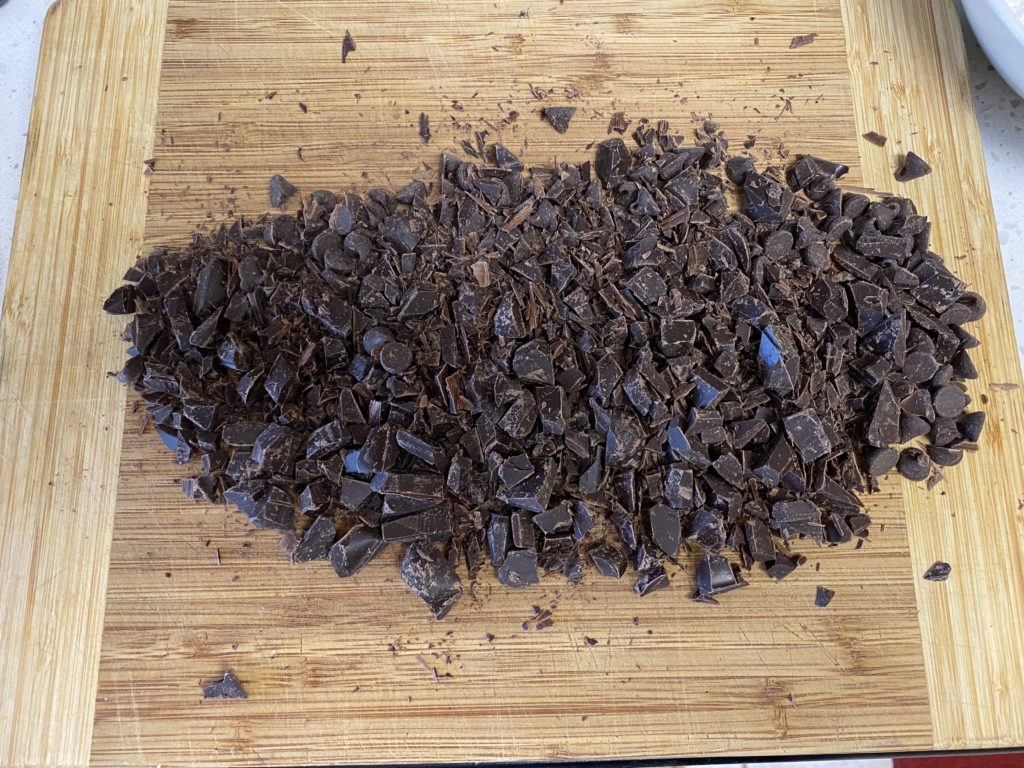 In another twist, the recipe calls to mix the white sugar, eggs, and vanilla first until it comes out as ribbons, then to add the chilled brown butter and brown sugar.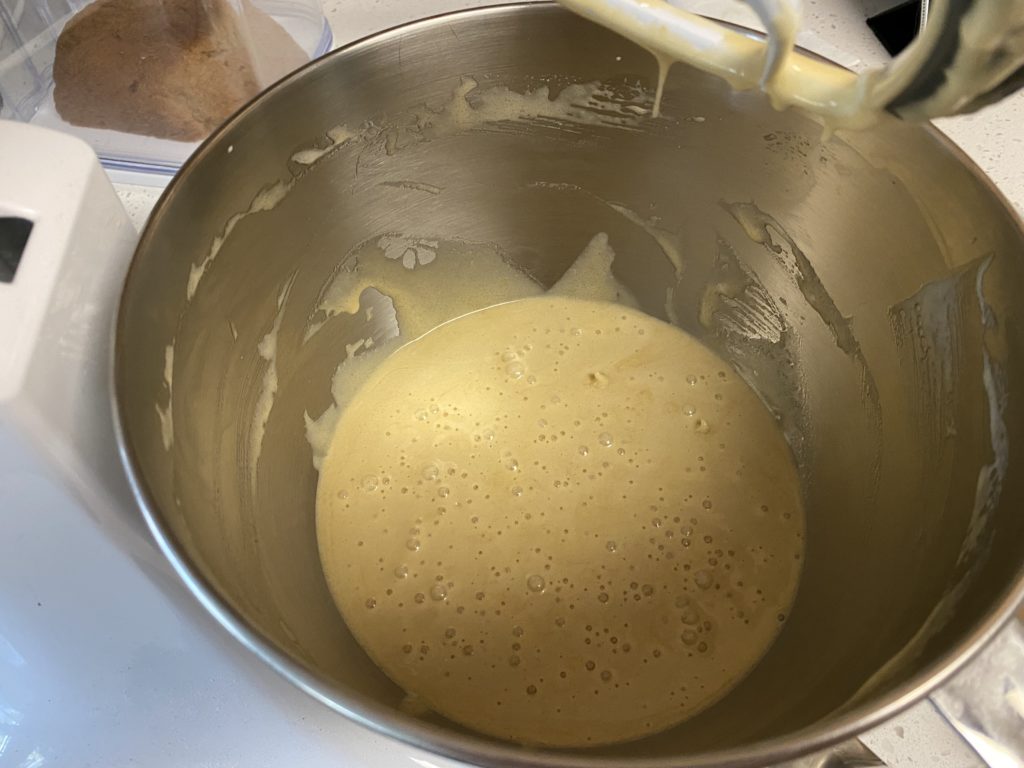 Then you add the rest of the dry ingredients, mix, and then finish with the chocolate.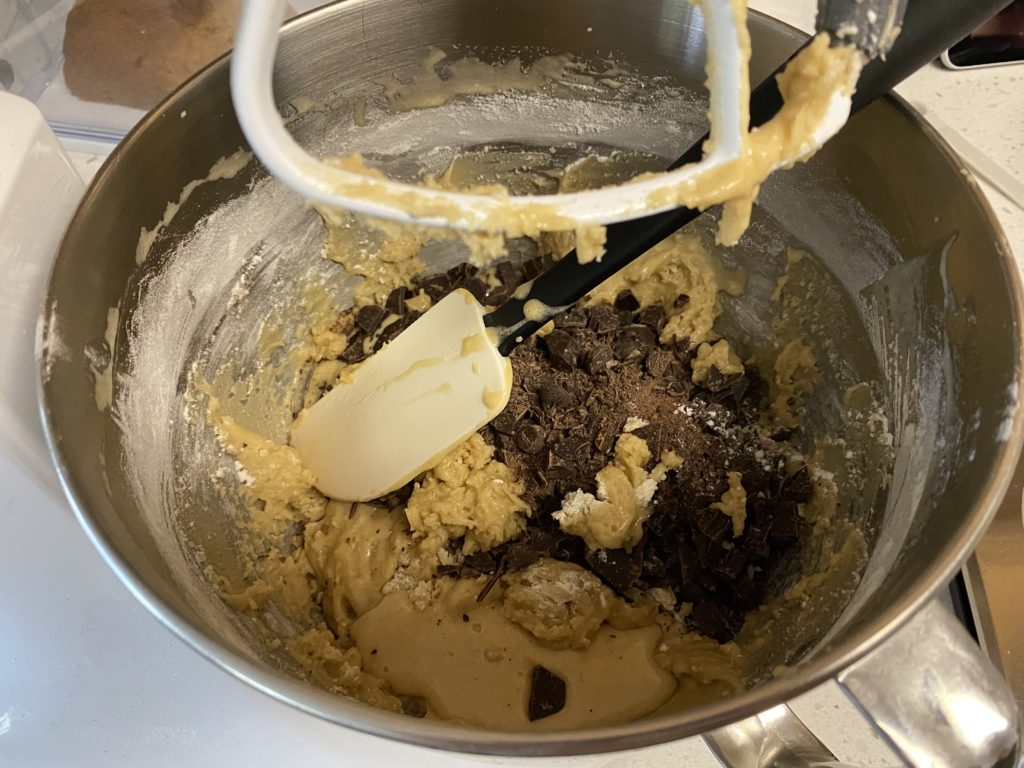 At this stage, I noticed that my dough seemed really wet, but I gave it a chance since the recipe was so unusual. Although it called for a full day of rest, I gave it about 4 hours since I had need of the cookies.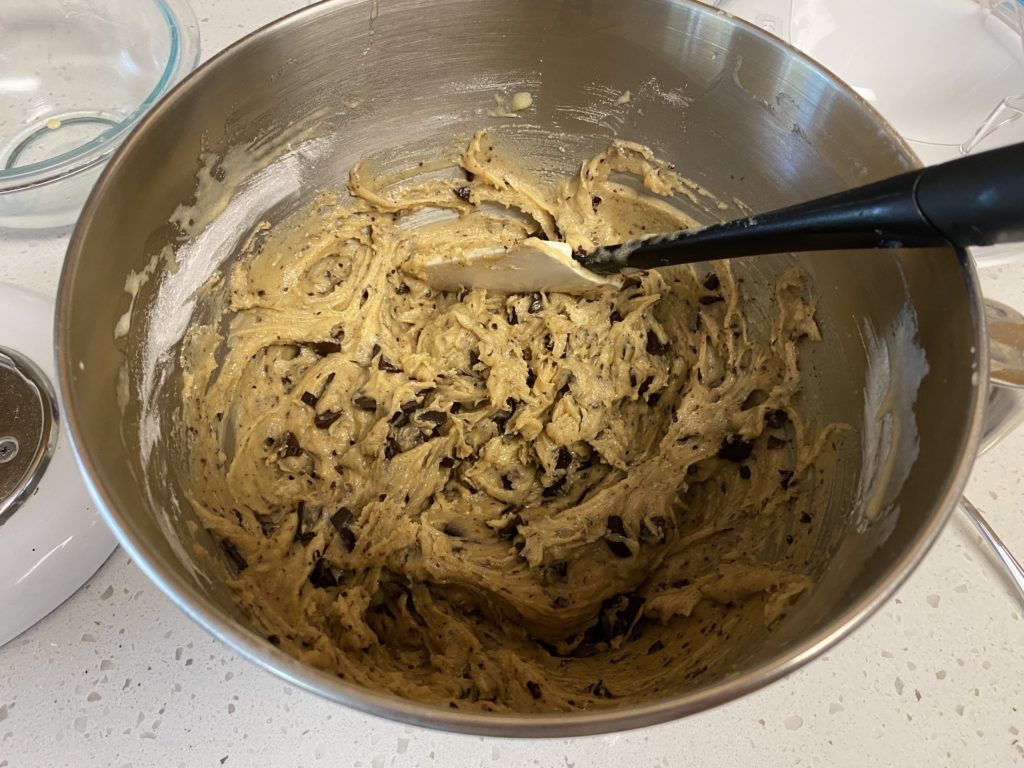 I used the cookie scoop and confirmed the weight and baked.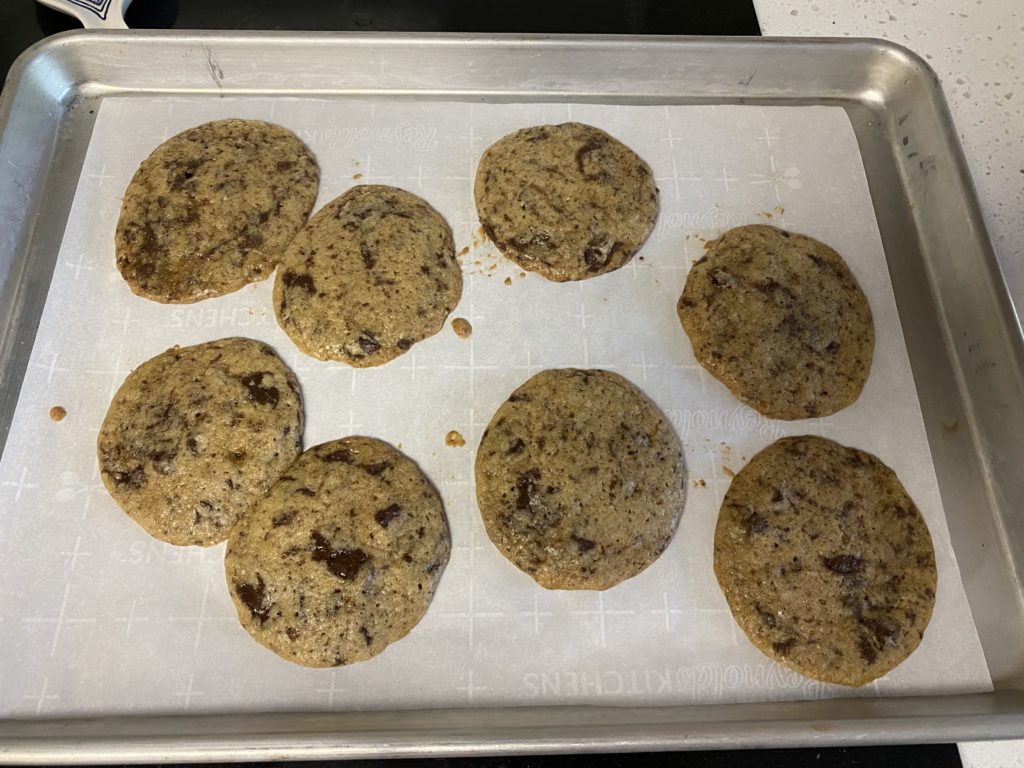 If those cookies don't look right to you, that's because they didn't quite turn out. Kenji said he was aiming for crisp edge and a chewy center, but these cookies spread way too much.
On the upside, the flavor was nice and had a bit of caramel to it: they just didn't have the texture I was hoping for.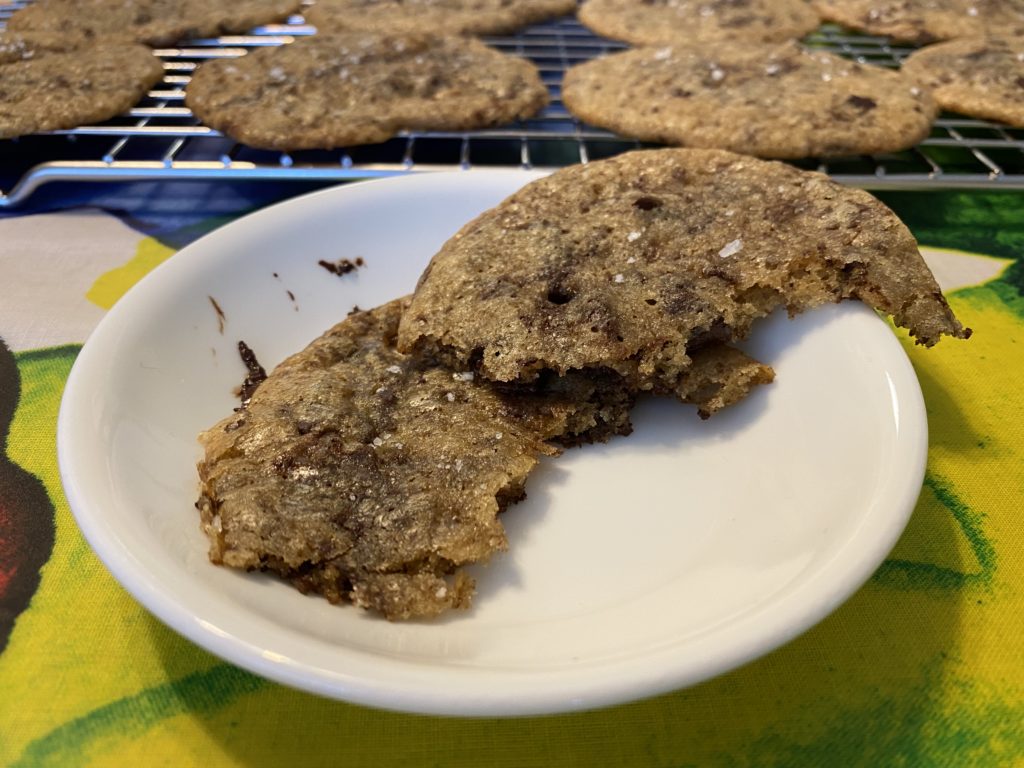 Fortunately, I had baked a little less than half of the cookies, so I let the dough rest for a full 3 days to ensure they were fully chilled. I even scooped the balls and put them back in the fridge to make sure they hadn't warmed up during scooping.
The cookies bake just a little cool at 325F, so I double-checked the oven temperature and tried again. Just for kicks, I tried using a silicone mat instead of parchment to see if that made a difference.
It did not.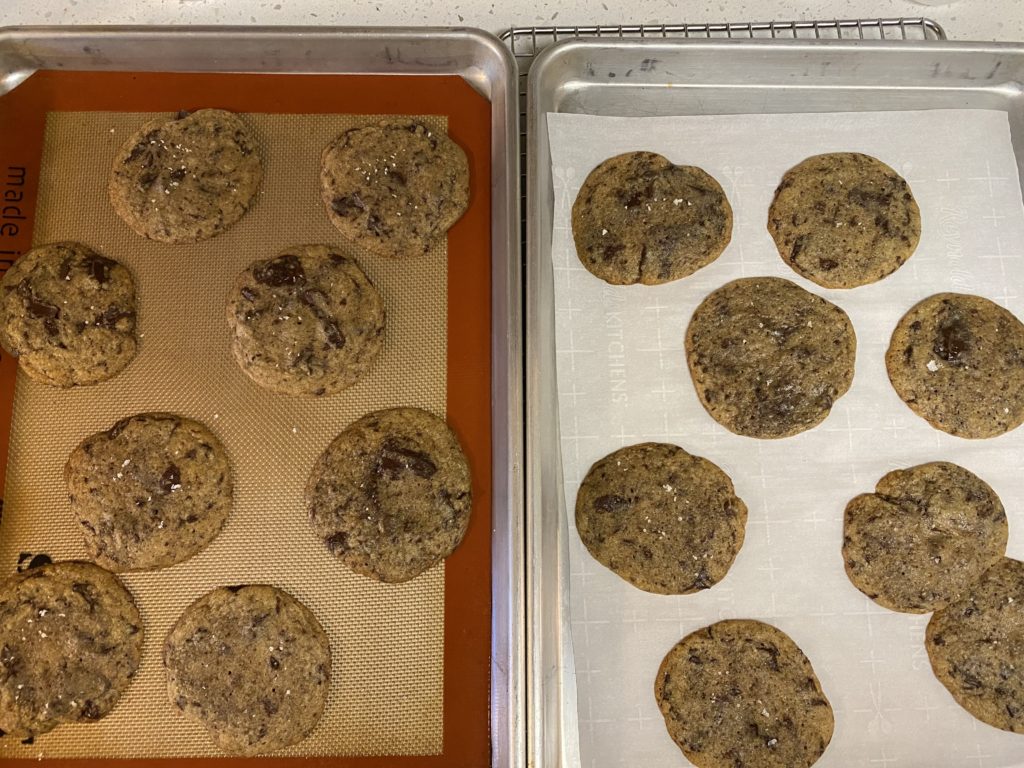 At this point, I considered the recipe a failure. My only guess of what went wrong was perhaps the size of my ice cube. He called for a standard 20ml ice cube, and I have two types of ice cube trays: big and small. Uncertain, I went with big as an approximation. In retrospect, I should have figured the metric conversion meant that I could have just weighed 20 grams to be sure, but this is all hindsight.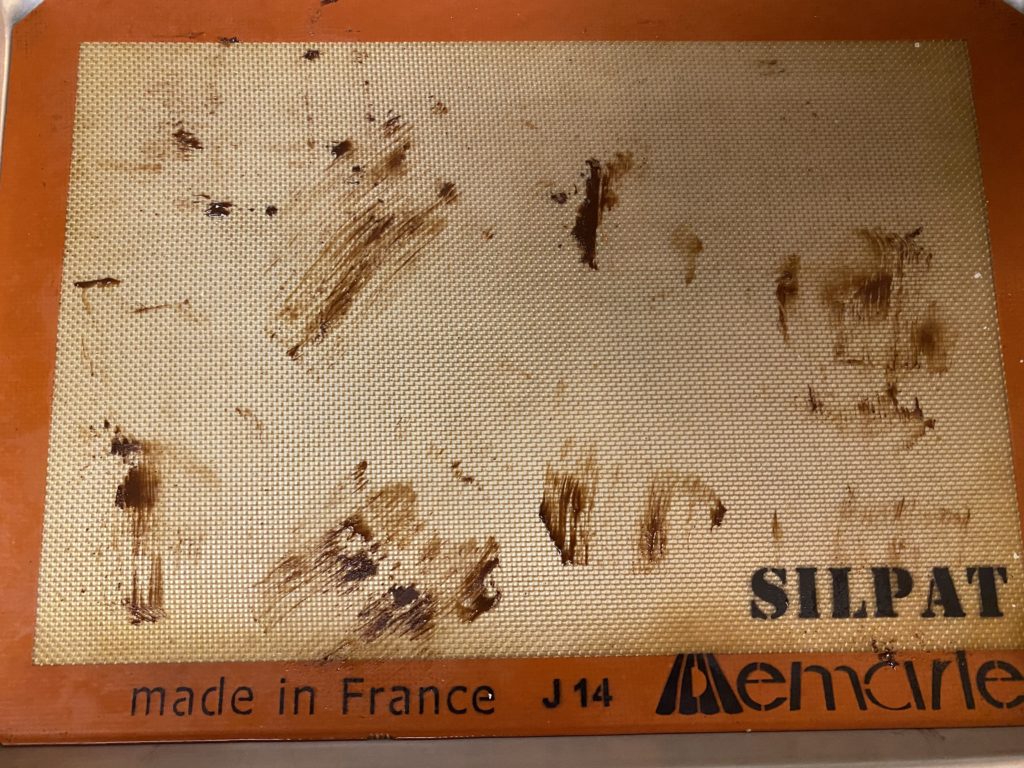 For my final batch, I tried kicking up the oven temperature to 350F and also only baked one sheet at time. Neither were Kenji's exact recommendation, but it was worth the experiment.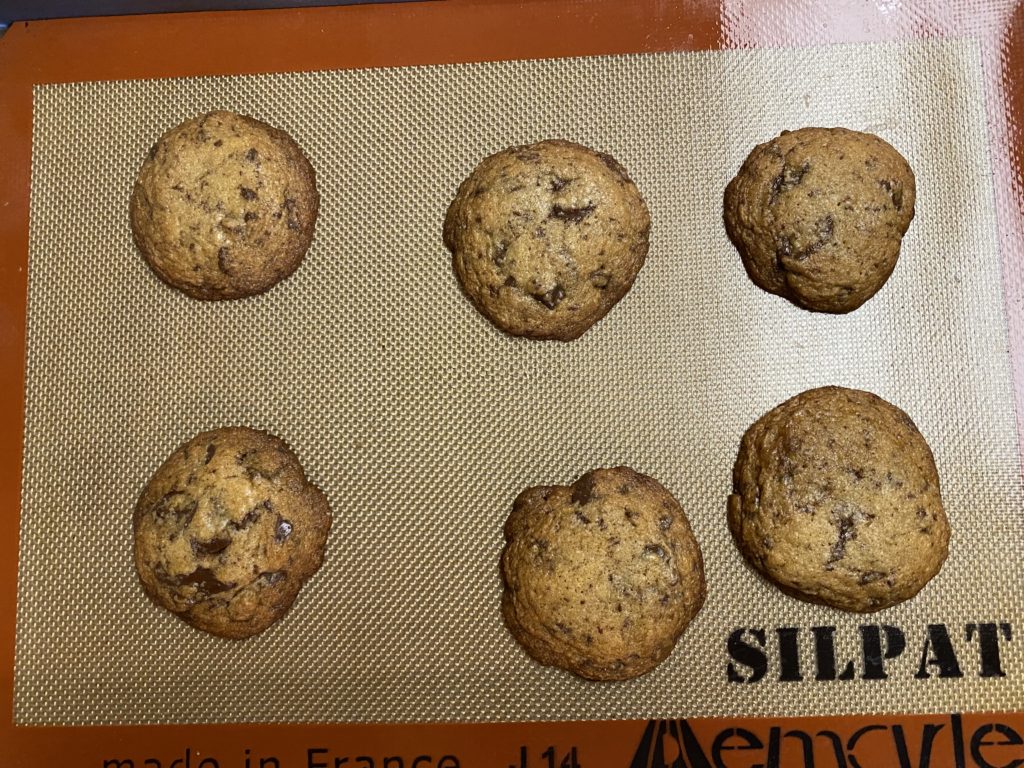 The shape was perfect. They came out a little crunchy, and I probably should have been watching and pulled them out a minute or two early, but the texture otherwise was far better.
This recipe is a little more work than other chocolate chip cookies, but not a lot more work. The caramel flavor is really nice, so I think I might try the recipe again sometime with a measured ice cube and different tweaks to the oven temperature and time to get it right.
You can find the recipe on Serious Eats for this maybe finicky chocolate chip cookie.