You may or may not have noticed that I never really concluded my dinner table tournament. Despite my claim to be good at maintaining commitments and projects, I definitely stopped well short of goal to cover all of the options. I did, however, make it slightly further than my blog would indicate because Julie and I did end up trying a CSA about 6 months ago, so here's my extremely belated post about it.
Farm Fresh to You
Farm Fresh to You is a community supported agriculture provider. The idea is that consumers can cut out the grocery store middleman and get produce directly from local farms. There are various schemes of how it works, but the basic setup is that I, as a consumer, pay a farm, and they send me shipments of whatever they're current growing on a weekly or bi-weekly basis.
Many people have opinions about the benefits or issues with this, but I was interested in trying it primarily for 2 reasons. First, I would get better, fresher, riper produce. The story goes that produce at the grocery store has to be picked early so that it will not rot en-route before getting to the consumer. Since CSAs cut out that step, the produce can be picked at perfect ripeness. Second, I would get different stuff. I like the novelty of eating, cooking, and cooking with different things. When I go grocery shopping, I will naturally tend to buy produce that I know how to use and how to cook with. With a CSA, I would be forced to use whatever showed up and, as a consequence, try new things.
We ended up signing up at a booth during a community event in downtown Mountain View. Although I could tell that they guy was going through his sales shtick, I felt okay going along since we intended to try a CSA anyways. He got us a discount for our first couple boxes, and in the end, each bi-weekly shipment was somewhere in the range of $30-40.
Delivery
Our box showed up early Friday morning, so we opened it up over breakfast and discussed our options.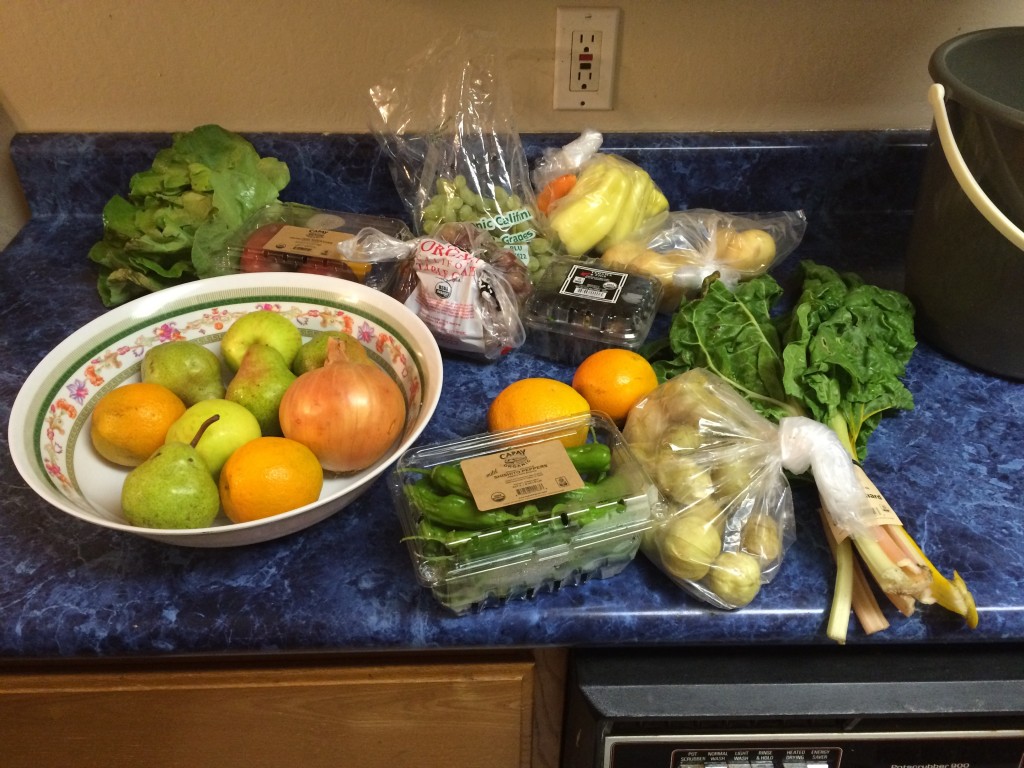 The mix included a few different types of fruit, 2 types of peppers, 2 types of grapes, some greens, tomatillos, and a few other items I can't identify several months later. Overall, we were quite satisfied with the variety and set about planning how to use everything.
Preparation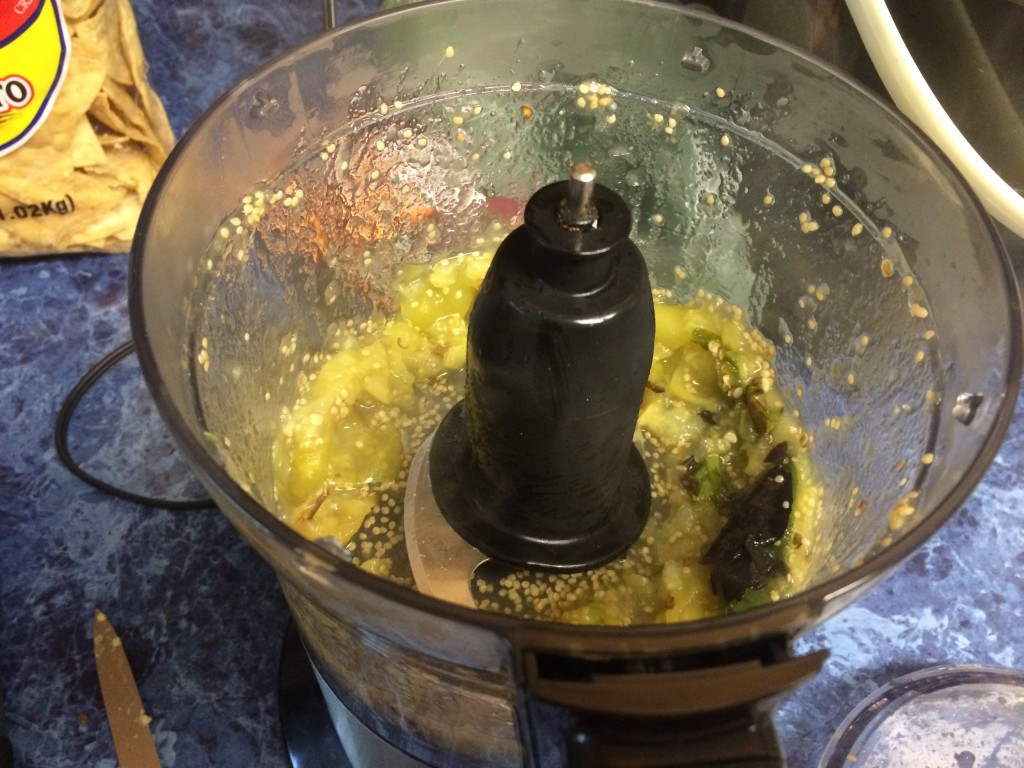 Prior to that day, I could not have told you what was in green salsa. Maybe just green bell peppers? It turns out that green salsa is mostly just tomatillo with something spicy (peppers) in it. We found a recipe for green salsa, and it turned out great. The fresh salsa listed on the same page was not good. I would not recommend that. But the roasted salsa was good, and I definitely learned why I should be less impressed with the salsa options at Mexican restaurants.
The peppers ended up as fajita vegetables for fajita night.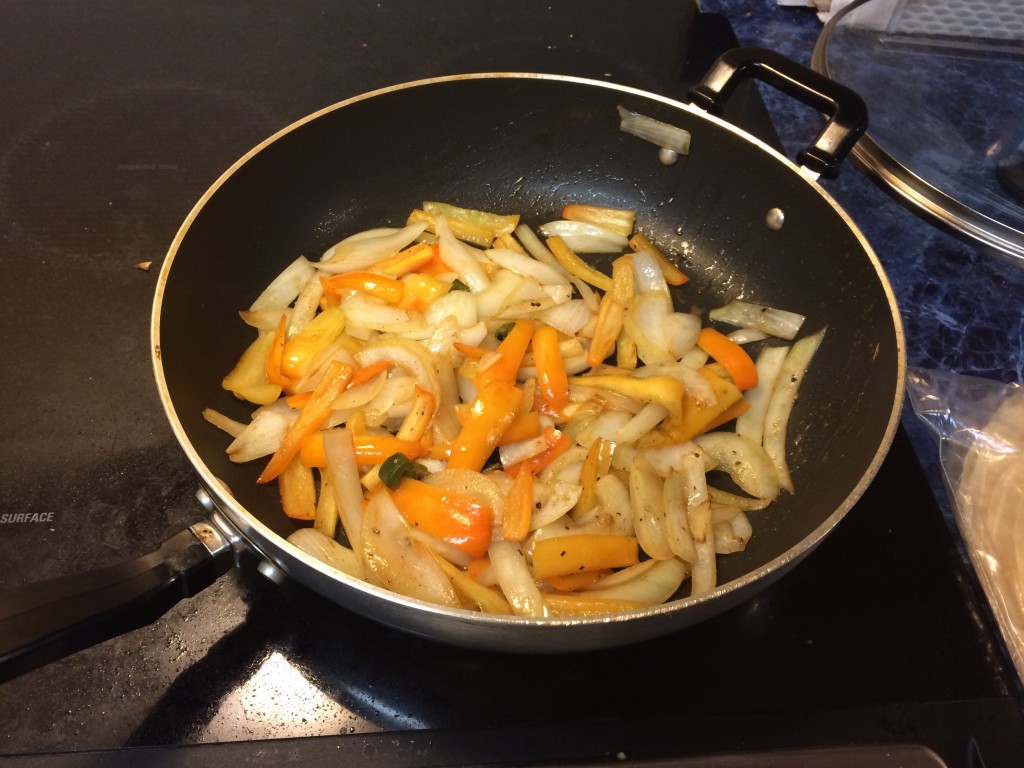 and we also roasted and sauteed the other vegetables for another meal.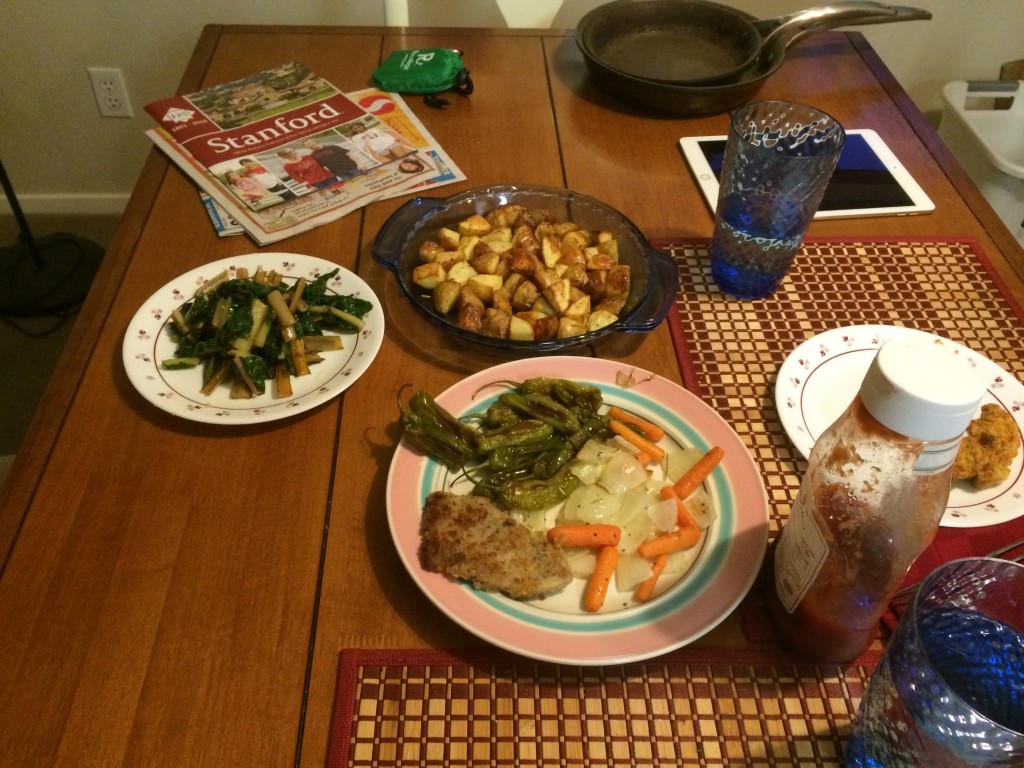 The butter lettuce ended up as part of our salads. I sadly realized a long time ago that I didn't know how to make good salads. I think I leaned too much on vegetables (all bitter) without balancing it out. With Julie's guidance, we stepped up our salad with apple, dried cranberries, blue cheese, and candied nuts.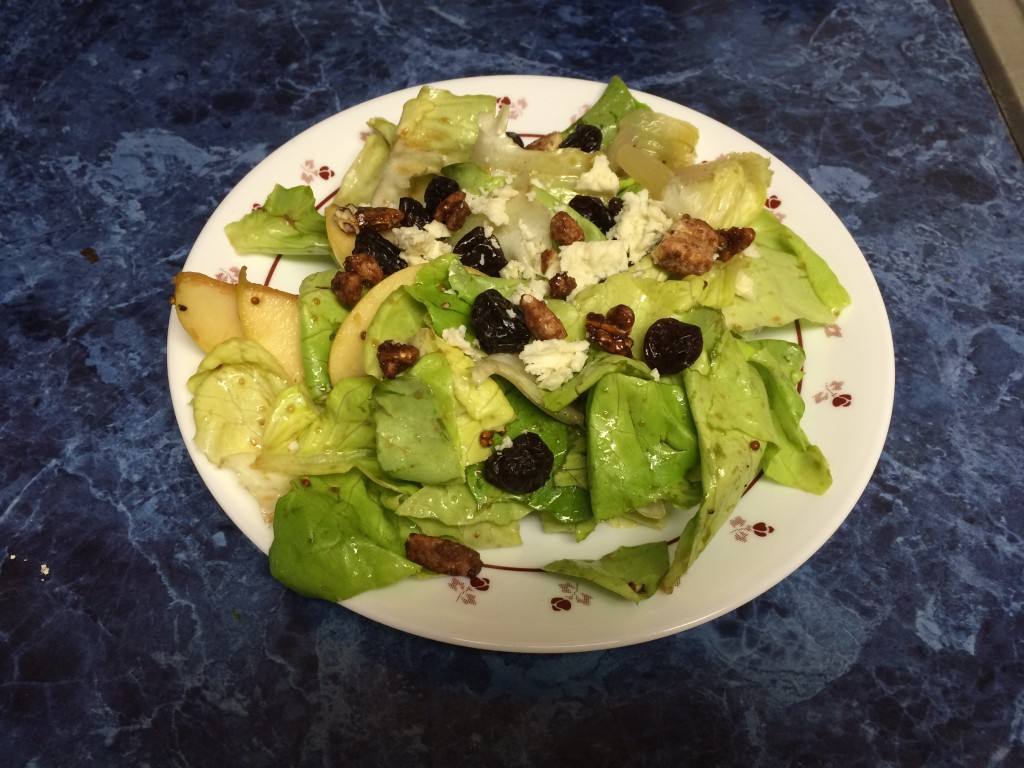 The Followup
Given just the text above and the pictures, you might have been led to believe that we had a good experience with it. You would be correct. We liked the CSA enough that we got another 4-5 boxes.
Unfortunately, I don't think a box ever went that well again. We got the first box on a signup promotion, so subsequent boxes ended up with much less in them. We also noticed that they often were filled with less exciting staples, like onions and green lettuce, which didn't really taste any better to us than what we got at the grocery store. Because it was just produce, we ended up having to go to the grocery store anyways to fill out our meals for a week.
The final realization, however, came when I went shopping the day after receiving a box and seeing a few of the more unusual items at the Milk Pail. I walked through the store and tallied up the cost of buying an equivalent amount and realized that I would come out far ahead doing my own shopping–which I do anyways. I immediately added a task for myself to cancel my subscription, which took probably another month because I had to call in during work hours to do it, and I'm bad at completing tasks that require phone calls during work hours.
Overall
I had a good experience with Farm Fresh to You. I have realized that I enjoy the process of cooking, and a CSA mostly lets me do that. However, I think I am mostly spoiled to have the Milk Pail just down the street from me, where I can get cheap, local, fresh produce. In the end, the CSA just provided me the convenience of delivering a few of the same items at a premium, and that wasn't worth it to me.
Here are my rankings:
Blue Apron
Farm Fresh to You (CSA)
HelloFresh
Munchery
Plated
You may be surprised to see the CSA not first despite it being the closest to my normal pattern. Were normal home cooking not an option, it would be first, but I think that I would be more likely to mix Blue Apron into my meals than the CSA.
There's a chance I will continue the Dinner Table Tournament in the future, but in the spirit of sunsetting responsibilities for my New Year's Hopes, I think I will declare it done. I will probably continue to blog about food, but it will likely be in a far less structured format.
This post is part of the Dinner Table Tournament where I pull Julie along my need for novel experiences in "staying in" dinner options to generate blog content. I have not been compensated by Farm Fresh to You for this in any way for this post. Yet.