Long time readers of almost exactly 1 year may remember that I cook a Thanksgiving dinner for my company a week or 2 before actual Thanksgiving. It is probably the biggest event that I host each year, and I hopefully am learning more each time about how to do it better.
Continuing my tradition of doing different ethnic cuisines, I did a Cajun Thanksgiving this year with a Creole spice mix over the turkey and a variety of spicy and rich dishes. Fortunately, I am the only person on the team from the south, so there weren't many critical opinions in the crowd.
Overall, I think the food was fine. The turkey was overcooked, and the mashed potatoes were very salty (even after cutting down the salt from the recipe). Because Cajun is a real American cuisine, it already has Thanksgiving fare that is not so dissimilar from a traditional Thanksgiving.
The biggest factor, however, was the attendance. Last year, we had somewhere just shy of 10 people attend. This year, our 2 bedroom place hosted a total of 20 hungry people. This year, more significant others attended, and we also invited recent interns back. The team has also been growing, and all of this ballooned the headcount, expectations, and required preparation.
Overall, I think we managed to do well. Despite running out of most dishes, the guests seemed to be well-fed and enjoyed the food. Everyone seemed to enjoy the company, and the mix of SOs and former Zanbato employees made it a more special event than another meal with the people we spend 40+ hours with a week.
Here were a few of the things I learned and/or felt worked well with the party this year:
1. Create a clear, smooth welcome experience.
First impressions between people are important, and first impressions about a party also set the tone for the social experience the rest of the night. In the past, I have been bouncing back and forth between the door and the kitchen hollering out instructions while trying to dash back to my gravy. This year, I wrote up a series of signs directing guests to come right in at the front door, where to put their bags and jackets, and where to find drinks and appetizers.
2. In a small space, configure and reconfigure to make all of the space multi-functional.
With 20 people in a few hundred square feet (including my kitchen), we fit the normal dining table, an additional folding table, and a few couches around a coffee table for eating. I knew I wanted to have everyone standing and mingling during the appetizer hour, so we pushed all of the tables back against the walls and blocked out the chairs so that people couldn't really settle in. This created a more open, standing space for people to float around and get settled.
When we were ready to serve, everyone was happy to help and rearrange furniture for dining. We cleaned just enough counter space in the kitchen to serve and moved the appetizers and beverages back off of the tables. Then, everyone found a seat to enjoy their meal.
We did find 2 things to improve. First, Julie pointed out that the appetizers were hard to get to because people were standing in front of them. They ended up being placed somewhat int he corner, so next time, I would place them more centrally. Second, I would have encouraged everyone to switch seats between dinner and dessert for more mingling.
3. To feed more people, multiply recipes instead of making more dishes.
Overall, the cooking process went very smoothly. This year, I went digital with my chart to plan out cooking, and we stuck with it. I conscripted my coworker Conrad to help cook through the last push, and we stayed on the schedule very well.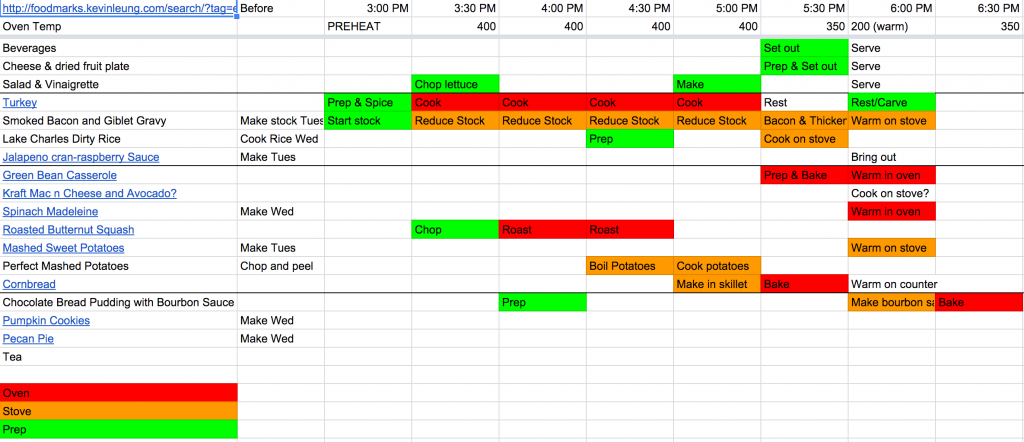 Even so, cooking did take quite awhile between the previous evening and the day of. Seeing how we ran out of most everything, I think people would have been just as happy with having 2-3 fewer dishes and just doubling the recipes. That would have saved me a ton of work as well.
4. Don't worry too much about the food.
Maybe people are just being polite, but I have gotten a lot of appreciation for the food despite my own opinion about the quality of the cooking. I wouldn't say that people aren't critical: I just think there is generally enough goodwill and merriment in the atmosphere that the food itself just doesn't matter so much.
So whether the food is good or bad or too much or too little, I think the party depends more on the other details of the environment and the company present than the food itself. The time spent on the food will always be disproportionately high to its importance, and it is much harder to improvise than, say, a guest list.
Anyways, we're headed into the holiday season now, so best of luck to all hosts. Don't worry too much about the food, and enjoy the company!