Many websites today have poor user experiences. Some are annoying. Some are cluttered. A common problem is that they make it difficult for users to do what they want to do. You know what flows typically are very easy? Anything where users are buying things.
It's not perfect: I have many times dug out my wallet to type in the credit card number on the front of my card, then flipped it over for that XYZ or POS or whatever that number on the back is, then flipped it back over for the expiration date. But sites generally make that "Add to Cart" button very visible, and it's only a few steps away to check out and give them money. If only we were so well-aligned and practiced in other flows on the internet as well.
Munchery: Take 1
Ordering
My Munchery journey started from the recycling bin. I found out a few days later that they had mailed coupon codes to apparently everyone, but I had initially ignored the flyer, then dug it out a few days later. I was probably hungry right then.
I thought that Munchery delivered raw ingredients to be assembled into meals when I followed the link from the flyer. Had I known that they just deliver chef-prepared meals, I might never have delved into the recycling bin, but I had formed the idea of the Dinner Table Tournament, and I wasn't going to turn down free food, either.
I didn't end up using the coupon codes as it was a better deal for my coworker to invite me instead so we each got $20 of credit (by the way). Slightly more annoying was that I had completed the invite earlier than I was intending on using it, then found it that it would expire in a week. Annoying, but it was the right motivation for me to start the Dinner Table Tournament immediately.
The site looks very nice. Julie and I browsed the meal options and happened to find the 2 most interesting options right next to each other. We were happy to pick two that were approachable but also different enough from our regular home cooking to justify.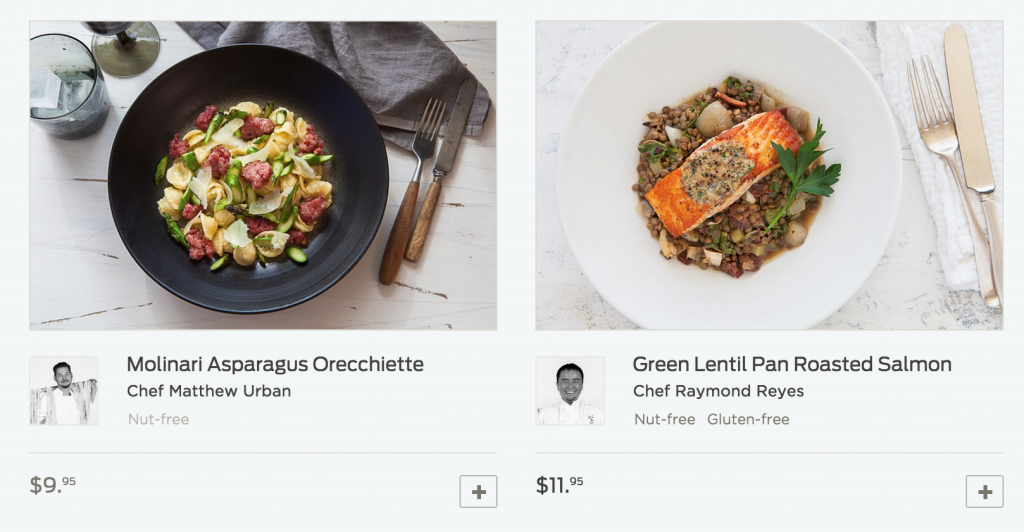 The site also provided preparation details with both microwave and stove instructions. It's a nice touch to ensure that the meal is warm, but I think it may be more subversive than that. Ever wonder why boxed cake mixes require eggs? We (and by "we", I mean society at large, which includes food chemist much smarter than me) have powdered eggs that could be put into the mix as well. Apparently the cake mix makers determined a long time ago that home cooks preferred to crack and mix their own eggs to make it feel more like real baking.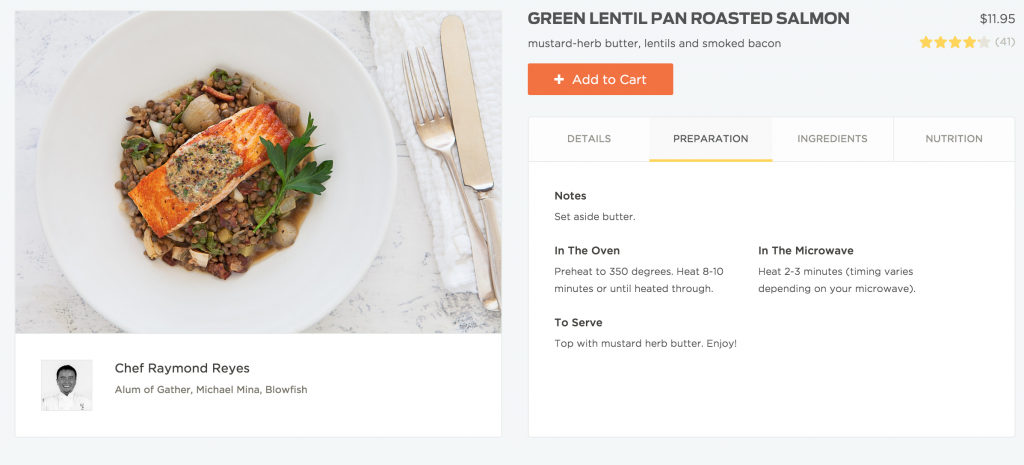 Maybe Munchery determined that home cooks prefer to warm their meal on the stove to make it feel more like real cooking.
Anyways, it was straightforward from there, because if there's anything easy to do on a website, it's checking out and giving them your money. We scheduled our meal to arrive between 6 and 7 the following Monday and put blocked it out on our meal calendar as such.
Delivery
While biking home from work, I got a text from my delivery guy that food was 5 minutes away. I was slightly more than 5 minutes away and somewhat worried since our unit can be tricky to find. I quickly pulled out my phone so that Siri could "message julie that dinner is 5 minutes away i'm biking home right now." However, I could see a stop sign coming up. "Send!" I cried back to the ever uncertain Siri always in need of validation while I tried to wedge my phone in my pocket. Yards away from the stop sign, I secured my phone, then got my right hand back on my brakes and stopped.
You're not getting me today, Mr. Pulls-Over-Bikers-In-Residential-Neighborhoods-With-No-Cars-Around-For-Not-Stopping-At-Stop-Signs-Police-Guy. Though I think that texting while biking is probably not good either, even with a Siri assist.
I got home, and the food had already arrived no problem. Props to the delivery guy for showing up on our doorstep.
Preparation
This isn't a new Apple product, so I'll spare you the full unboxing. Here's what it looked like unsleeved, where the directions and nutrition facts are above.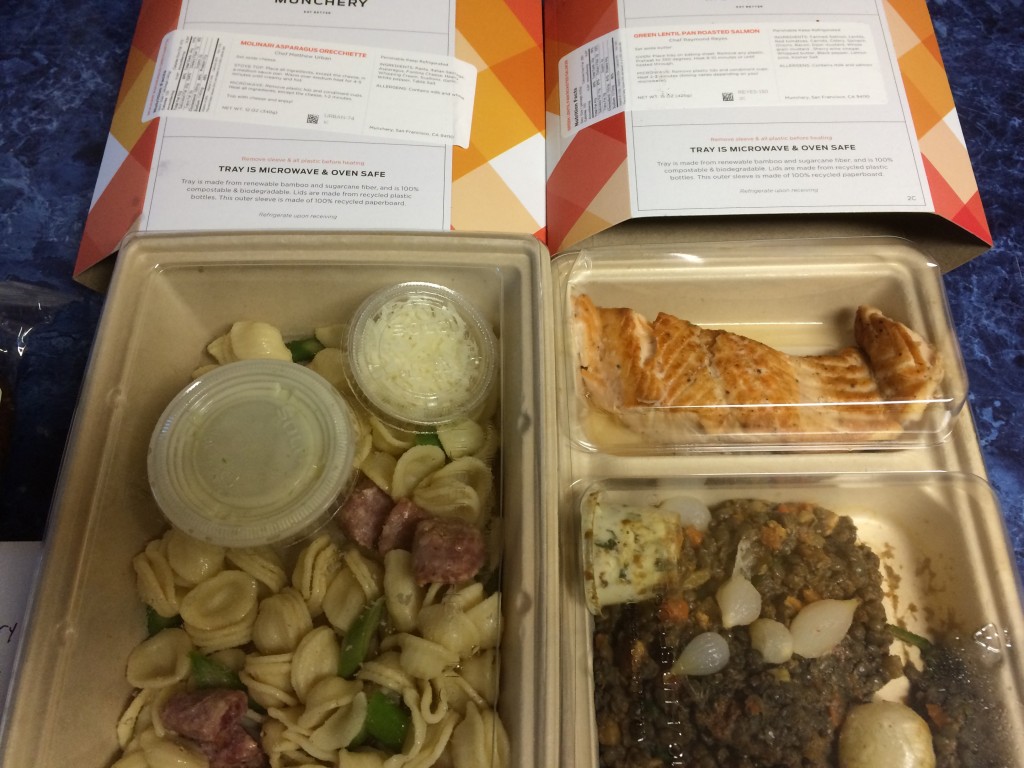 In addition to our meal, we got a handwritten note and 2 chocolate chip cookies for our first order. That was a nice touch.
We put the pasta on our stove and the salmon in our toaster oven. Kudos to Munchery for designing packaging that fits perfectly in my toaster oven. Julie and I briefly debated whether it was intentional, standard sizing, or sheer luck. We may never know.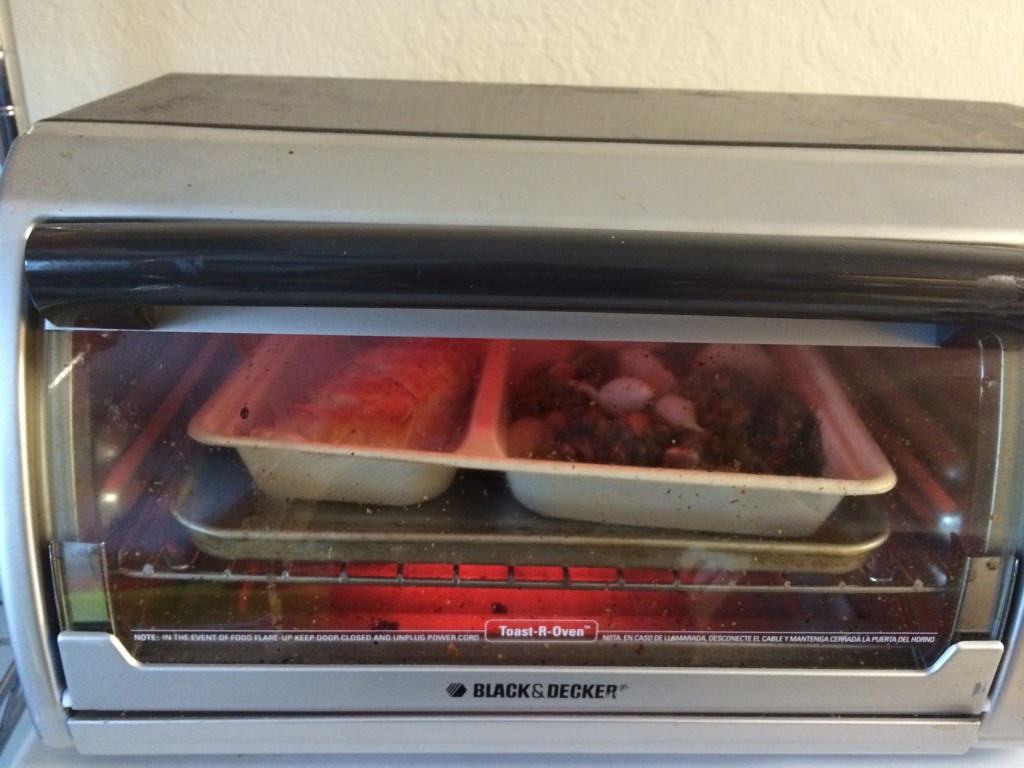 After warming everything, we put everything back into the delivered containers to eat, and we had our meals on the table within 10 minutes of unpacking.
Eating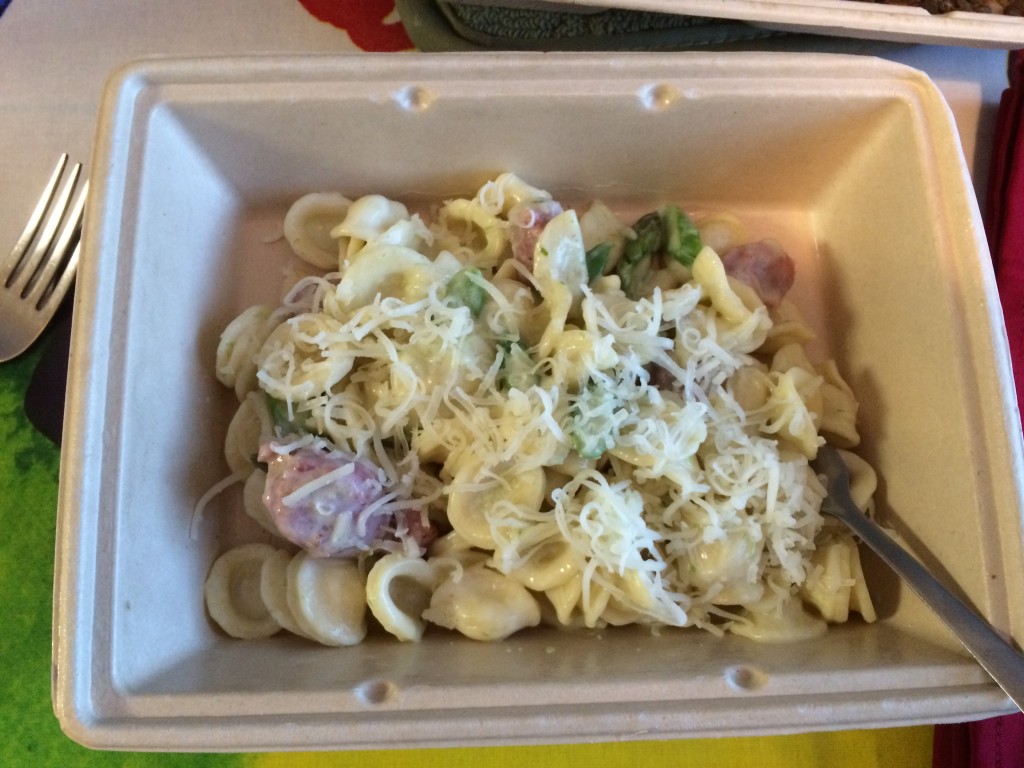 We enjoyed the pasta. The sauce was light but still creamy, and the sausage bits were very tasty.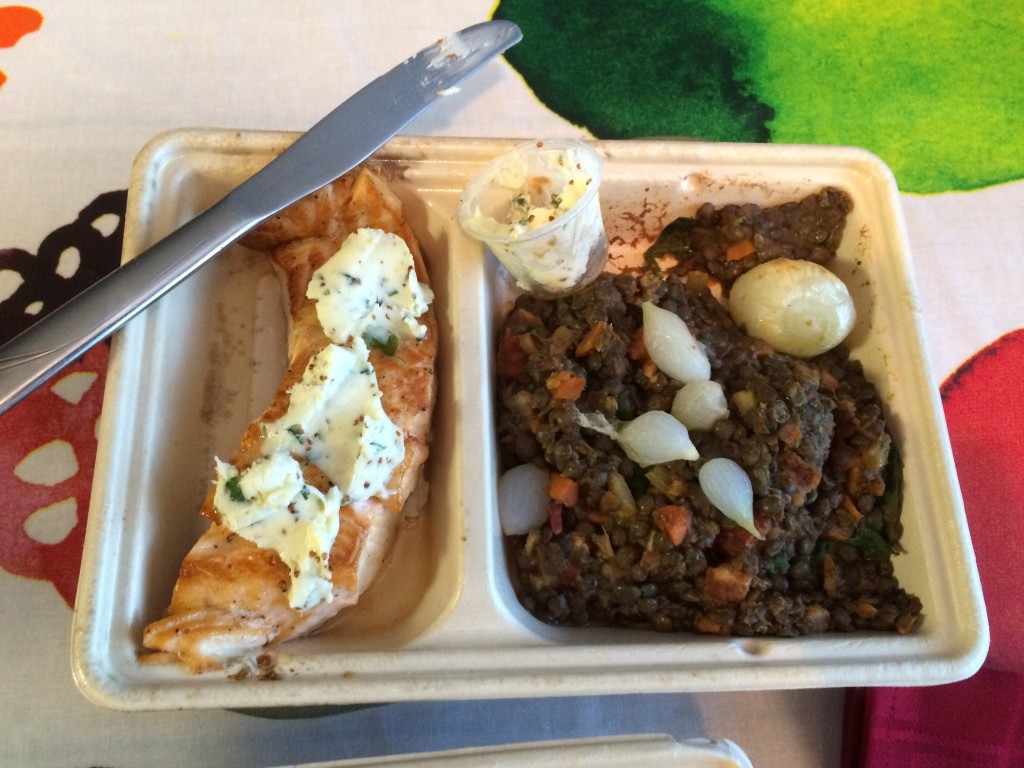 I think the instructions for applying the butter may have been missing, but it was straightforward enough. I think the salmon was just a tad more cooked than I prefer, but Julie and I are also quite critical of our salmon. The green lentils on the side were good with the pearl onions and barbecue sauce flavor, but we felt it wasn't a good match for the salmon.
Julie and I were satisfied with the meal, and we ate it relatively quickly as well. The portion sizes seemed appropriate for us, and it felt healthy enough. More voracious eaters could indulge in sides and dessert and such from the Munchery menu as well. Julie and I rated the meal overall as a 6 or 7 out of 10.
Cleanup
We washed a pan, 2 forks, a knife, and a spatula. The containers were either compostable and recyclable, and our meal was cleaned up very quickly.
Overall
Our entire meal took about a half-hour from start to finish. Being our first meal, there was less chit-chat than usual since we had no guests, and most of our attention was focused on the novelty of the meal. Even without any point of comparison, we found it altogether to be a convenient and enjoyable experience. Because our meal was so short, we decided to go for a walk in the park after dinner to talk through the rest of our thrilling days at work.
This post is part of the Dinner Table Tournament where I pull Julie along my need for novel experiences in "staying in" dinner options to generate blog content. I have not been compensated by Munchery for this in any way for this post. Yet.