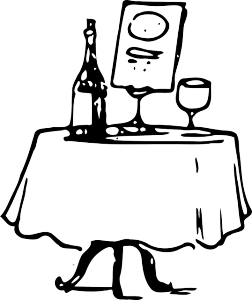 Long ago, humans discovered fire and began to cook their food. Not soon after, they began to complain about eating the food cooked yesterday and why they couldn't go out and hunt or forage for new food instead.
Fast forward to today, and not much has changed. Basically, there are 2 options: going out or staying in. I grew up in a "staying in" household, where my mom cooked everyday except for leftovers. Unfortunately (or fortunately, depending on the recipe), my mom is not around to provide for me on a daily basis. On the other hand, the options for staying in have changed dramatically. No longer are we restricted to cooking or ordering pizza delivery. We can:
shop for groceries and cook dinner like always
skip shopping for groceries and have groceries delivered
skip coming up with a grocery list and have ingredients for a meal prepackaged with a recipe
skip the cooking and have an equivalent to a home meal delivered
skip the delivery and eat in someone else's home
skip the "home meal" restriction and order delivery from a restaurant
skip talking to the restaurant and order through a delivery service
I bet some cavemen would have literally killed to get their meals like that.
I tend to believe that the old ways are the best ways and try to cook more often than not. Despite it just being myself and Julie, I believe in the value of family dinners and cooking at home. We spend time working together by cooking. I think we tend to make more nutritious meals. Meals around the dinner table are a time for bonding and tradition.
But I can understand why many people don't do it. Cooking requires planning when our lives seem more unpredictable than ever. It takes a long time to prepare, eat, and clean up when we don't have enough time anyways. Most of us don't cook well, and almost all of us don't cook restaurant-quality food. Instead, we go out to eat, or pick up fast food, or microwave a TV dinner.
We make compromises in our daily lives, and new "staying in" options can help to find that balance. Although I come into this with strong biases towards cooking, I also am an adventurous eater and need ways to generate blog content. Therefore, I (and by extension and some duress, Julie) will embark on a months long hunt through many dinner acquisition services to find out what works and what doesn't. We will judge our meals and experiences and share those thoughts on this blog. Here are some of the criteria we will be considering:
Nutrition. Did the meal look balanced? Is this a sustainable diet?
Taste. Did it taste good? Would I eat this every day?
Convenience. How was the experience of getting and preparing the food? Does it generally fit into my life?
Experience. Overall, how was dinner? Did it address the peripheral, related aspects of a home dinner?
Julie and I have discussed many options so far (and we're open to more suggestions, but so far, we have come up with CSA, Instacart, Plated, Blue Apron, HelloFresh, Munchery, delivery, DoorDash, and EatWith. We are open to any other suggestions as well
To spice up our meals, I want to put out an open invitation for dinner guests. I would be worried about regularly having friends try our usual dinners, but this series of experiments seems like a perfect opportunity to share the experience. To fulfill such a role, the qualifications are:
actually knowing Julie or me
transporting yourself to be physically, preferably punctually present at our place
informing us of any dietary restrictions or strong preferences you might have
helping with meal preparation as necessary for the selected service
contributing opinions freely to be shared in future blog posts
Note that the requirements do not include paying for your meal. As guests, we will be providing for your meal.
Along the way, I may provide some musings about food, cooking, hosting, or other related topics. Stay tuned, and let me know via any contact method if you wish to join us for dinner. Even you lurkers who I have barely talked to in my life: you're all welcome!