When we used the KonMari method to throw away everything that didn't spark joy, we had a tough time deciding on our cookbooks. The obvious test for whether we liked a cookbook is how frequently we use it, but that wasn't enough. Some had sentimental value. Others made for great aspirational cooking but were somewhat impractical. Others just had really nice pictures.
Thomas Keller's Bouchon Bakery cookbook actually covered all three of those alternate categories. It's a huge, beautifully printed volume filled with precise techniques and unusual ingredients. The cover has a cookie next to a glass of milk (or maybe a milkshake)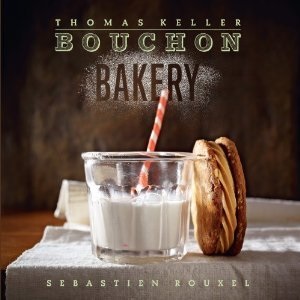 and that Better Nutter was going to be my first recipe out of this book. Julie has made a few (with great success).
The Better Nutter is so named because it's supposed to be like a Nutter Butter (the classic Nabisco peanut-shaped peanut butter sandwich cookies), but better. Also, they're massive, but I didn't quite figure that out until the end.
I started working on it Saturday evening since it had several breaks and would take a few days to finish.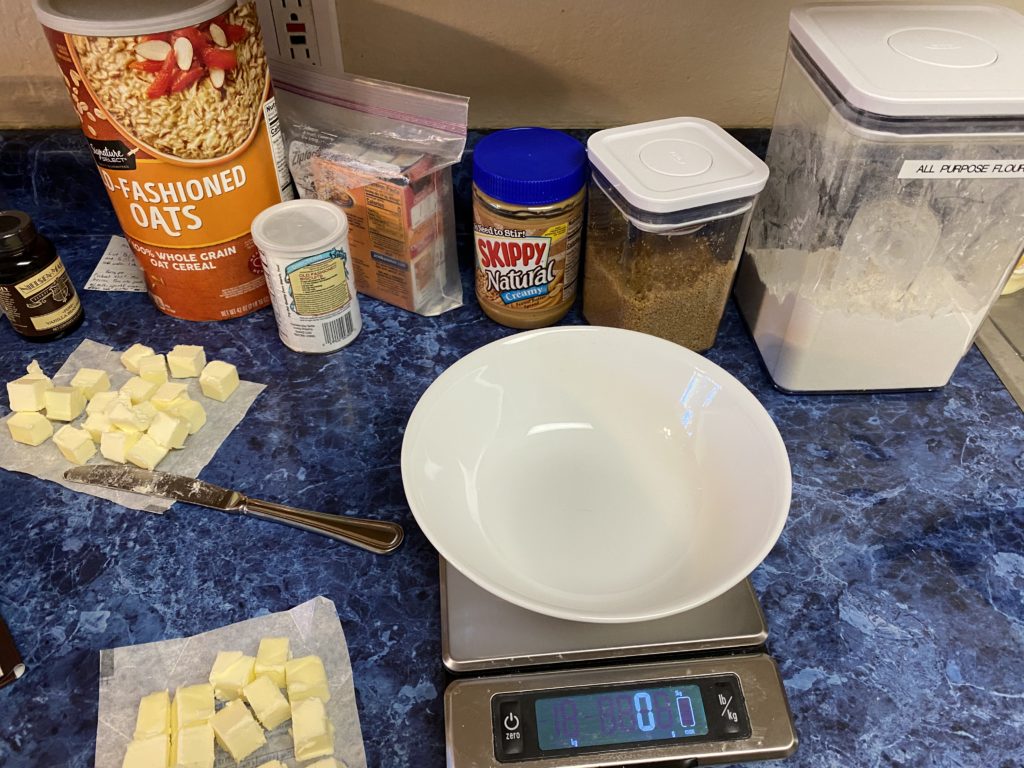 The cookie dough itself was quite straightforward: cream together butter and peanut butter until mayo-like consistency, then add everything else. The recipe suggested warming the mixer bowl over a burner to encourage progress. I tried it, but the bowl temperature didn't change much, at least to touch.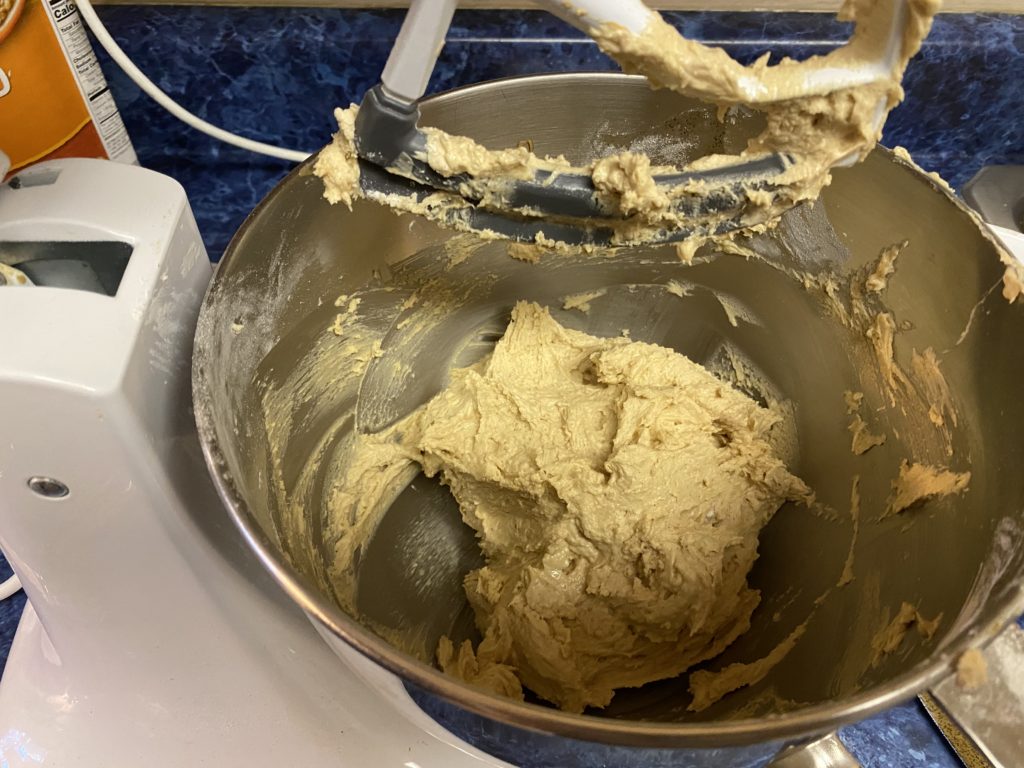 The only unusual ingredient was vanilla paste. Despite its name, vanilla paste is quite liquid-y and substitutes 1:1 for vanilla extract. However, it is actually sweet and has black flecks in it.
After incorporating the dry ingredients and oats, the dough gets refrigerated into a 5″x7″ block. He said to use pastry scraper maybe to square it up, but the next step is to roll it out anyways, so when it didn't work, I moved on.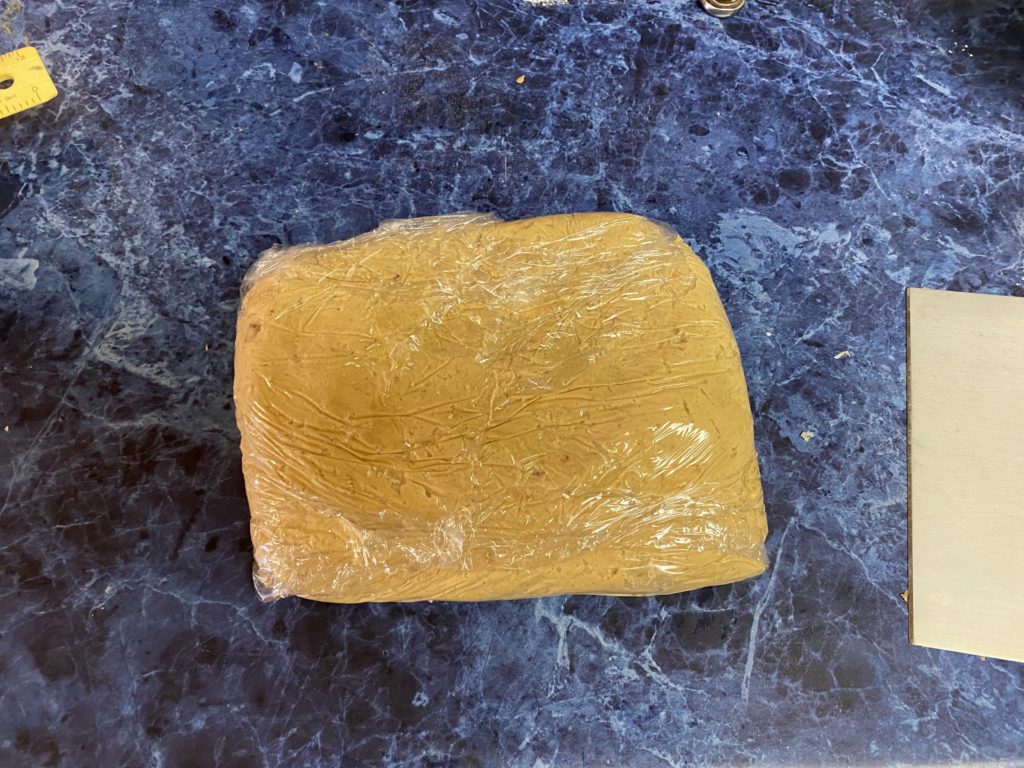 The following morning, I rolled it out to 1/4 inch thick. Given my experience with the other rolled cookies, I went for a thick 1/4 inch. Even then, I cut out several more cookies than the recipe suggested. And as usual, I had to improvise my cutter. This time, I grabbed a regular drinking glass.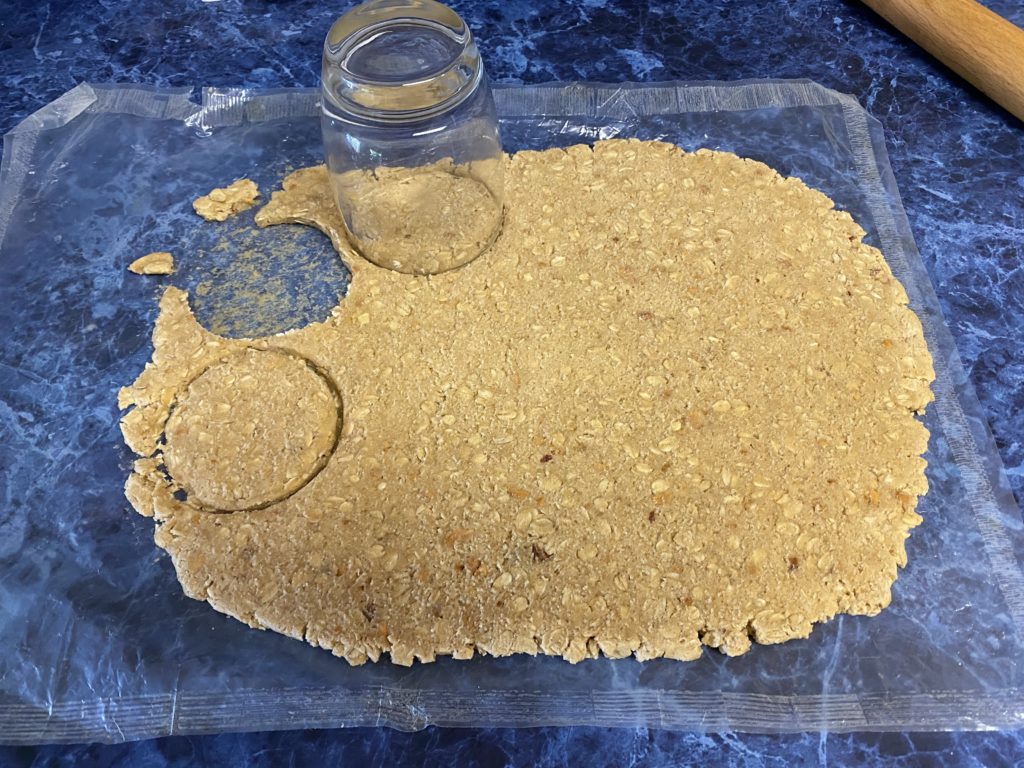 These rounds ended up going into the freezer: the recipe has a lot of fat in it between the butter and peanut butter, so all of the chilling helps it keep its shape. I used the cereal bag to roll it out again, and there was a lot of residue left on it when I pulled off the cookie. It gave the rounds more texture than likely intended, so I just hoped it would smooth out during baking.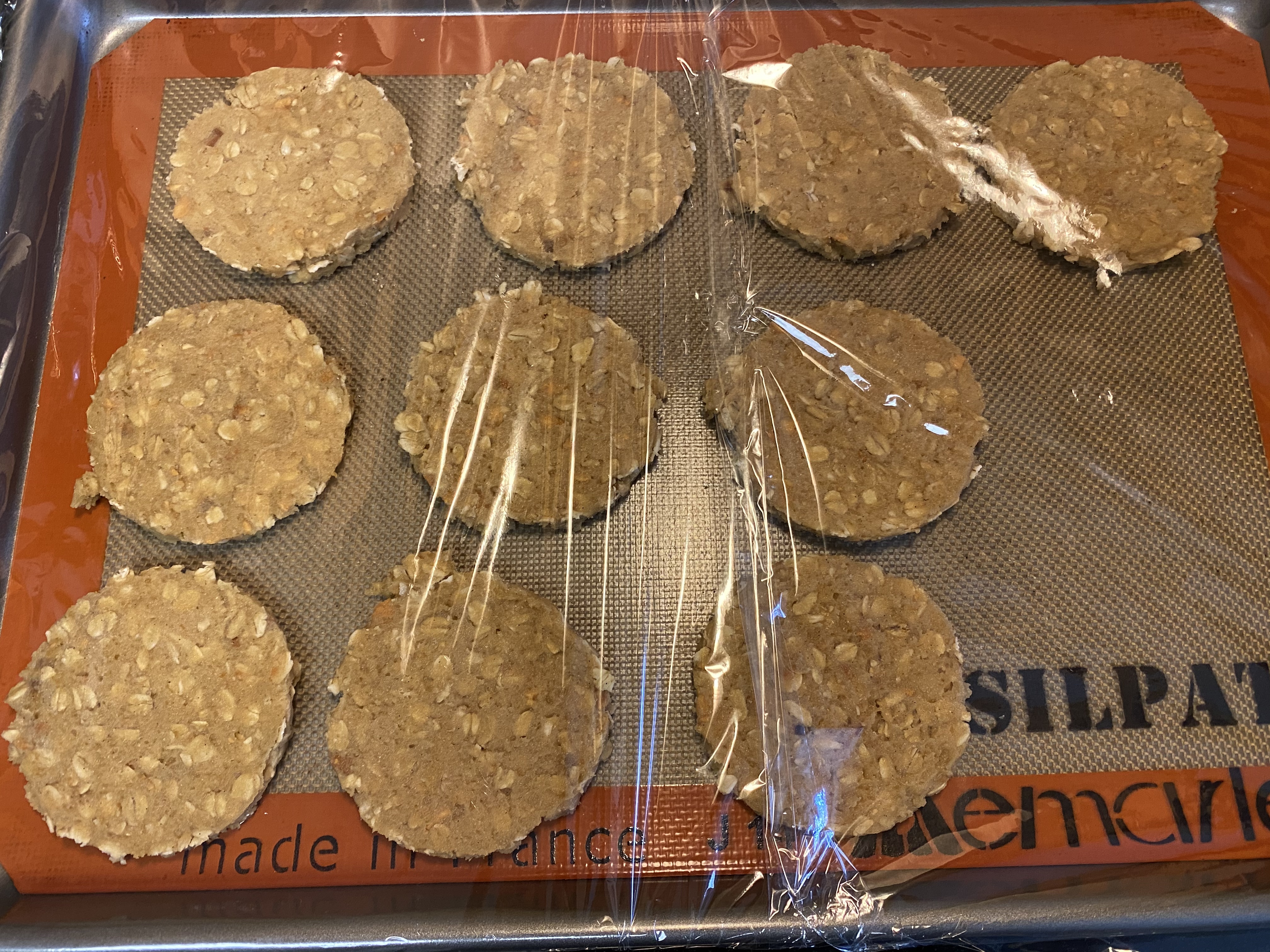 The filling was conceptually straightforward but also a lot of work: it's a 1:1 ratio of buttercream and peanut butter with a dash of salt. The first step, then, is to make the buttercream. Keller's technique uses simple syrup mixed into whipped egg whites with the butter incorporated afterwards.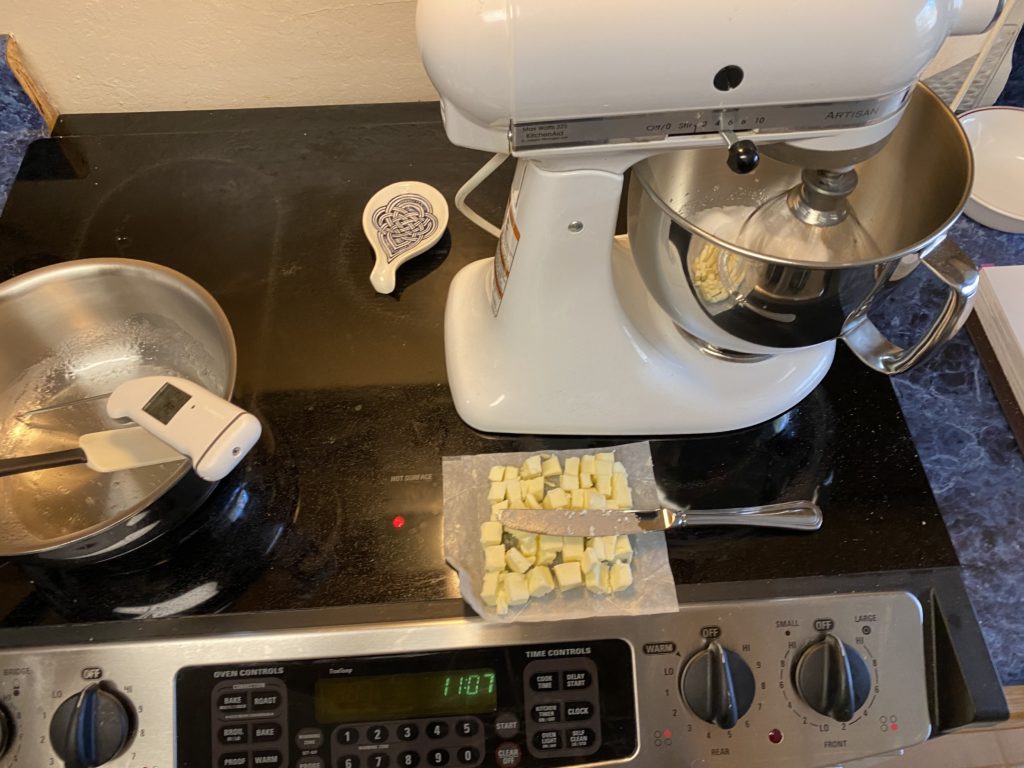 The temperatures were quite specific, and I think I more or less nailed it to make the meringue.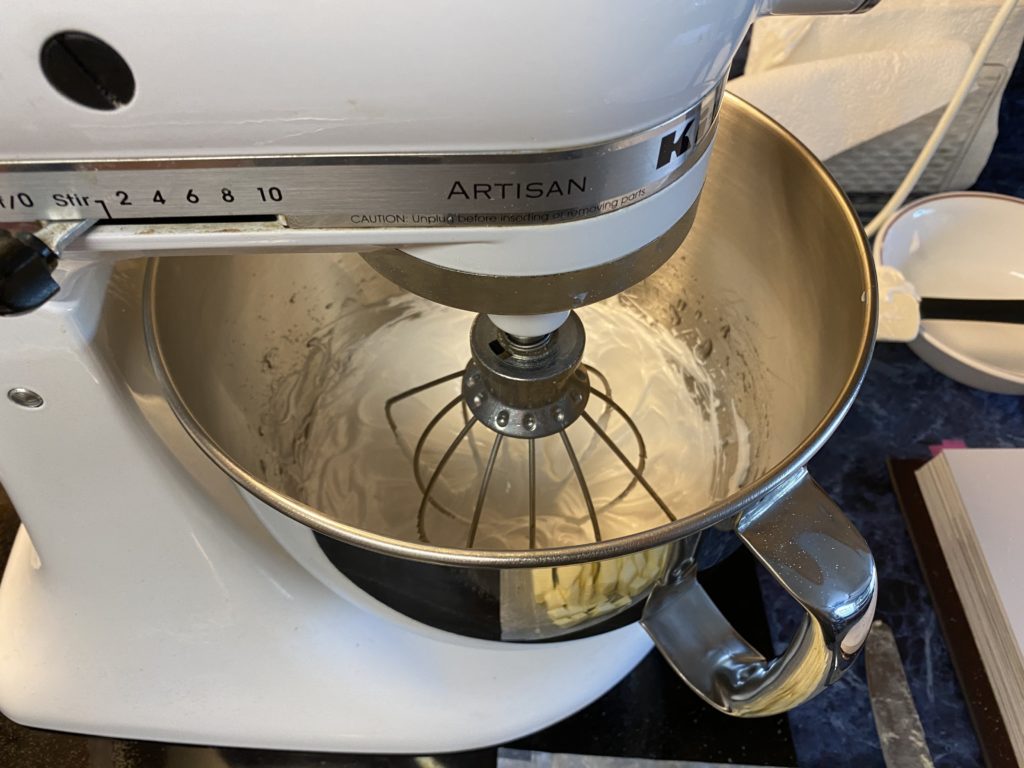 The last step is to incorporate the butter a few pieces at a time. I think I went too slowly since the buttercream seemed to lose its glossy texture. I think I went too long and would need to un-beat it somehow, but I used a knife, and tried to spread it, and it seemed to work okay.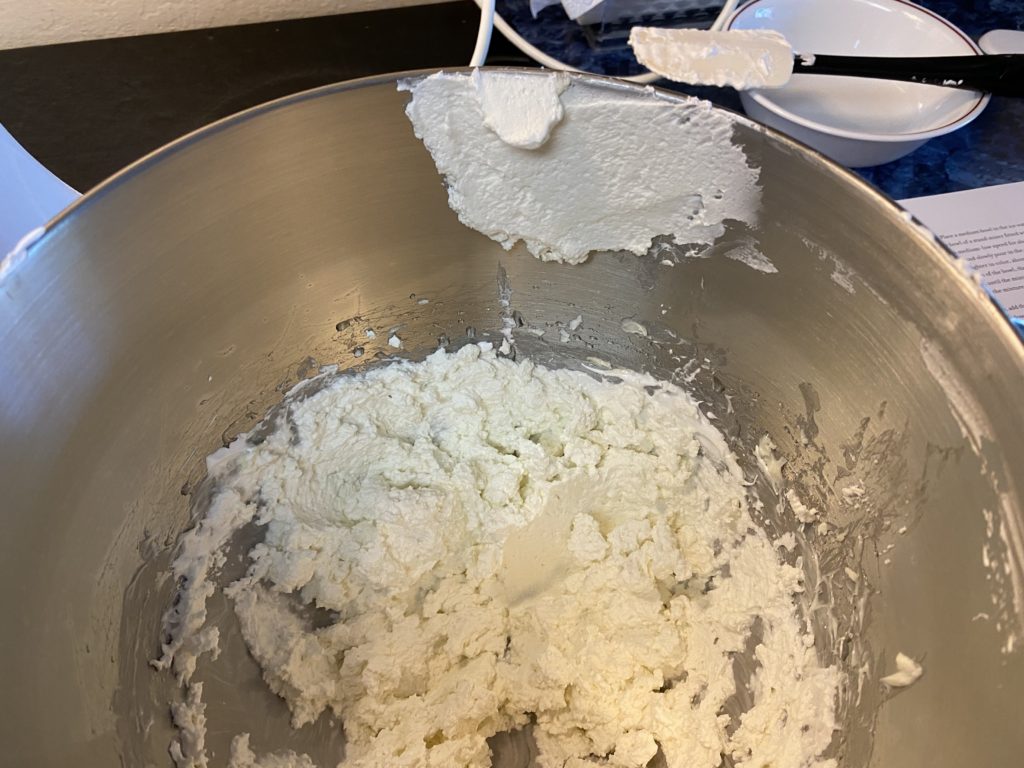 The recipe didn't say I needed to wait to incorporate the peanut butter, but I wasn't baking that day anyways, so I put the buttercream into the fridge for another day. A few days later, it cooled off enough that I dared to turn on the oven, so I started again by letter the buttercream warm up, then adding the peanut butter.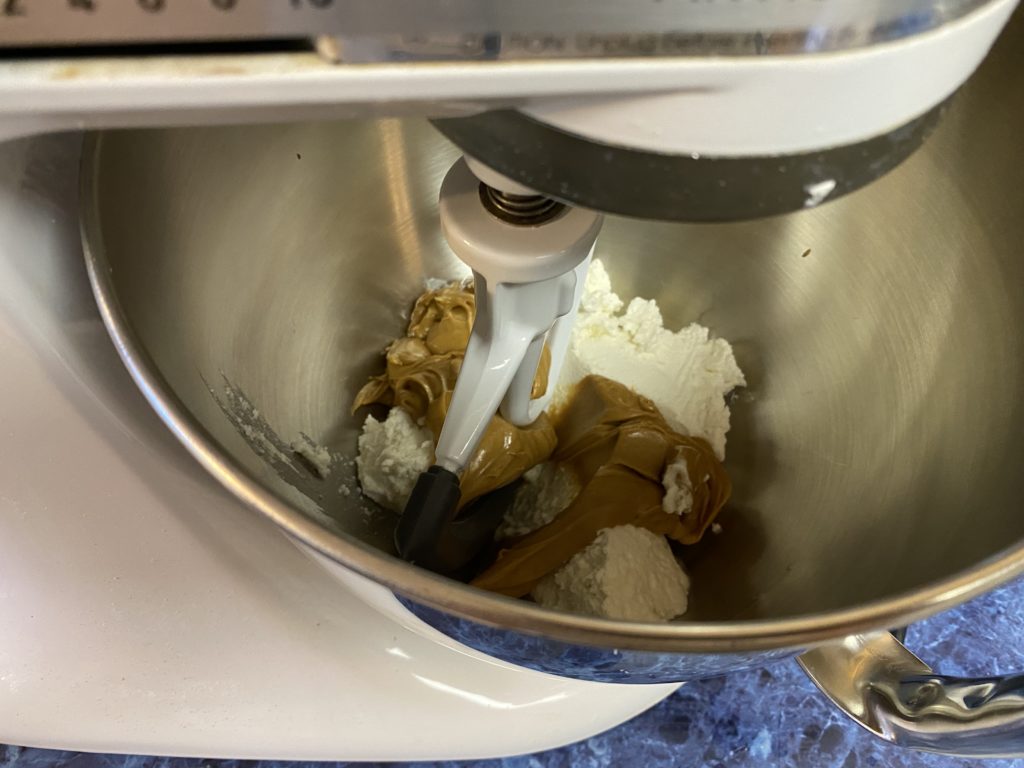 My buttercream concerns went away as it beat smoothly in with the peanut butter. I then moved it into a pasty bag to pipe onto the sandwiches soon. Tip: put the pastry bag over a cup to help it stand up while filling.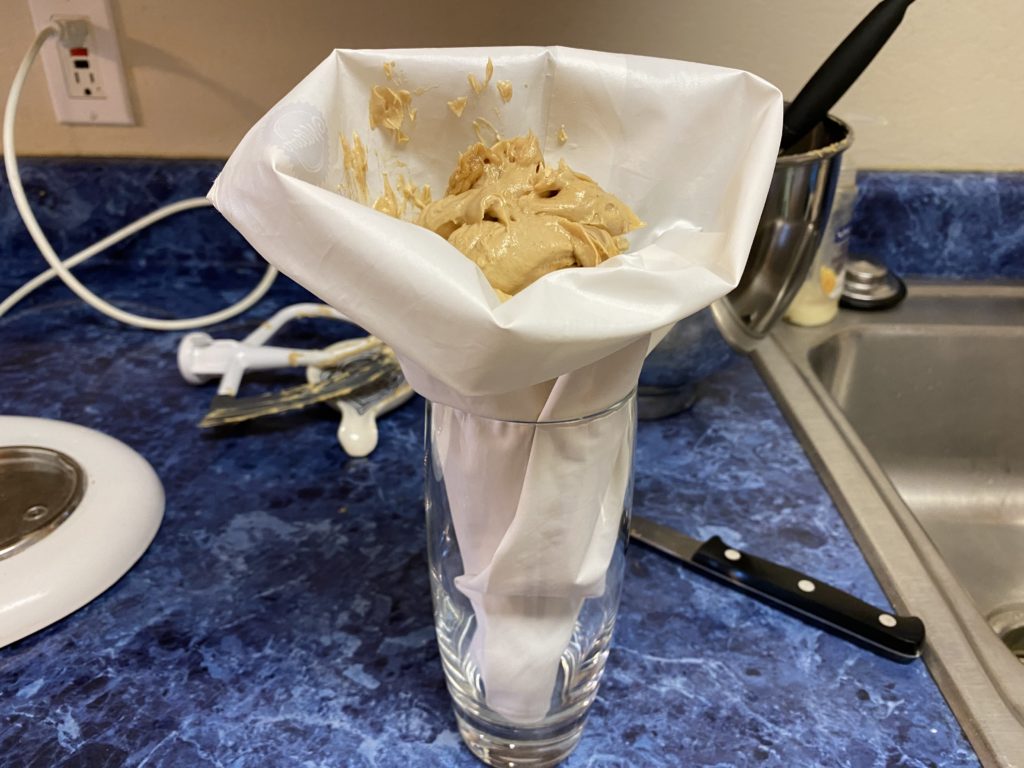 Meanwhile, I baked the cookies straight from frozen. The recipe recommended baking the cookies fresh, but it also said to use two racks. To simulate the effect as close as possible while not overtaking, I put an empty sheet in for the second.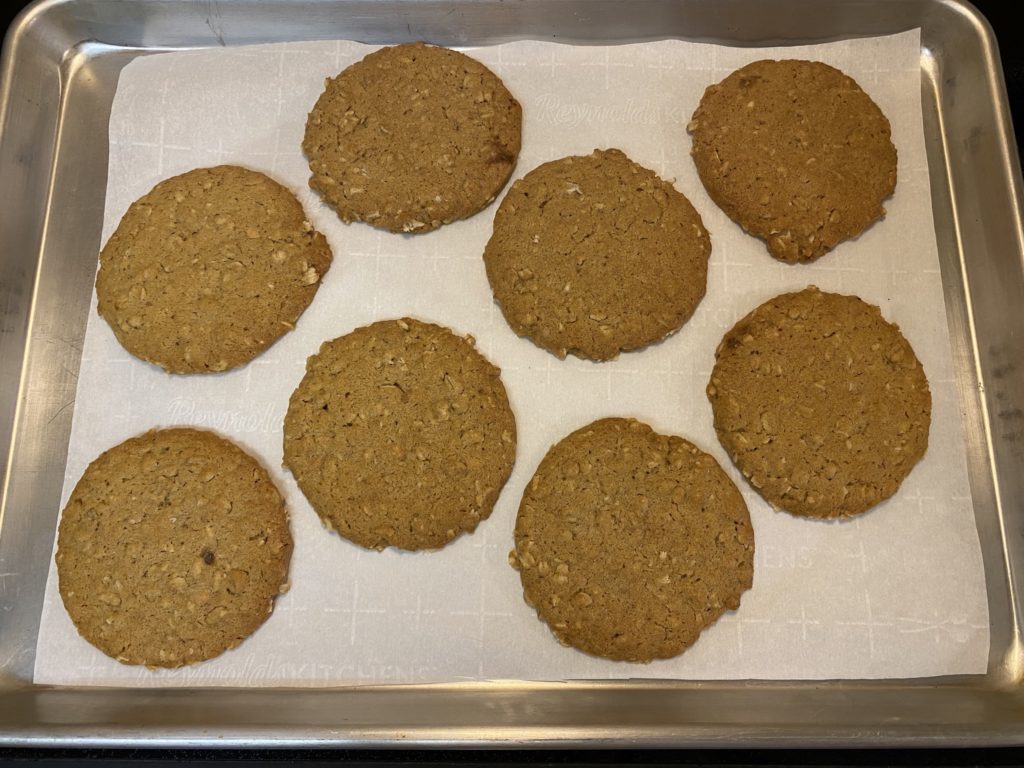 One of the cookies crumbled while in-transit to the cooling rack. I wasn't too concerned since I figured the filling could glue it back together.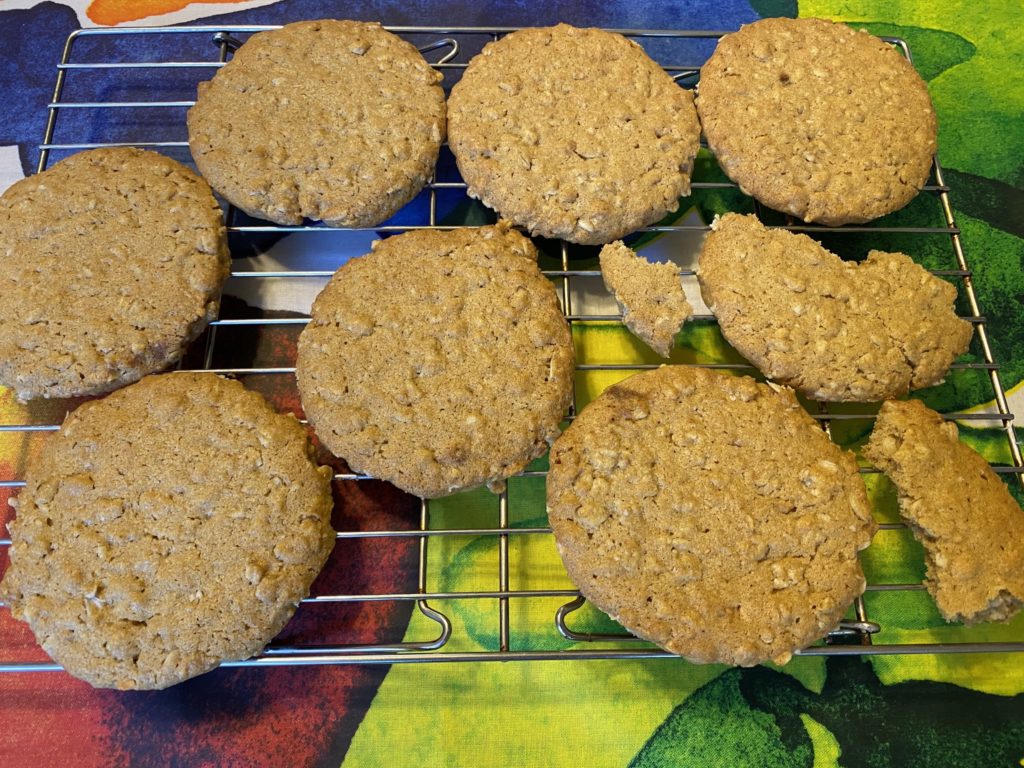 After they cooled, I began filling. For the first batch, I filled them on a plate, but the cookie kept sliding around while I piped. I got smarter on the second batch and filled them on plastic wrap, but the sliding did create a nice corkscrew effect in some places.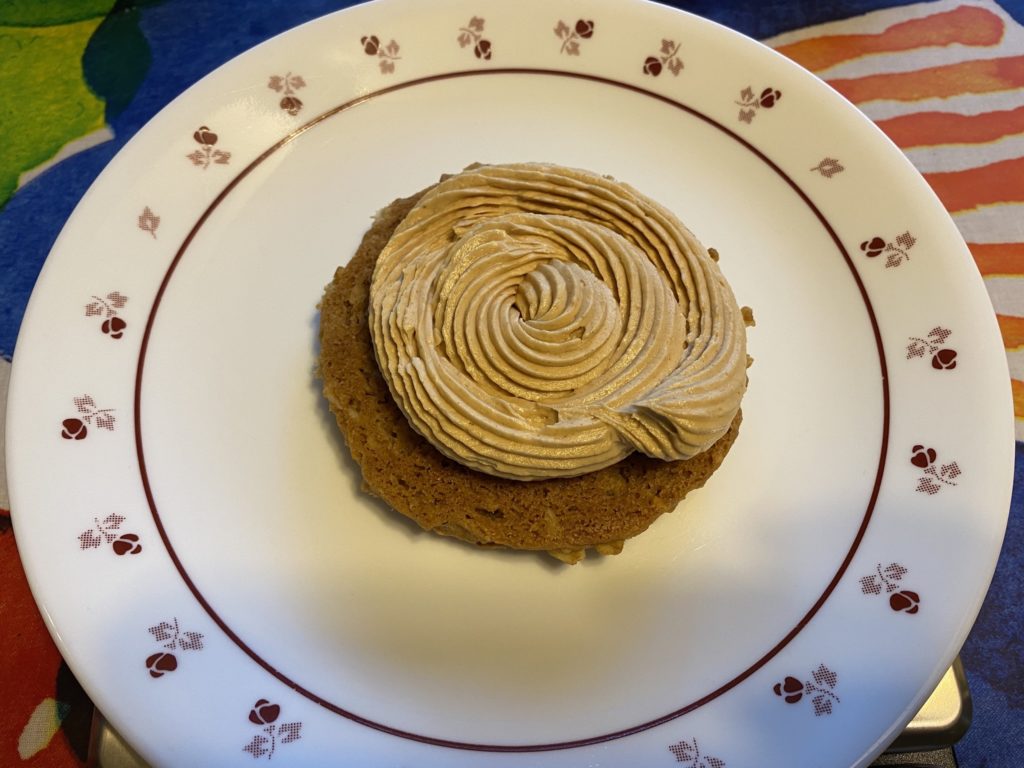 And then it was time to eat. Of course, I had to know if it was truly a better nutter, so I got a tray of actual Nutter Butters and did a head-to-head comparison.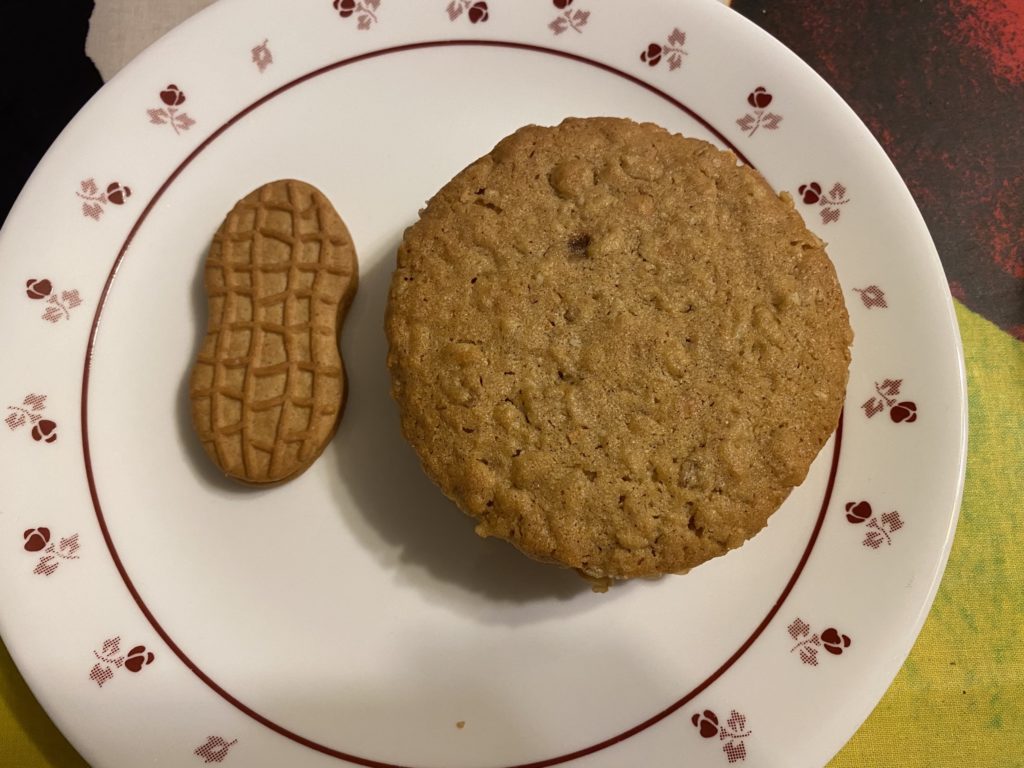 The first thing you may notice is the size difference. The Better Nutter baked to around a 3.5-4 inch diameter. I would estimate that a standard, spread-y chocolate chip cookie bakes to at most a 2.5 inch diameter. Some back of the envelope math means each cookie has twice the area of a regular cookie.
And these are sandwich cookies, so there are roughly four cookies per sandwich. Made with peanut butter. Filled with peanut butter. Very calorically dense peanut butter. And butter. So much butter.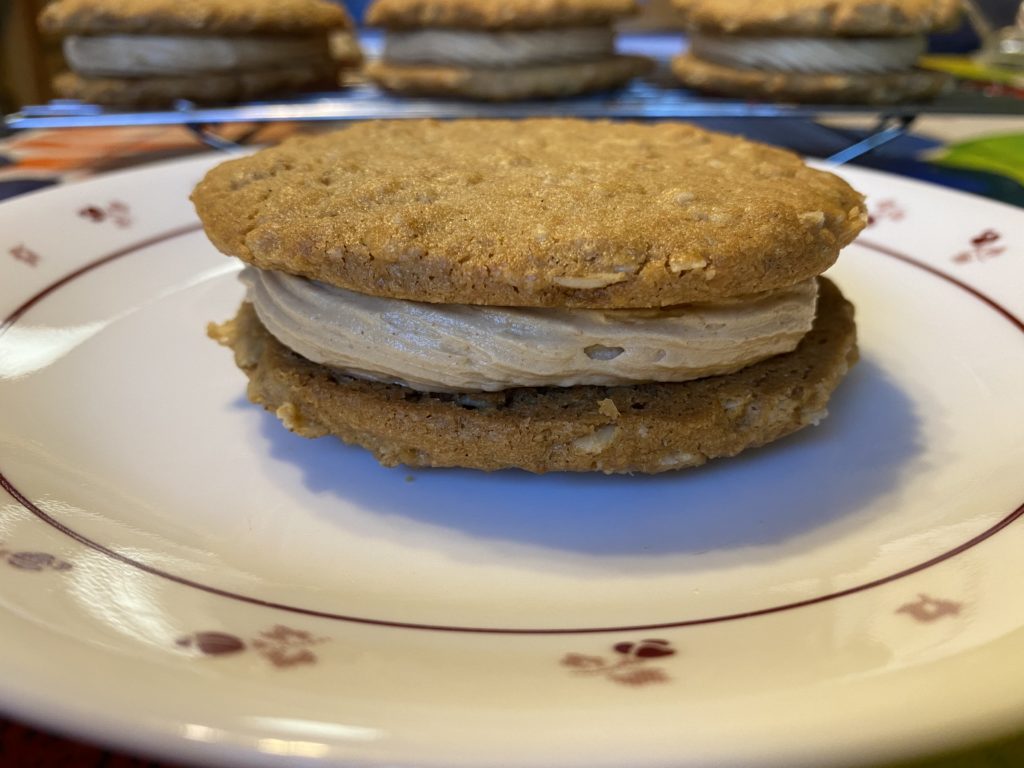 I really slowed down towards the end. I will say that the cookie was quite good. I like Nutter Butters a lot, though, and these were definitely different. The recipe had toasted peanuts, which I probably would have left untoasted just for consistency. And the oats were a. little strange. However, that much peanut butter and butter just has to be delicious.
Though I would recommend only eating a half.
Also the cookie crumbled perfectly when bitten, so the filling barely squeezed out at all.
I question whether it's worth the work, but if I ever end up at Bouchon Bakery, I would try their version.
If you're interested in giving the recipe a shot, Serious Eats has a recipe that's pretty close.
Oh, I also made a Dutch apple pie with the remaining ginger crumble. I wasn't so pleased with the filling recipe I used: I probably should have baked it longer, but I was worried about overdoing the crumb. Still, you can easily fix any apple pie just by putting ice cream on top.