Snickerdoodles always struck me as a very kiddie sort of cookie. Well, I think most cookies are well targeted towards children, but something about the name, simple flavor, and heavy coat of cinnamon sugar feels like childhood. Maybe like Cinnamon Toast Crunch cereal in cookie form.
Stella Parks aka Bravetart goes into significantly more detail in her own story of this cookie, which I highly recommend. There are two main twists in this recipe that makes this seem far more complex than a simple childhood treat.
First, to kick up the spiciness, she suggests using freshly grated cinnamon rather than only ground cinnamon. She mentions something about putting the tip on a microplane as though to somehow skirt past the fact that you're literally trying to grind a piece of wood. To be fair, my cinnamon sticks are a few years old, but I mostly ended up with a pile of fragments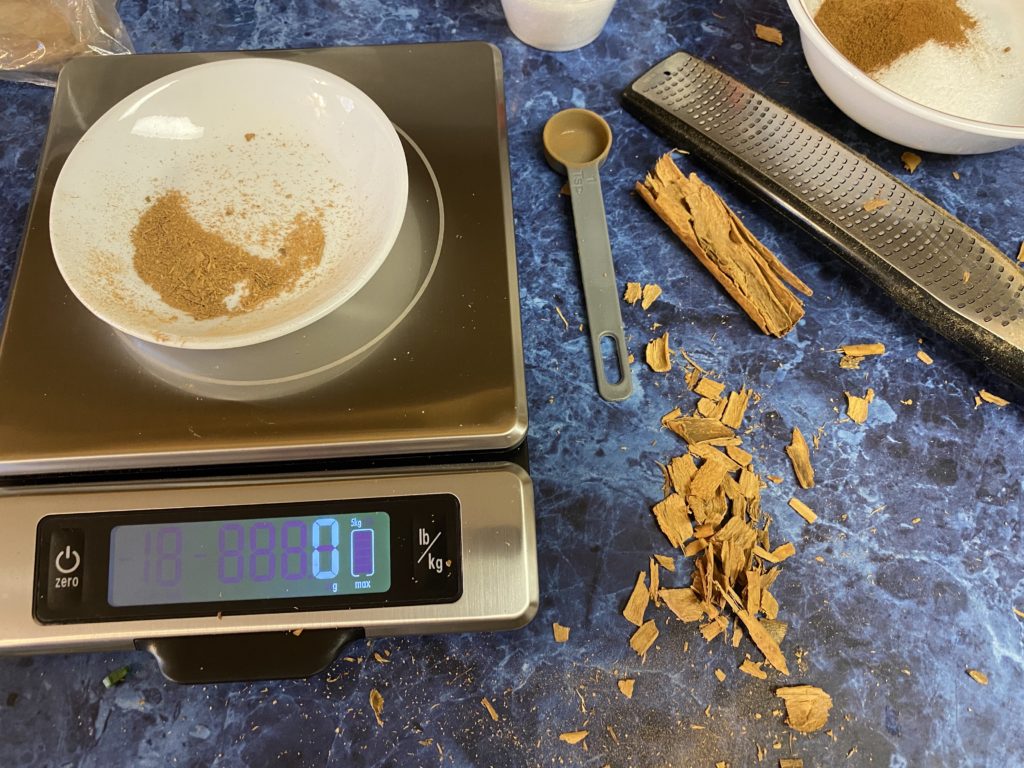 I have used the cinnamon sticks whole before for various recipes, but I was surprised that they gave off a faintly fruity smell when freshly ground.
Bravetart also calls for virgin coconut oil instead of the usual vegetable shortening or margarine that is included along with the butter. It creamed just fine with the sugar, but it also gave off a tropical smell that fit with the cinnamon but not with my idea of snickerdoodles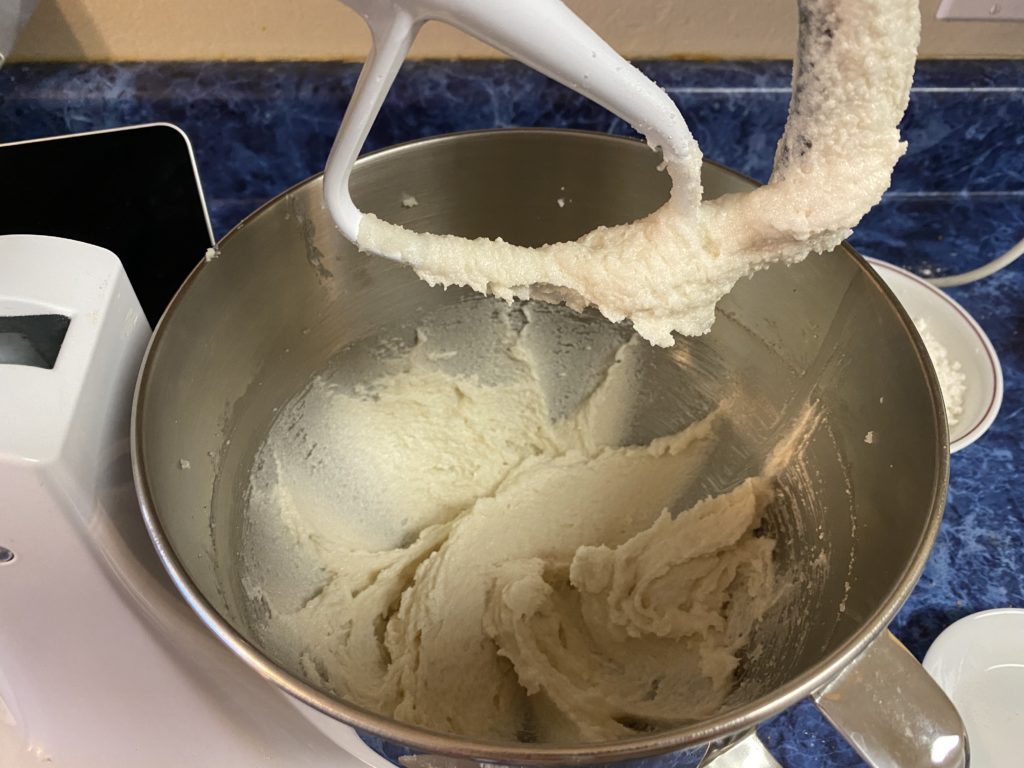 The rest of the mixing was quite straightforward since there aren't even any mixins. The recipe calls for 2 tbsp dough balls, and since that isn't a standard scoop, I measured out one by volume and weighed it. Coming in at 35 grams, I was able to form the balls much more quickly.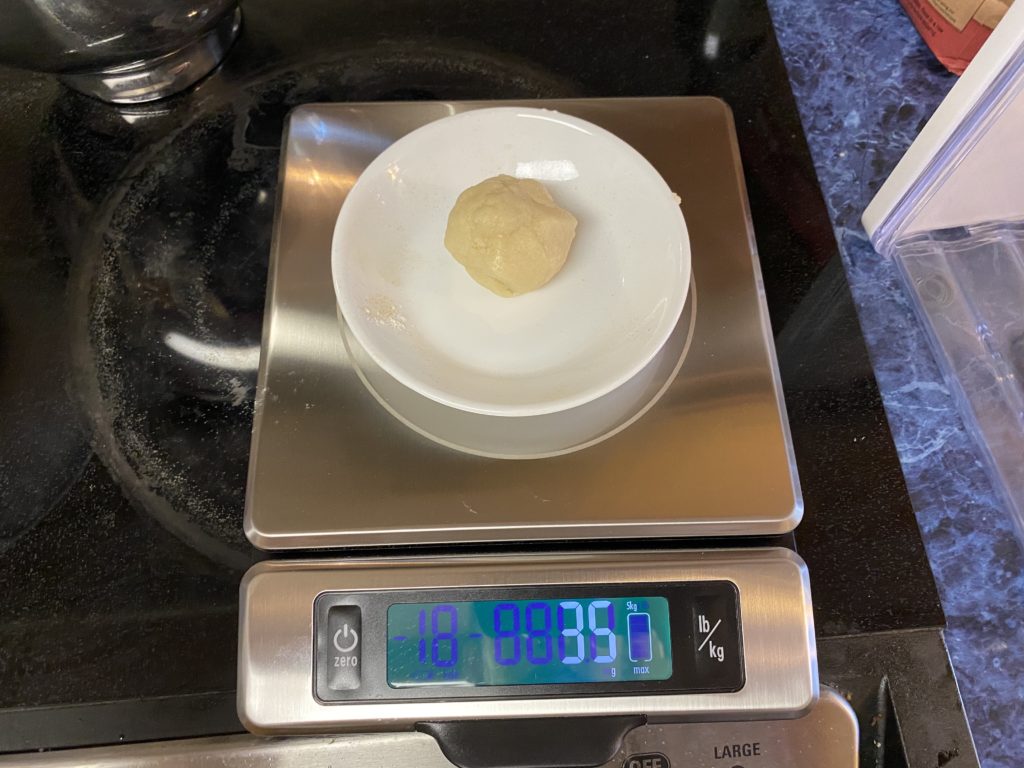 I came up just short of exactly 2 dozen, so I went back and picked bits off of all of the other balls to make roughly 32 gram balls. For next time, I weighed my mixer bowl ahead of time so I can weigh the fully mixed dough and calculate the balls ahead of time.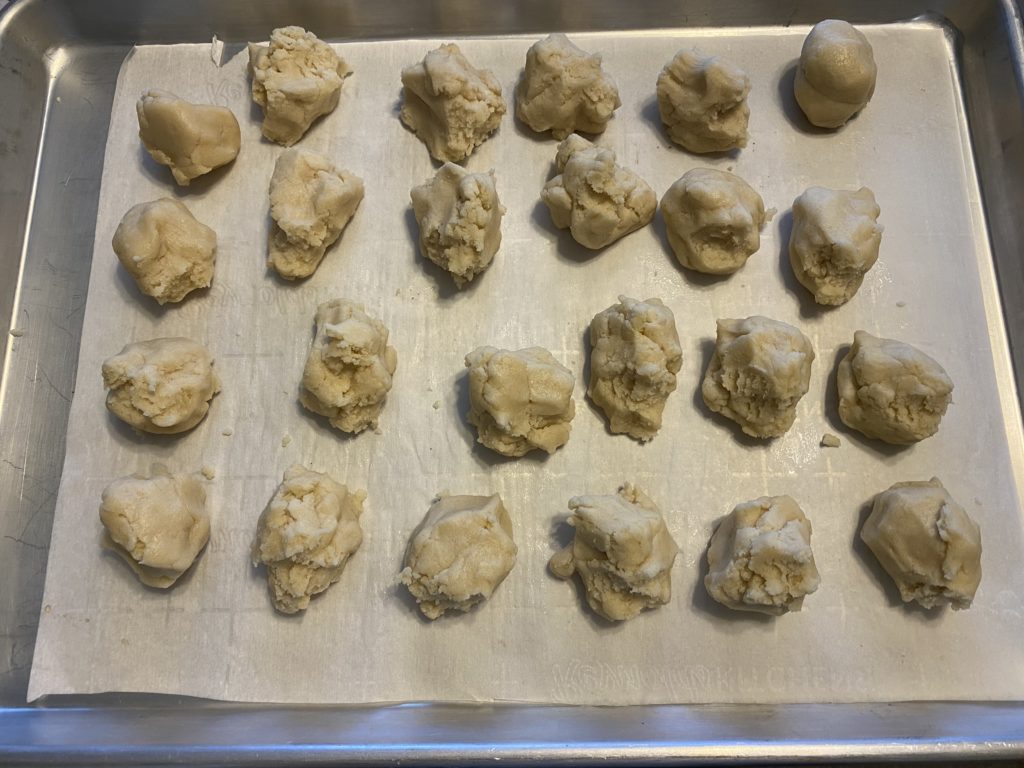 I did have difficulty making the dough balls pick up enough of the sugar and cinnamon during the rolling. I actually ended up working each ball a little more to warm it up to make it sticker, though I would recommend it for reasons to be explained later.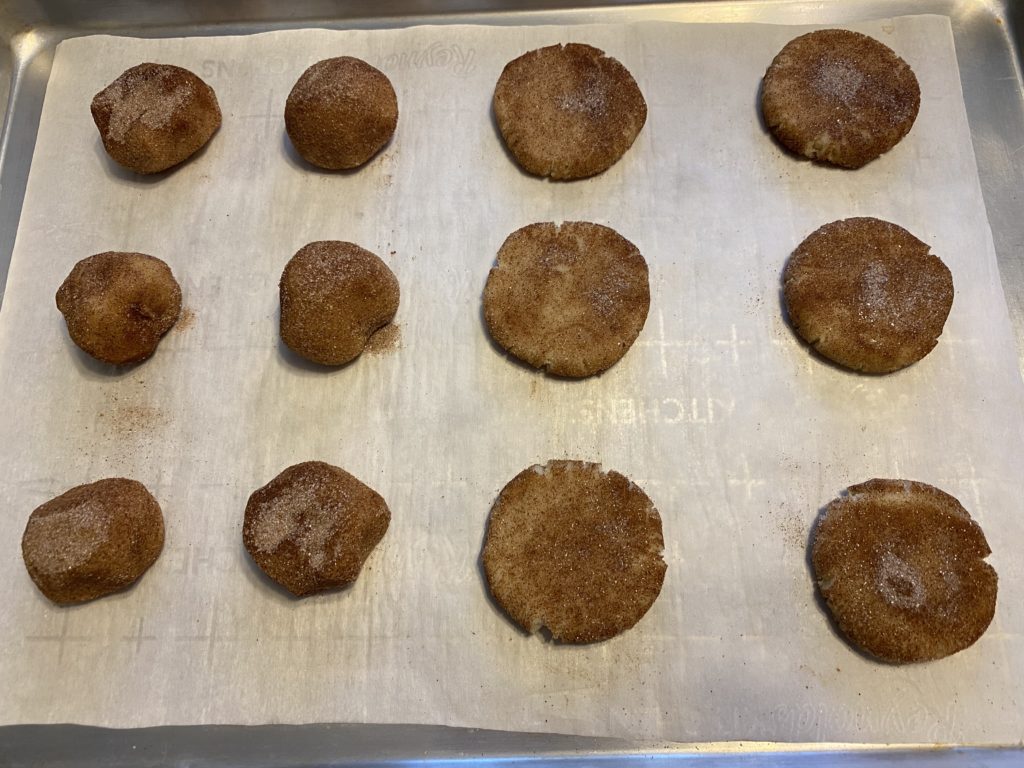 I appreciated her tip of using the bottom of a glass to flatten them into disks. I'm also unreasonably proud of having read carefully enough to know to put the extra cinnamon sugar on top of the cookies.
There was a lot of extra cinnamon sugar.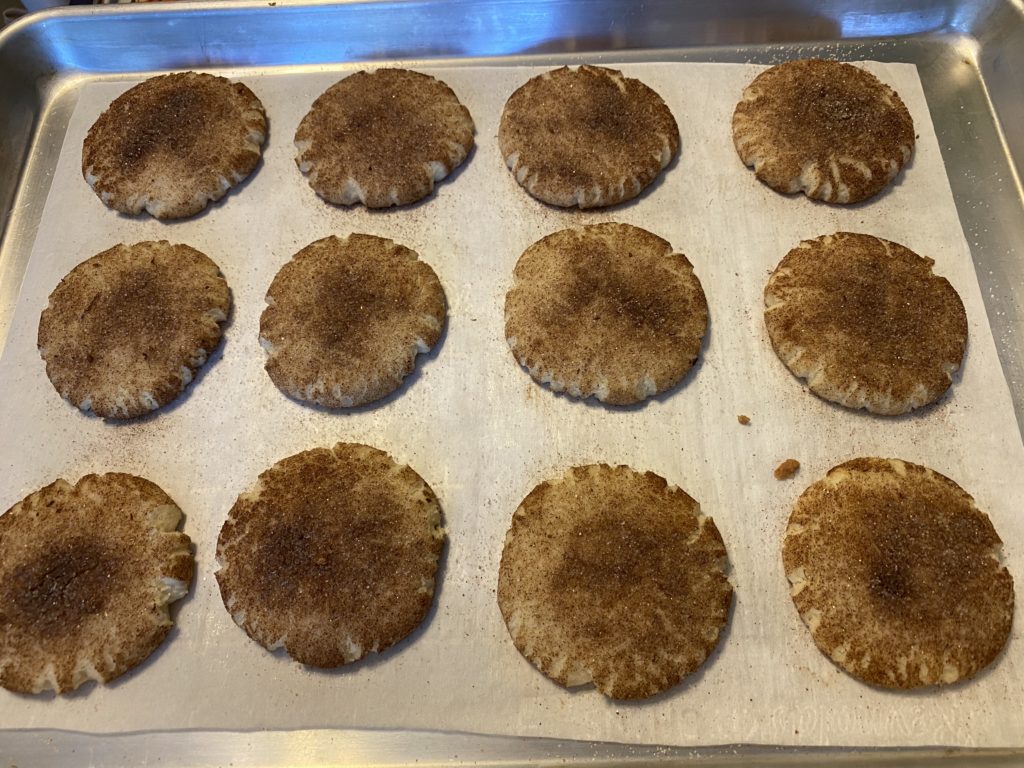 Since my last batch, I also got an oven thermometer to confirm that my oven is properly calibrated. The good news is that generally, yes, it is well calibrated: 400 on the oven read 400 on the thermometer. However, it didn't actually hit 400 when the oven preheat sound went off. It took a few more minutes.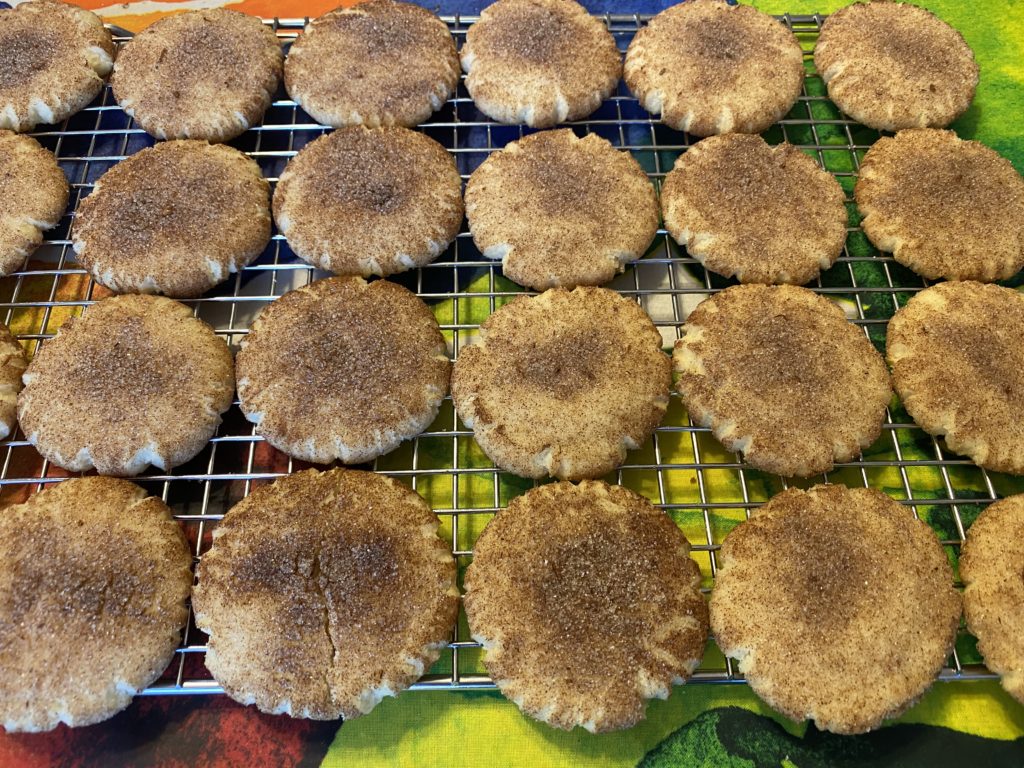 Bravetart promised spicy snickerdoodle, and they were certainly, pleasantly spicy. All of my previous snickerdoodle have been lightly cinnamon, but this actually made of think of the red hot candies.
The cookies did end up a little tough, and that was even just a few hours after baking. Fortunately, they didn't get crumbly on subsequent days, but I was hoping for a more tender cookie. My first thought was that perhaps I could have baked them slightly less, but now that I'm reviewing my process, I wonder whether working and warming the dough actually overmixed it at the very end. Were I to do it again, I would be much more gentle in rolling out balls and instead rely on the cinnamon sugar crust to get the rest of the flavor in.
Should you wish to make some surprisingly spicy snickerdoodles, you can find the recipe on SeriousEats.
Finally, we also made a Red Lentil Dal for dinner that evening and my lunch for the week. I can't say it was my favorite, but my tomatoes weren't very good, either, so maybe it's worth trying again with better ingredients.