Fish and Chips in London. Croissants in Paris. Pizza in Rome. Sausages in Bavaria. Gelato in Florence. On our trip across Europe, we gathered plenty of food recommendations to truly experience the different cuisines. Some we missed. Some were as expected. Some were duds. Some were great. However, we did have a couple surprise hits along the way that I wanted to share.
Ribollita in Florence
Ribollita is bread soup with black cabbage. It's made with leftover bread and leftover minestrone.
It was delicious.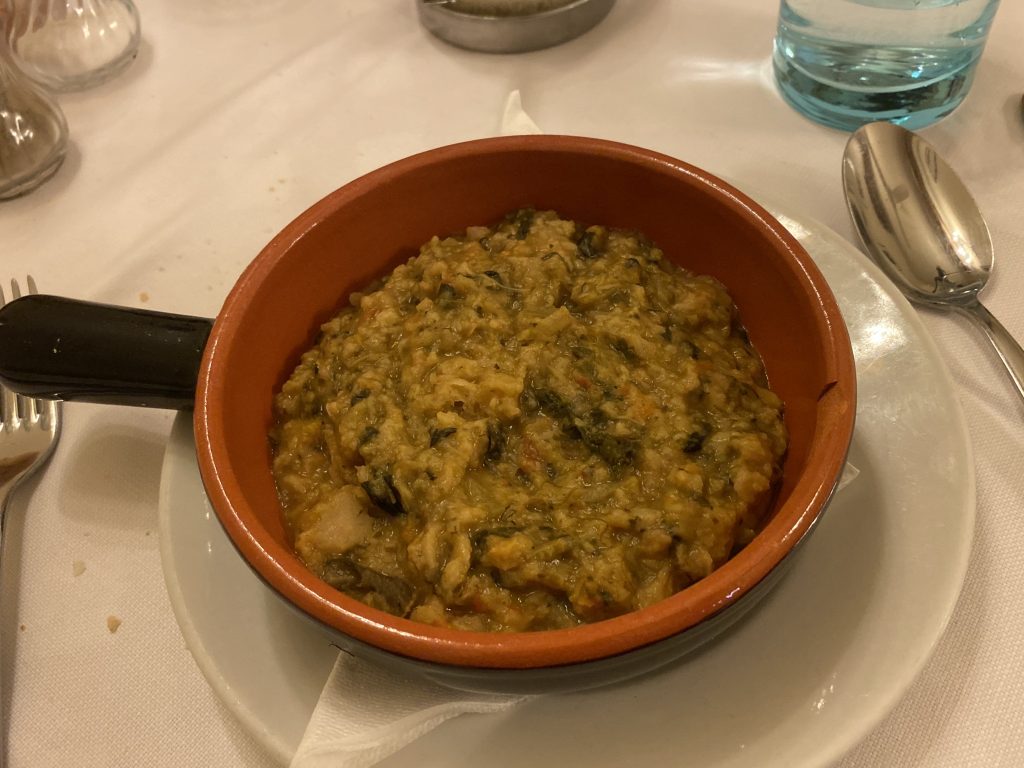 After getting home, I immediately set out to recreate it myself, and I failed. It wasn't bad, but it certainly was nothing like what I had in Florence.
Multivitamin Juice in Germany
Europe has great juices. On a menu, you will see the usuals like orange and apple, but there's also cherry or rhubarb. In our hotel in Munich, the breakfast buffet had multivitamin juice. I was worried that it was some fruit-vegetable hybrid focused on health over taste, but I will try most new foods and took a sip.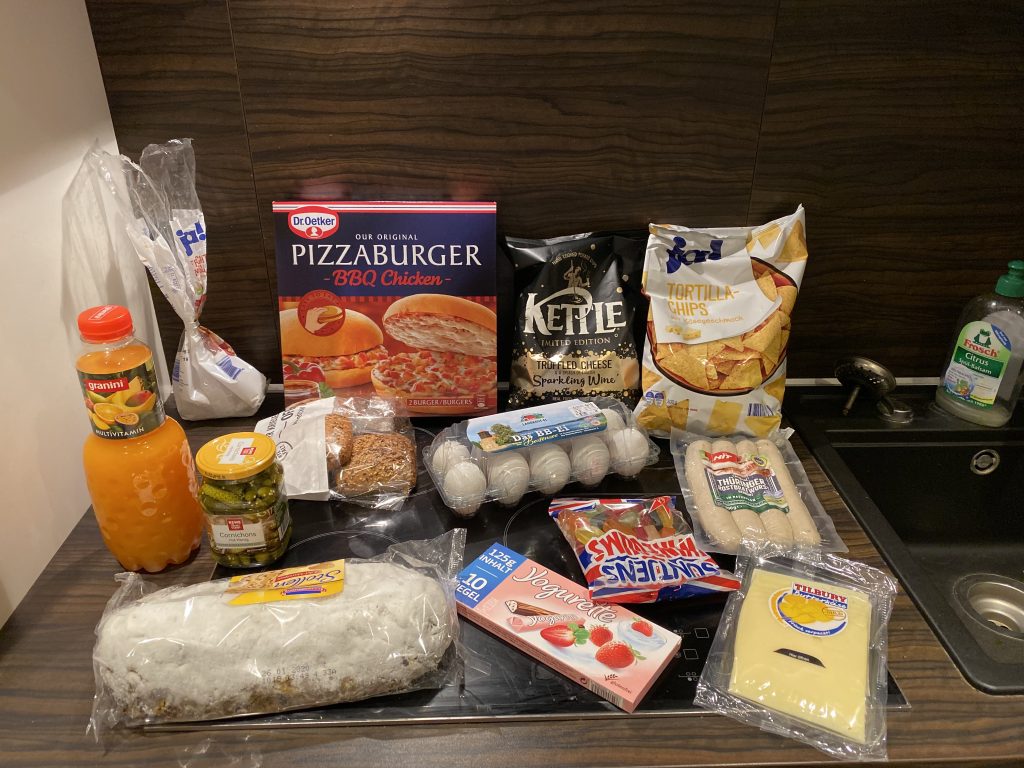 It's great. It's like a tropical fruit punch. I still don't know what is in it, but we kept buying it when we got back to Berlin and at several restaurants just so others could try it. I enjoyed a lot of juice, but this was a standout.
Carbonara in Rome
I don't go out for pasta very often. I always thought that Italian food (in the United States) is overpriced for heavy dishes that often aren't better than what one could easily make at home.
Going to Italy, of course, we had to try the pasta, and the internet showed us what dishes are Italian-American versus truly truly local dishes. Among the Roman opinions, Julie immediately picked out Carbonara.
I had made Carbonara before. It turned out fine. I was never sure if I got the raw egg and sauce making process correct, but pretty much everything goes well when you add bacon to it. That was my baseline.
Then we went to Osteria Berberini and had Carbonara, and I realized how high the ceiling was on good Carbonara. The dish came out warm, but the sauce was thick and hung onto the pasta. The bits of (probably) Guanciale stayed crispy. It was incredible.
Since then, I have made Carbonara three times. Now that I know what the dish is supposed to be, all of them turned out much better than my previous attempts. Ironically, my first attempt was probably the most successful when I luckily did the right thing. I'm working on improving the technique.
While we're talking about Rome, we tried both pizza by the slice and the crispier Roman pizza, and I was only satisfied. The pizza was good, but pizza has been exported well, so we get similar quality of Roman and Neopolitan pizza in the Bay Area.
Chimney Cake in Munich
The internet says that you have to try Trdelnik (chimney cake) in Prague. They're sold everywhere by street vendors and little food stalls. We had it in Prague. It was cold and a little burned on the outside.
This was even more disappointing because we had previously had Chimney Cake at the Tollwood festival in Munich. It was fresh and came out steaming. Like what the name would indicate.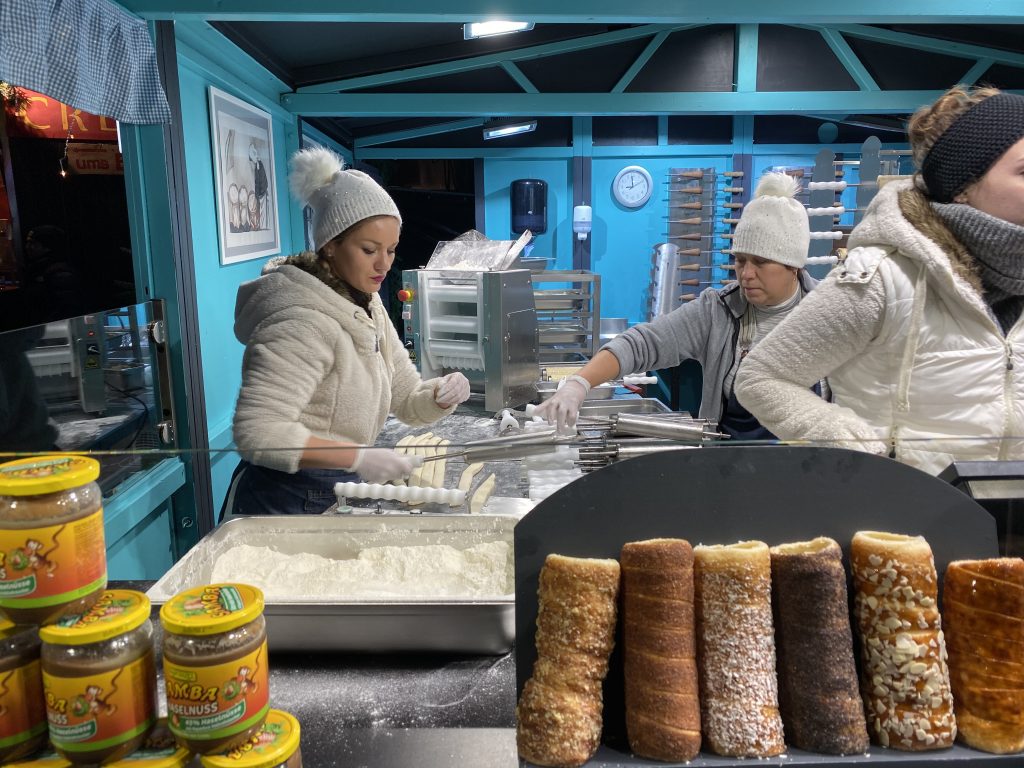 I love elephant ears and churros. Dough with copious amounts of sugar is delicious. It's a little hard to eat, but we tore off hunks.
Ja Brand Meatballs in Germany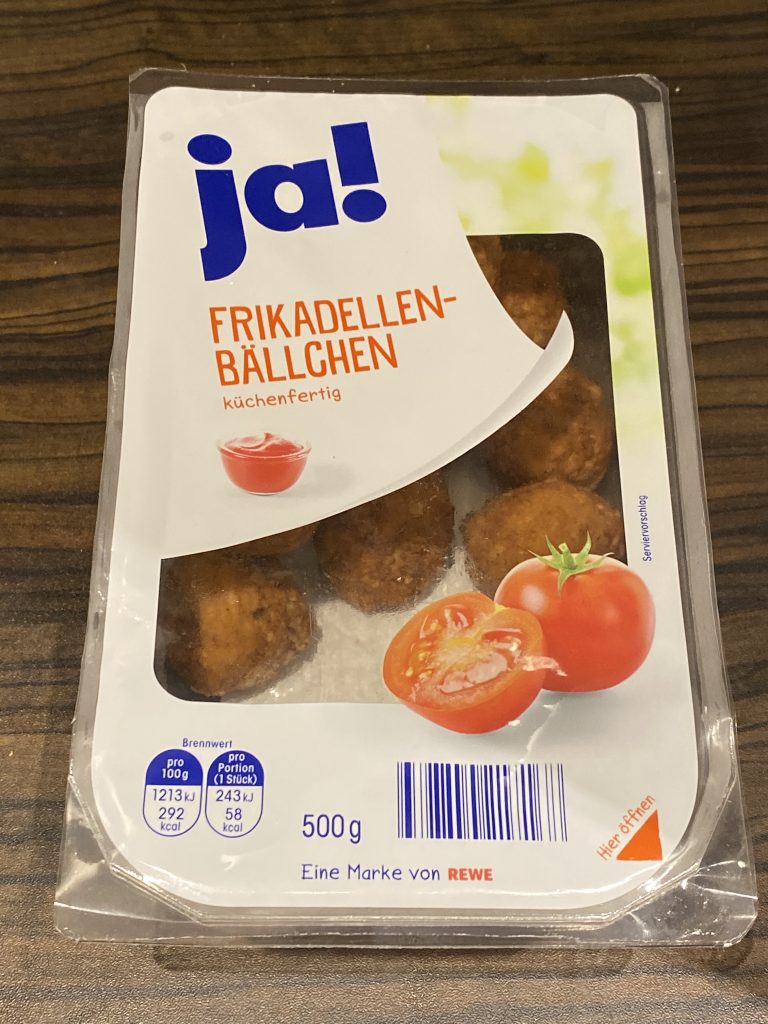 Between our trips, we wanted to eat simpler food in Berlin. Our kitchen was quite small and not stocked to my American expectations for doing real cooking. Both of the two kitchen knives were broken. The best knife was a table knife, which I used to slice tomatoes. Yikes.
As such, our home cooking veered quite far from what we would normally do. We simplified it by taking more pre-prepared parts from the grocery store, which I almost never approach at home.
The biggest difference is that rather than taking ingredients and composing them into a dish, we took dishes and composed them into a plate. Rather than making, say, a pasta primavera out of various vegetables and pasta, we made a sausage meal with weisswurst, croquettes, and frozen veggies in neat sections on a plate. It's actually closer to what a cartoon dinner would look like.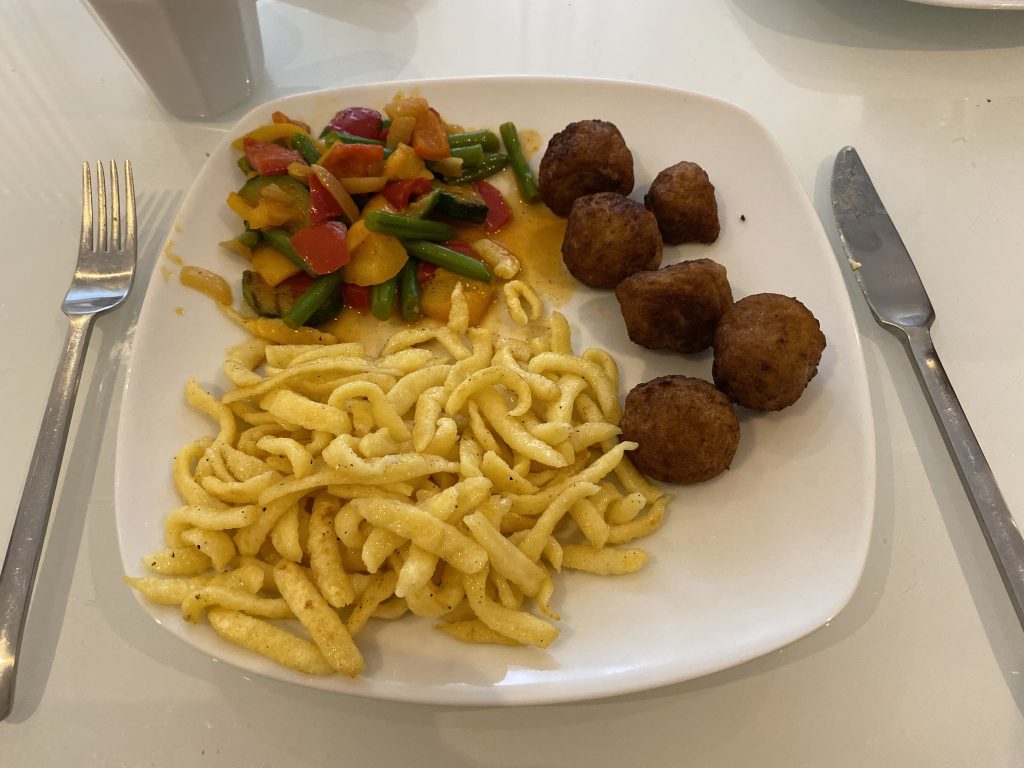 The big winner out of all of this was this specific meatball. It's Ja brand, which appears to be the generic, cheap brand at the grocery store. A container like this makes 4 meals, and since we bought them 4 times, we presumably ate them for dinner for 8 meals over about 25 days. That's a winning dish.
Durum Kebab in Berlin
After currywurst, the internet says you must try Doner Kebab in Berlin. It's seasoned meat stacked on a spit, slow roasted, and then sliced in small hunks and placed in a pita with some veggies and sauce. We even went on a Doner Kebab progressive and got a Kofte Sandwich and 2 Doner Kebabs (each at a different restaurant in Kreuzberg).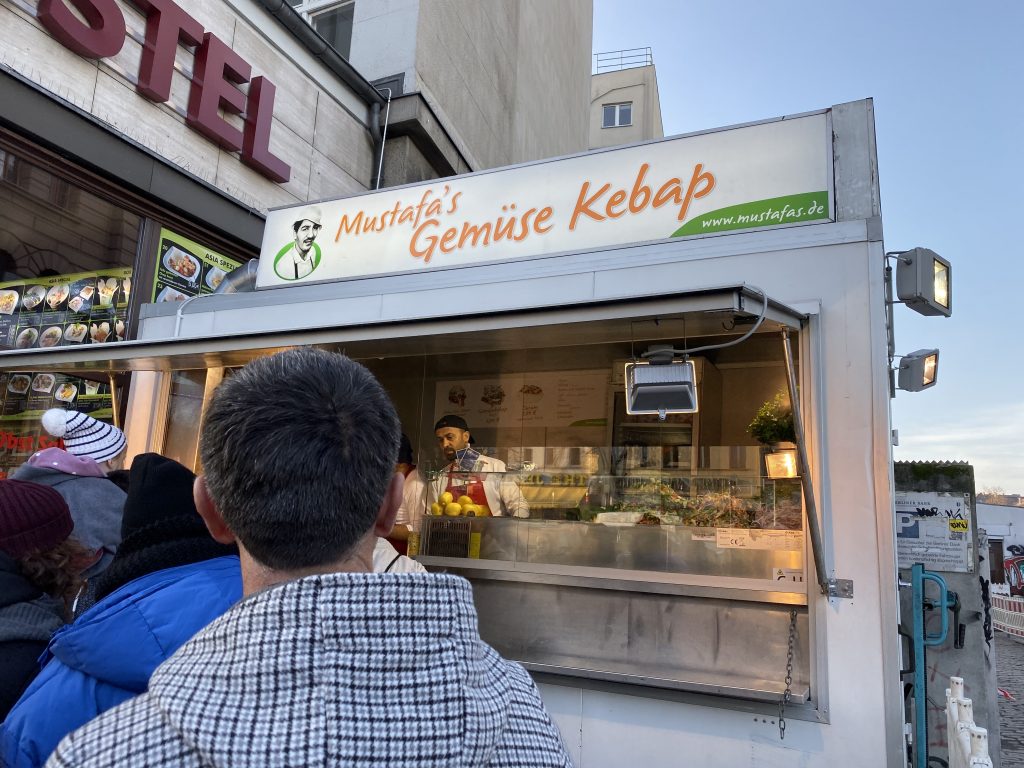 It's also strangely composed. The pita sandwich doesn't have even bites of everything, and sometimes you just get bread. And it's messy.
Instead, every Doner Kebab place also serves Durum Kebab, which is the same filling but rolled up in lavash like a burrito. Try the Doner Kebab, but then order this instead. Like a good burrito, you can get more even bites blending all of the flavors. Also, it's way cleaner to eat and hold.
Bacalhau a bras in Lisbon
We weren't supposed to be in Lisbon, but when we missed our flight connection, we suddenly had a free afternoon and evening to explore and use up meal vouchers with our complimentary hotel stay. We wandered over to the airport food court and ordered the first thing that looked reasonable. I thought it was salted fish and rice. It turns out it was salted fish and shredded potato.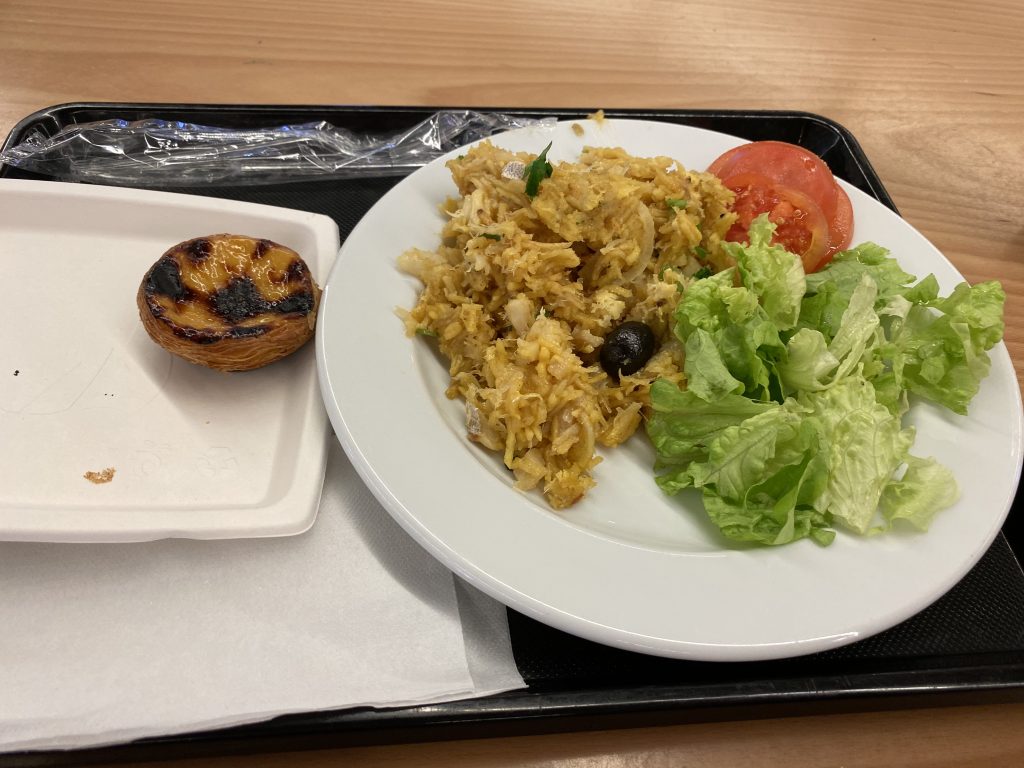 It reminded me of my childhood eating Cantonese salted fish and rice. Certainly the surprise factor of even eating Portuguese food on the trip made this a key addition to the list.
And speaking of Portuguese/Chinese crossover, we also had the Pastel de nata, the origin of the Chinese egg tart. I had many egg tarts growing up, and it's tough to say it, but I liked the Portuguese one better.