After Julie and I finished traveling through the big cities in Italy, we met up with my mom and sister in Central Europe. I covered my big thoughts on Italy in my last blog post on Venice, but for completeness, I'll provide two paragraphs on Rome and Venice, too.
Rome is big and full of tourists, even during the off-season, so I recommend the off-season. St Peter's Basilica was probably the highlight of the trip. Honestly, the pizza is good, but it's only comparable to the best pizza I have had in the Bay Area. However, the carbonara was really good. I would go back again.
Florence is tiny and even more touristy. Research where to get gelato and eat it as many times as possible. Ribollita is great and might be my biggest food discovery on this trip. Because Florence is so small, I don't need to go again, but I would recommend it.
Okay, that was Italy. Onto Central Europe.
For my other travel posts so far, I tried to organize them around themes. For these cities, I'm just going to provide general observations.
Munich
Before our trip, we considered two possible home bases: Munich and Berlin. Despite having chosen Berlin, our trip to Munich made me realize how much more centrally located it is than Berlin is.
Munich is located in Bavaria, a southern state of Germany, and when you think of German food, you're probably thinking of Bavarian food: sausage, pretzels, and sauerkraut. It's all quite tasty, though I can't say I noticed a huge difference in quality there compared to elsewhere.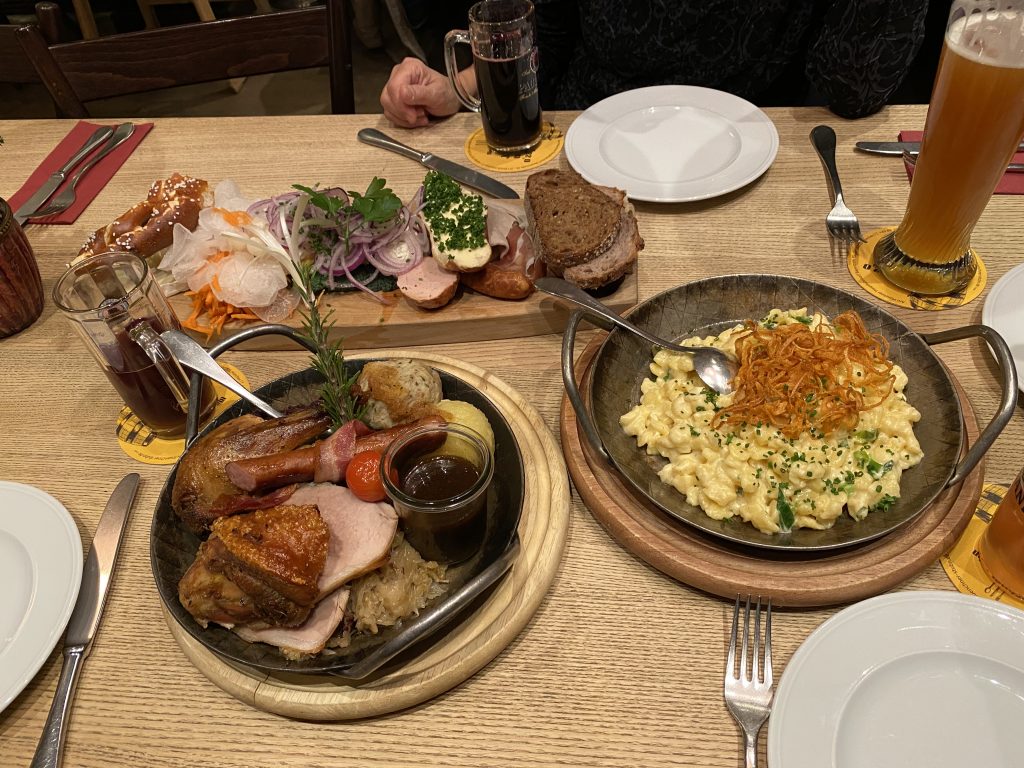 Munich is a great walking city. Much of the inner city is blocked off for pedestrians, so you can enjoy the shopping and ambience.
Munich has castles! Actually, you have to drive out a ways, but you can get to the Mad King Ludwig's castles. These aren't fortified, Medieval castles: these are fancy 19th century castles that inspired the Walt Disney logo.
On the trip, we went to at least twenty Christmas markets. Ignore the bloggers who are just copying each other's listicles: the best Christmas market is Tollwood in Munich. It's huge, it has so many live music options, multiple arts tents, and great ethnic and German food.
You might have heard that you have to try Trdelnik (chimney cake) in Prague. Maybe because there are at least 3 Trdelnik stalls on every block. However, the best chimney cake we had was at Tollwood. In Munich.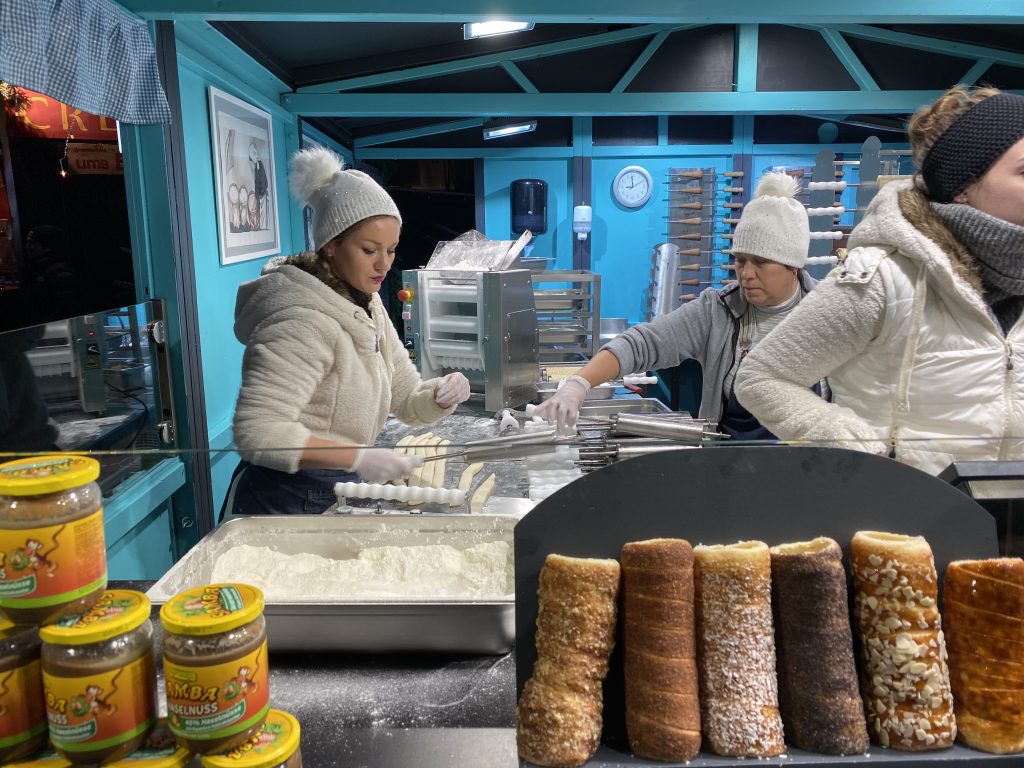 And get it without ice cream. They have to cool it down so the chimney cake doesn't melt the ice cream. It's better warm. If you want ice cream, just get ice cream. If you want a chimney cake, just have chimney cake.
Vienna
Despite a Hapsburg reign over the Holy Roman Empire for hundreds of years, most of the museums focus on 19th century Emperor Franz Joseph and his wife, Sissi. They're awfully nice to him as well, calling him a dedicated public servant and emphasizing his work ethic. The museums conveniently skip over his role in instigating World War I, one of the deadliest wars in history, which was also the precursor to World War II, the deadliest war in history.
But warmongers gather nice stuff. We enjoyed looking at their jewels in the Imperial Treasury and the gold in the Kunsthistorisches Museum.
We saw the most Christmas markets in Vienna. I think we visited somewhere between a half-dozen and a dozen. You can't miss them.
Another great walking city! They have pedestrian only boulevards with all sorts of luxury shopping. During Christmas, they have fancy lights everywhere, too.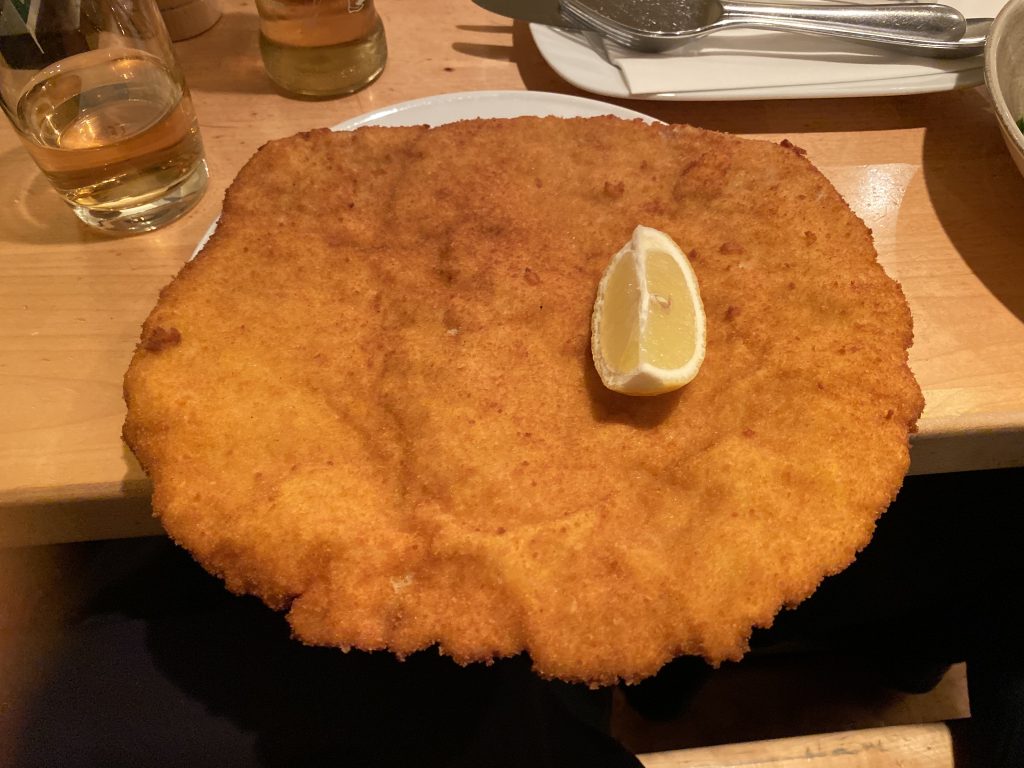 As I food tourist, I had to try Viennese cuisine. We went to Figlmuller for the best Schnitzel, and I thought it was okay. We went to Plachutta for the best Tafelspitz, and I thought it was good but not worth the effort. Apfelstrudel is like apple pie without crust, which might be my favorite part. Sachertorte is a dry chocolate cake.
But the Imperial Treasury was still nice.
Prague
After traveling through pricier Germany and Austria, we were pleasantly surprised to see cheaper prices in Prague. Since they still use the Czech Koruna, I had to get more cash.
The upside is that the roughly 20:1 exchange rate with the USD always requires math. The Euro is deceptively close to the dollar, so I subconsciously thought that everything was cheaper than it was.
I don't drink beer. I also wasn't much into their heavier food (like goulash), so I again wasn't a huge fan of their cuisine. I was happy to try it and would eat it again but don't need to seek it out.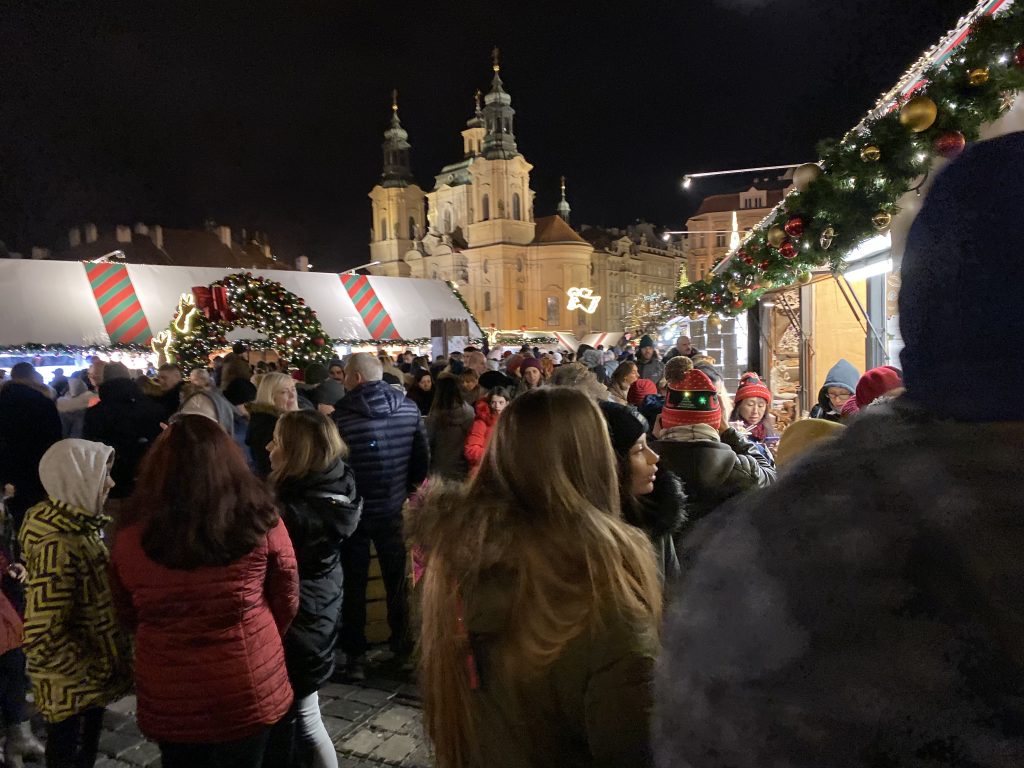 Prague was packed. I thought Rome was busy, but Rome was big. In Prague, I felt like every Czech person was standing with me in the same squares and pushing past me on the same streets. We suspected that everyone came for the Christmas Markets, but maybe this is just normal.
And yet another great walking city! Maybe this is normal, and American cities are the exception as being terrible places to walk. It seems like a great place for kids because there are candy and toy stores everywhere.
Takeaways
I was concerned about traveling through Europe in winter. The days are short. It's cold. It's the off-season. It's a tradeoff.
The upside of off-season is that I imagine that things were generally less crowded. The downside is that many museums and sights were undergoing renovation and had large segments closed. Maybe this is normal, but I suspected that they did all of this during the off-season to be open again later.
The days being short is kind of a bummer. When it's getting dark at 4PM, it really doesn't feel like there was much of a day at all. However, I think we packed this trip less than our usual itinerary. We more or less did everything between 10AM and 4PM with breakfast and dinner coming slightly before and after those. I don't think that's very European, but it worked for us.
I thought we were going to have to deal with snow, but I guess snow doesn't really happen in late November/early December. We had some rain and even 5 minutes of hail, but it has been remarkably tolerable for weather.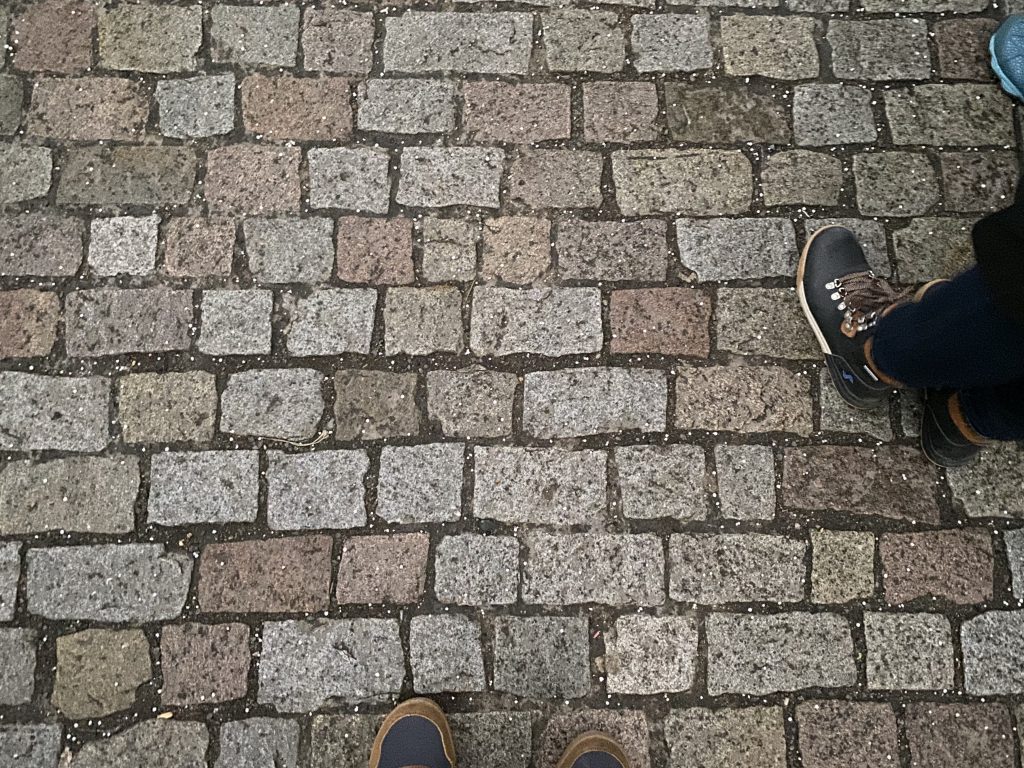 Without a comparison, I can't recommend for or against traveling in the off-season. All I can say is that it's totally viable.