This past weekend, I was talking with my friend Jenni about a personality trait that affects how people approach food: novelty seeking. Some people enjoy novelty for its own sake; others find comfort in known pleasures. Would you rather try out that new restaurant you don't know anything about, or would you rather go back to that restaurant you love? Same question goes for cooking.
It is a spectrum, and we all have moments in both directions, but I think Julie and I tend to be novelty seekers. I have lamented to many friends recently about how I rarely go back to my favorite ramen place in town: I would rather go to a new restaurant in the same area rather than go back to the same place. The novelty in itself is worth a try.
Whenever we go out to eat, Julie and I always agree on the 2 things we're going to order, then switch half way through the meal. Sometimes one of us ordered something better than the other, but we are almost always glad to have tried both. And if you set a dessert bar in front of me, I will try to cut the smallest piece of everything so I can taste every different things I can.
I would probably vary my cooking just as much if it wasn't so much work. The ease of pointing at a different menu item or walking one restaurant over certainly encourages novelty, and that is hard to replicate at home. Hopefully the Dinner Table Tournament brings about that same ease.
HelloFresh
HelloFresh is a service that ships out boxes of measured ingredients to prepare a series of dinner menus with recipes included. By default, they provide 2 broad options for vegetarians or not, but you can customize your order week to week depending on what they have available. You order by the meal for roughly $10 each with no additional tax or tip.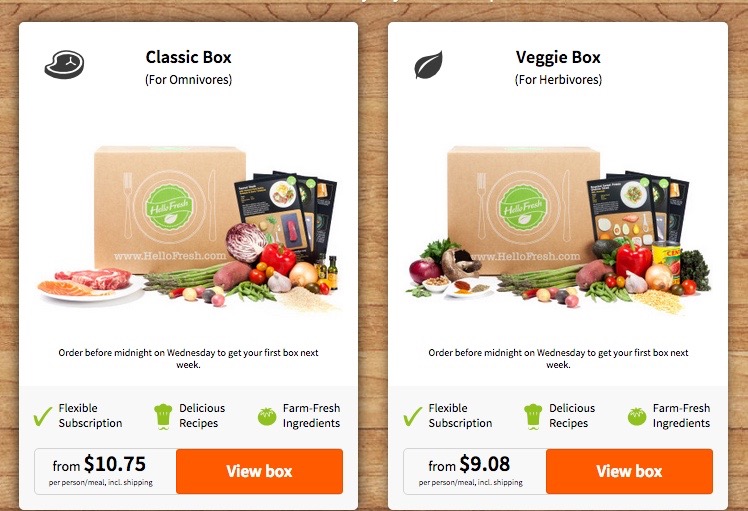 Unfortunately, the customization option ended up not working out for us as I seemed to have missed the window for setting that. There was a time frame for doing that, but when I checked before the deadline, there was no opportunity, and afterwards, I had apparently missed it. I would be willing to chalk it up to user error, but I'm still not sure what I did wrong. I'm not sure whether the fact that I signed up in the middle of the current meal choice period threw it off, but I could not find the right link on their website to do that.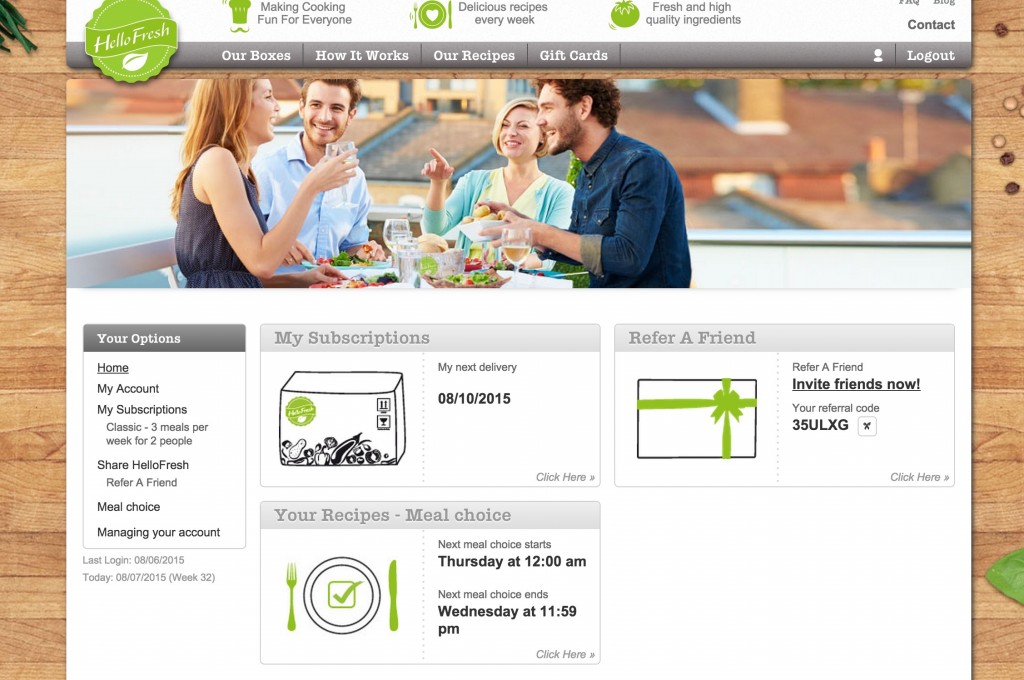 Delivery
Our box was slated to arrive on Monday between 8AM and 8PM, and it did arrive sometime during the day before we had to do dinner. Like other similar services, our meals arrived in a big cardboard box with several icepacks. Unlike other similar services, each meal came in its own individual box to keep the ingredients separate. It is minor, but having been stuck with a pile of bags in my fridge before, it was more convenient to figure out how to allocate everything.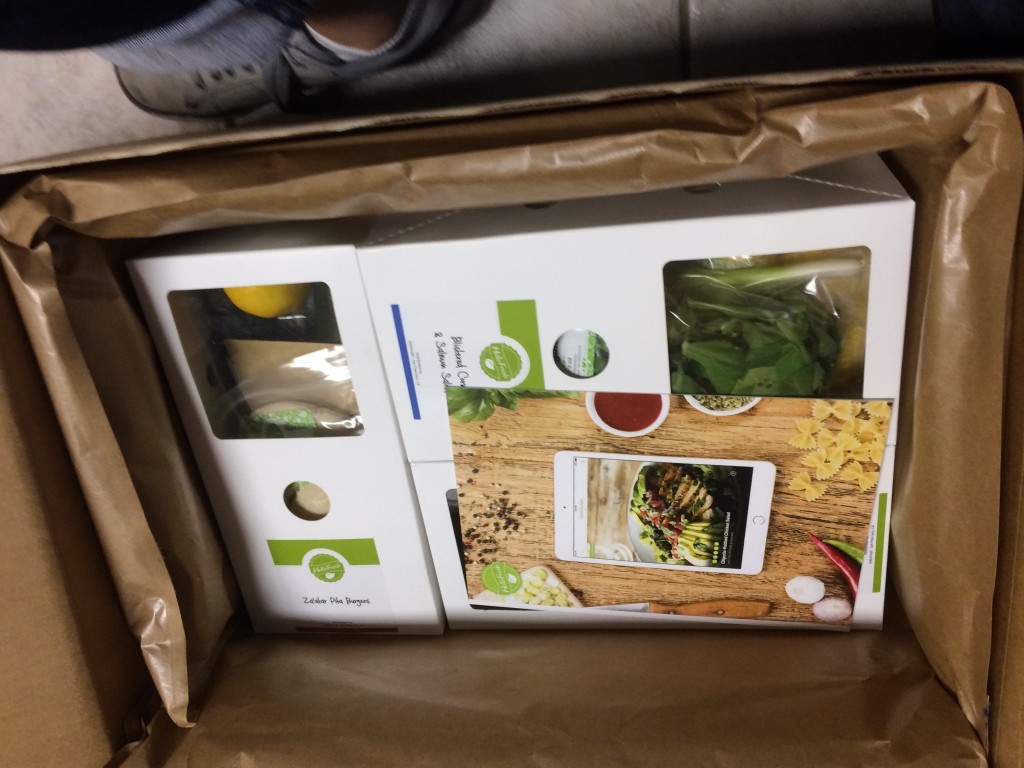 There was a fun moment of discovery when we opened the box since we had been unable to pick beforehand. We ended up getting:
Blistered Corn & Salmon Salad
Za'atar Pita Burgers
Lemongrass Chicken Skewers
Preparation
Like other similar services, we received cards with the recipe on them. HelloFresh was extra helpful in marking one of the recipes as "make me first", so on our first night, we made "Blistered Corn & Salmon Salad".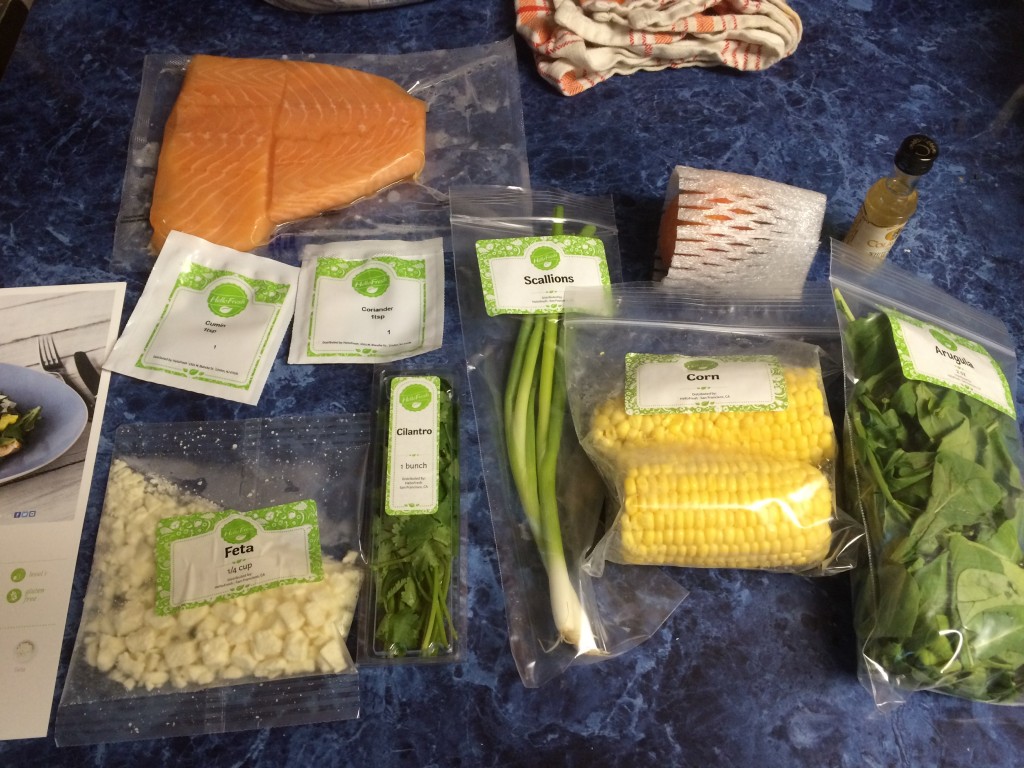 We divided the work up like usual with Julie doing the frying while I did the prep. A pretty big issue we ran into was that the peach we were given was in pretty bad shape on the inside. Fortunately, we had a white nectarine on our counter, but it wasn't quite ripe and well, wasn't given to us. I ended up mauling the nectarine trying to get it out, but we did successfully grill slices of it.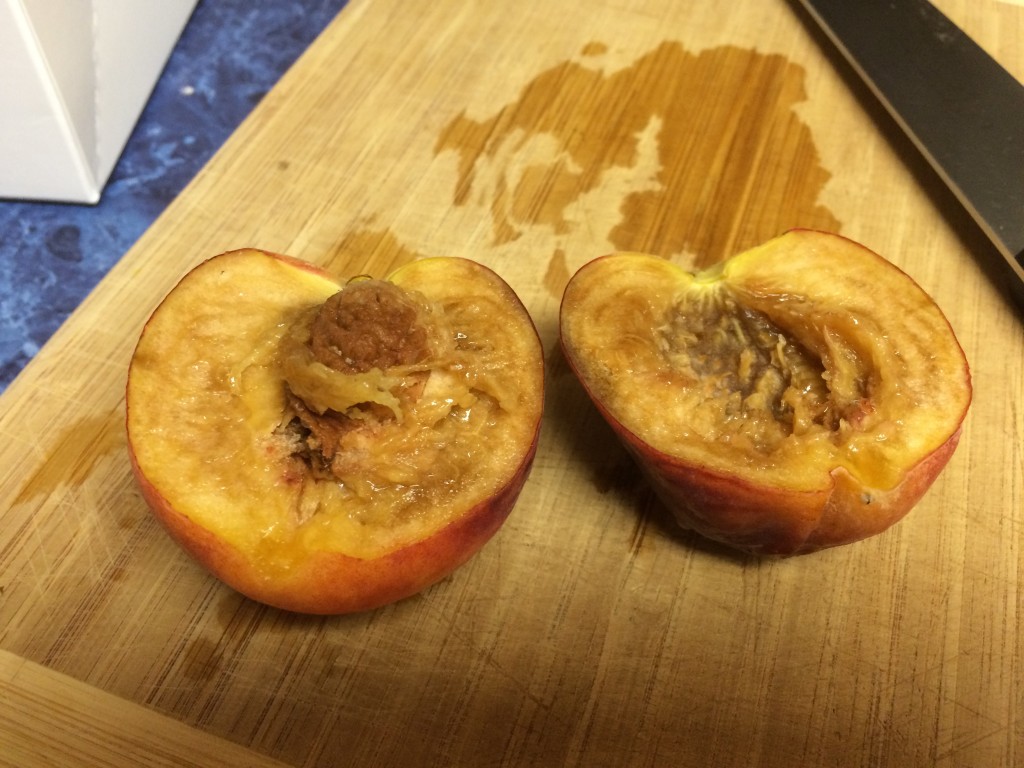 Otherwise, the meal was actually quite easy to prepare: it quoted us at 30 minutes, and we completed in exactly 30 minutes from unpacking. Julie had no problem cooking the large salmon portions, and it turned out quite nicely.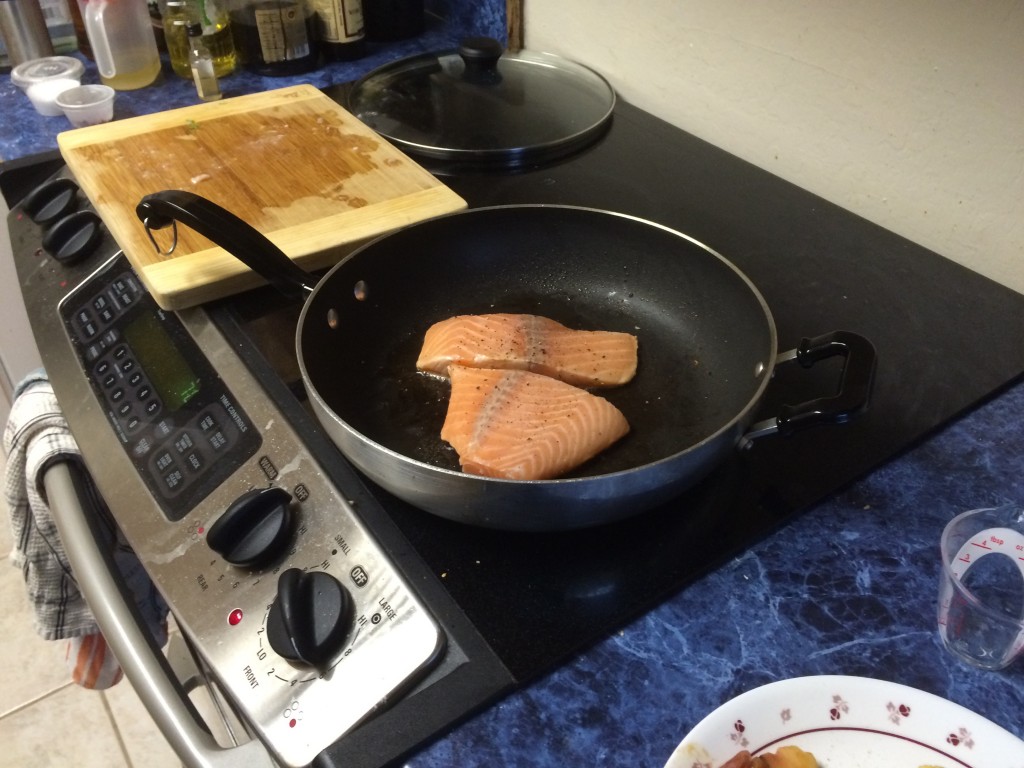 Eating
Julie likes salmon, and since she didn't overcook it, I don't think we could have gone wrong. Still, we agreed that the meal worked out well.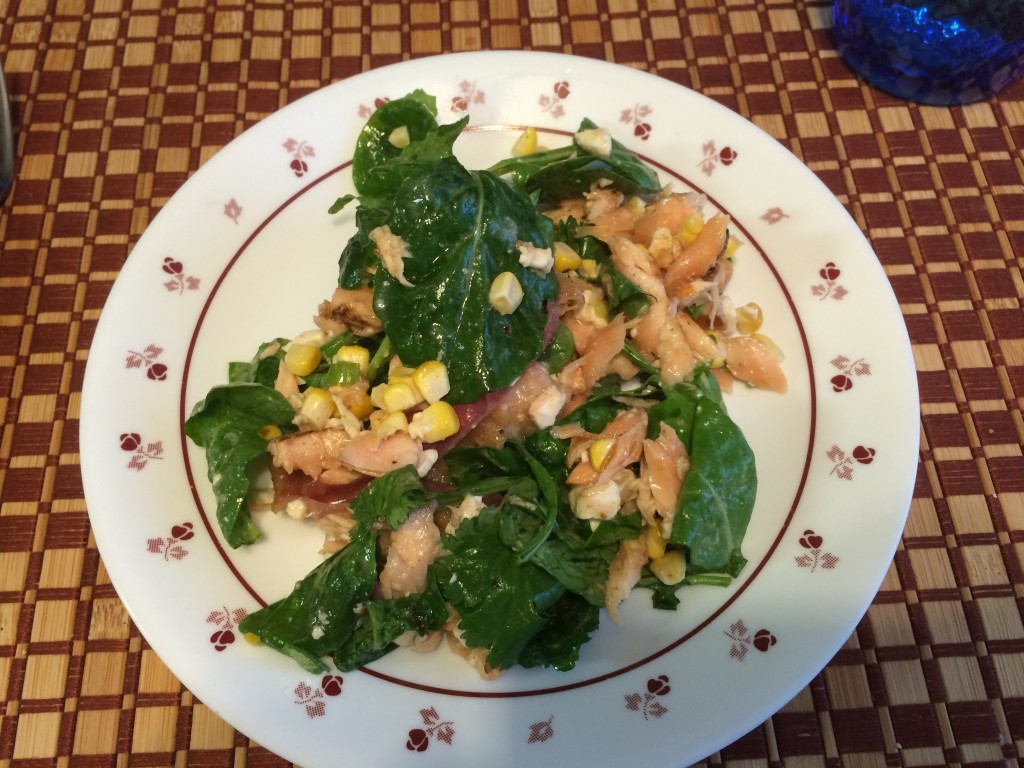 It's not the sort of meal I would have thought to cook: I almost always have carbs in my meal, I don't usually like corn, I don't cook with fruits because of stomach issues, and even if I did, I wouldn't think to grill them on my stove. Despite all of that, I enjoyed it, and Julie thought that her parents might like it as well.
Cleanup
Cleanup was very typical for a home-cooked meal: we had a pan, several prep plates and containers to clear out, a cutting board, and our serving plates. I thought that the cleanup went relatively smoothly.
Other meals
For our second meal, we did the pita burgers. It was a rush job before D&D night, so there aren't many pictures.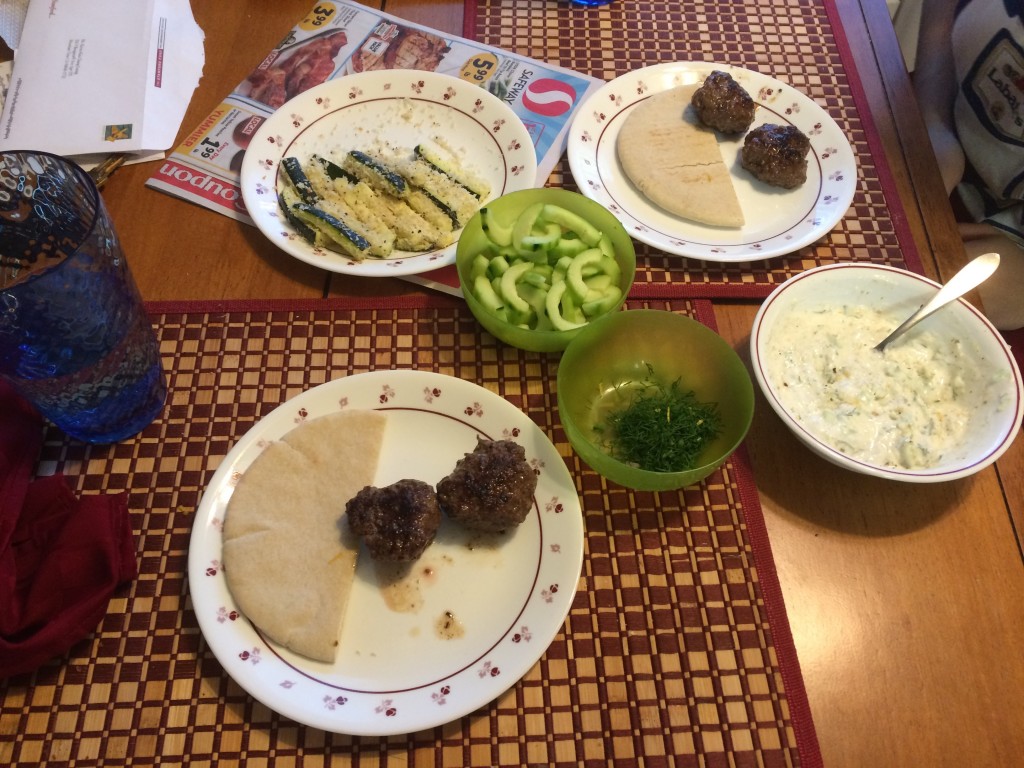 I have noticed a lot of tzatziki and other yogurt-based sauces in the meals we have been getting, so that wasn't a surprise. I did realize, however, that the pita was somewhat unusual in that carbs tended to be noodles or rice or other dried things that could be easily packed and prepared. The pita came refrigerated and were reheated in the microwave. They were good, and I assume we only got a half each for nutritional concerns. If it was my choice, however, I would have take more.
The zucchini fries didn't work at all for us: they all came out soggy. I think the issue that we used the toaster oven instead of our real oven because we were short on time. I guess the estimated cook time (in this case of 35 minutes) should have tried to account for the preheat time as well.
The burgers themselves ended up not having a lot of flavor, which we might chalk up to the classic problem with these services of knowing how much salt & pepper to add. Overall, this meal didn't work out very well for us.
Our final meal was the lemongrass chicken skewers, which we thought went quite well. I had never cooked with lemongrass before, and I would never have thought to use it as a skewer.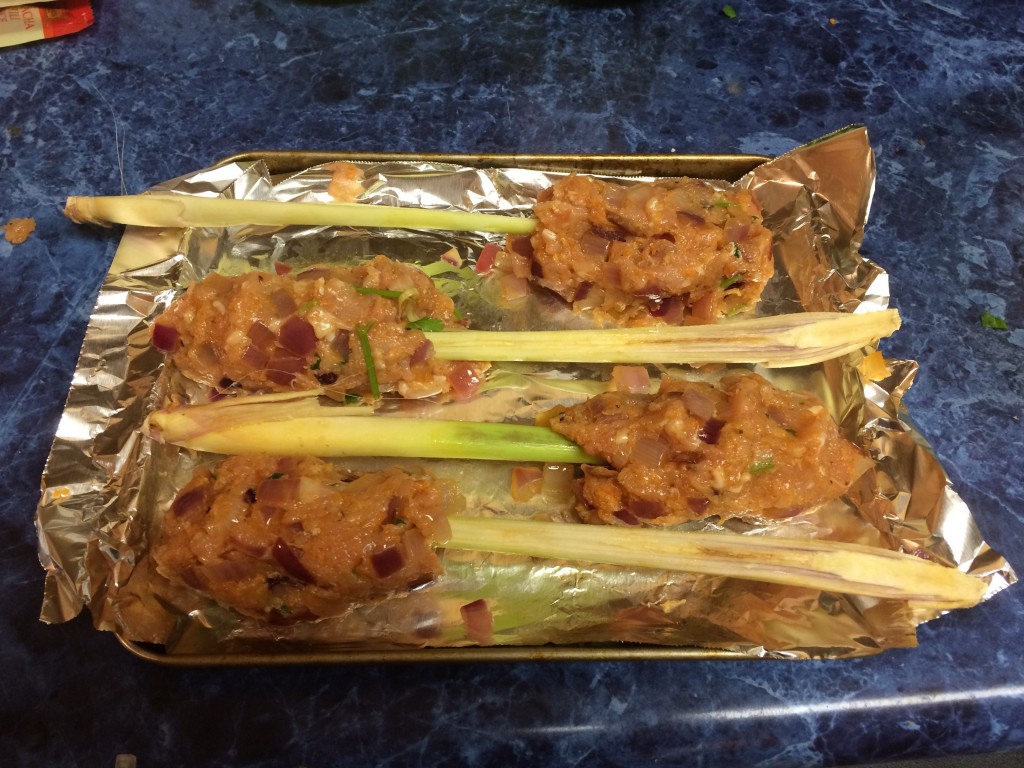 In doing the Dinner Table Tournament, I have eaten more ground chicken than I have ever in my life. I suspect it's a popular meal choice because it is both cheap and relatively healthy. I don't think it's bad, but it is something new to get used to.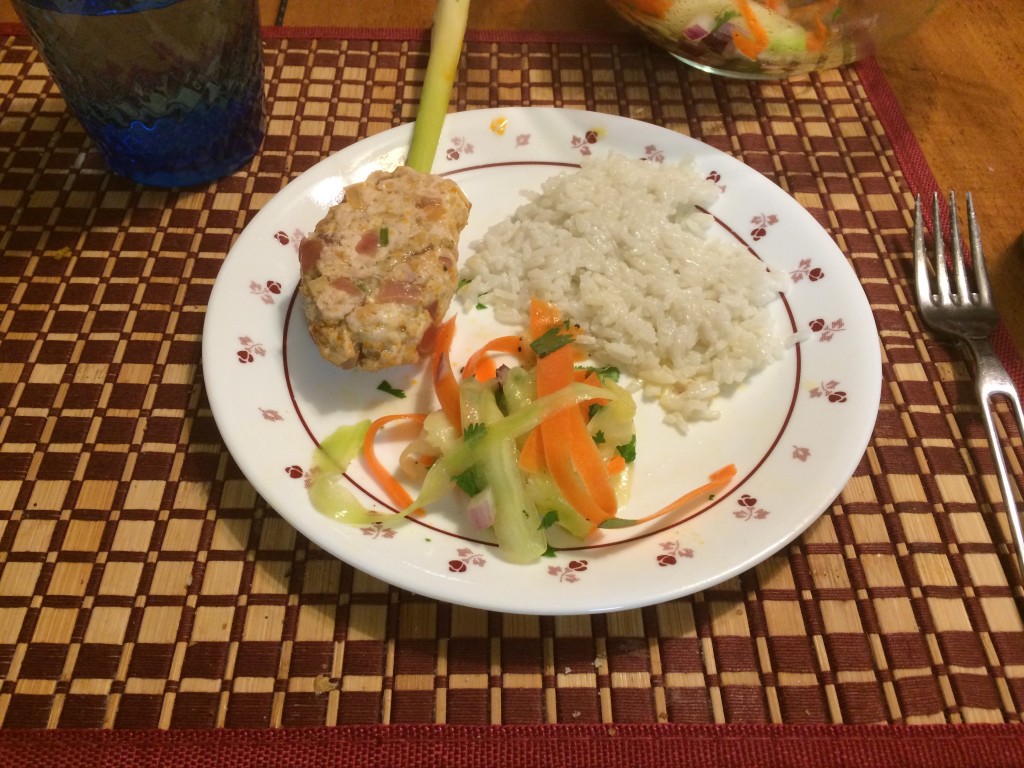 The meal also came with a carrot-cucumber slaw and coconut rice. We enjoyed all parts of it.
Overall
At this point, I think that all of these meal delivery services are pretty much the same. Each one does different things better, but they are all substitutes for each other in offering basically the same service. Between them, I think the deciding factor for us is whether the food tastes good and if it is something different than what we would cook on our own.
Overall, we had a good experience with HelloFresh. The peach was regrettable, and the snafu in ordering on the website was unfortunate, but the food ended up being tasty and novel for us, so it all worked out. Given that, we slot it ahead of Munchery and Plated (for the food itself) but behind Blue Apron because of the other difficulties.
So we now say GoodbyeFresh as Julie and I have new Dinner Table Tournament rankings:
Blue Apron
HelloFresh
Munchery
Plated
Hopefully I get our next post about doing a CSA up very soon. We, in fact, have already consumed our entire week of that, and I have just been incredibly lazy in writing blog posts. That's coming as soon as I write it.
This post is part of the Dinner Table Tournament where I pull Julie along my need for novel experiences in "staying in" dinner options to generate blog content. I have not been compensated by HelloFresh for this in any way for this post. Yet.