This past weekend, I was talking with my friend Jenni about a personality trait that affects how people approach food: novelty seeking. Some people enjoy novelty for its own sake; others find comfort in known pleasures. Would you rather try out that new restaurant you don't know anything about, or would you rather go back to that restaurant you love? Same question goes for cooking.
It is a spectrum, and we all have moments in both directions, but I think Julie and I tend to be novelty seekers. I have lamented to many friends recently about how I rarely go back to my favorite ramen place in town: I would rather go to a new restaurant in the same area rather than go back to the same place. The novelty in itself is worth a try.
Whenever we go out to eat, Julie and I always agree on the 2 things we're going to order, then switch half way through the meal. Sometimes one of us ordered something better than the other, but we are almost always glad to have tried both. And if you set a dessert bar in front of me, I will try to cut the smallest piece of everything so I can taste every different things I can.
I would probably vary my cooking just as much if it wasn't so much work. The ease of pointing at a different menu item or walking one restaurant over certainly encourages novelty, and that is hard to replicate at home. Hopefully the Dinner Table Tournament brings about that same ease.
HelloFresh
HelloFresh is a service that ships out boxes of measured ingredients to prepare a series of dinner menus with recipes included. By default, they provide 2 broad options for vegetarians or not, but you can customize your order week to week depending on what they have available. You order by the meal for roughly $10 each with no additional tax or tip.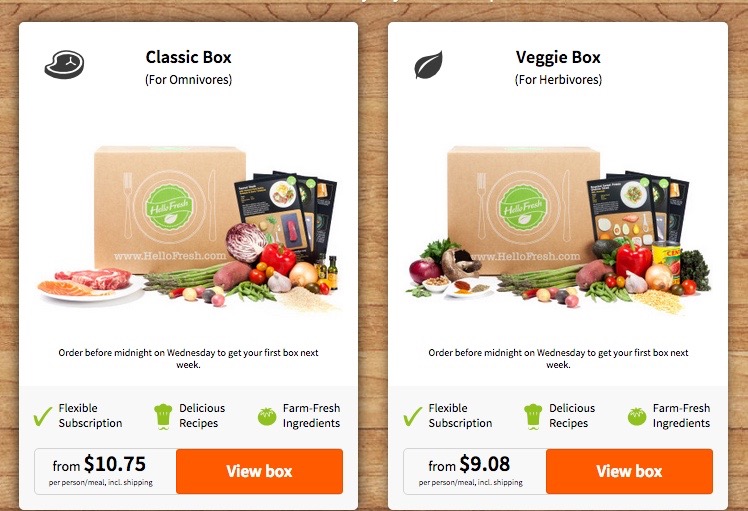 Continue reading "Saying Hello to HelloFresh"