Growing up, my family ate everything, well, family style. All meals, whether stir-fry or barbecue, came out in serving dishes on the table. Even ostensibly single serving meals like hamburgers or baked potatoes were usually assembled away from the table from the big stack of food and brought over. Even these days, Julie and I often cook family style between the two of us. Portion sizes for 2 aren't too hard to figure out, though we will often leave a half-serving of food behind for tupperware.
As such, one great contrast in restaurant food is getting a complete plate, with grains, veggies, and meat all at different clock positions. With a full plate in front of me, I feel compelled to finish as much of it as possible or to give up early for a doggie bag. There's something about having everything already on my plate that pushes me to eat a little more, where seeing an equal portion in the serving dish doesn't. The strange world of individual servings at home adds an element of restaurant fanciness, but also makes me overeat slightly more than I normally would.
Munchery: Take 2
Our meal schedule has been somewhat erratic for the past month, so Julie and I couldn't commit to any of the full-week meal options recently. Despite lapsing on that, we were able to order Munchery to fill in an unusual day, and it was quite convenient. Even without considering the number of meals, it was much more convenient because we ordered our meals for the next day, while Plated needed to be ordered several days in advance.
We looked over the options, and the first 2 jumped out at us: a grilled tuna salad and teriyaki chicken: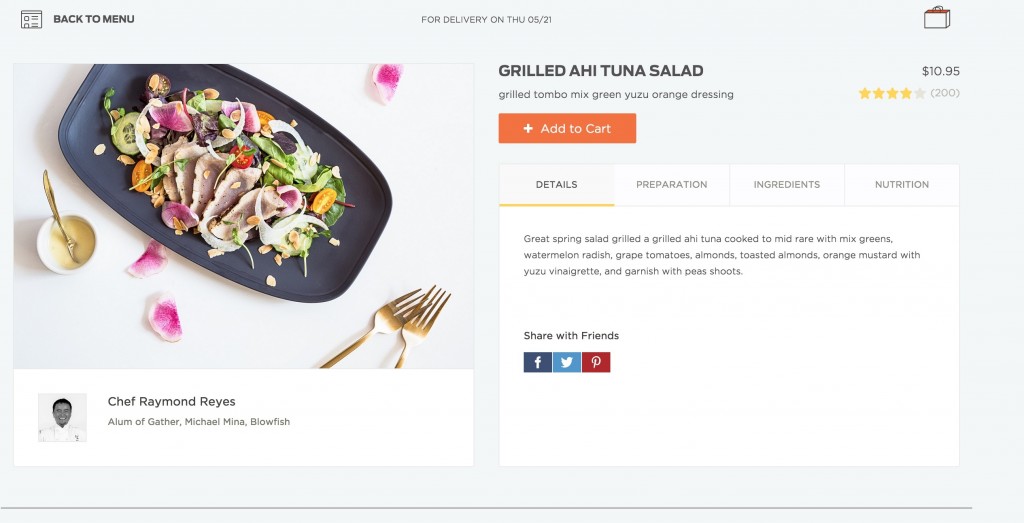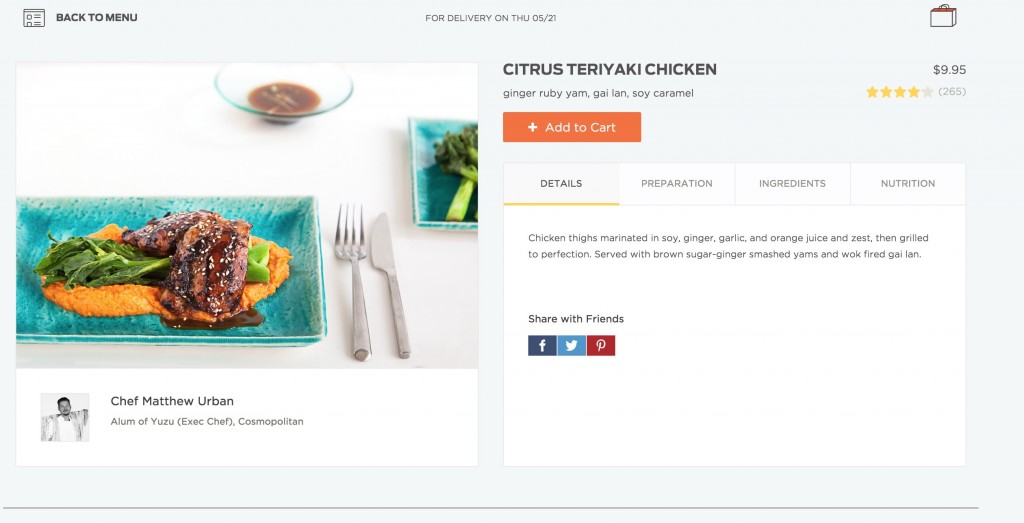 The experience online was very similar to our first order: I think the only catch this time was that we also had to put in our tip for the driver. I think I already mentioned my dissatisfaction about having to pay tip and tax on top of the set price, but our meal (without discounts) for 2 ended up being $27. It's certainly on par with restaurant food at that price.
The preparation was quite easy: we got the salad on the plate, and we put the chicken in our toaster oven, which very conveniently fit again. We ate the salad while we warmed up the chicken, and both we sliced easily with a paring knife.
One thing we noted was that that the salad portion seemed small. Looking at the packaging, I think they were constrained by the standard box size and the amount of greens they could stuff in there.
Overall, we were pleased with the meal: compared to our previous Munchery meal, we thought that the meals were more cohesive and worked together better. Between them, the grilled tuna salad was definitely the fancier option: it felt like something I would order at a restaurant, whereas the teriyaki chicken was something we might have managed on our own.
The good news is that there were no surprises. Based on 2 meals, it seems that Munchery provides a tasty, reliable service. Our experience this time matched our experience the first time, so we can confidently keep our rankings the same.
Munchery
Plated
Keep an eye out for our next review soon! I'm actually catching up as we just had our first Blue Apron meal this evening and will be sharing more about it soon.
This post is part of the Dinner Table Tournament where I pull Julie along my need for novel experiences in "staying in" dinner options to generate blog content. I have not been compensated by Munchery for this in any way for this post. Yet.