There are plenty of types of cookies out there with all sorts of wacky flavors and compositions. However, if I was going to say what is essential in a cookie recipe, I think a cookie must have:
Fat, like butter or oil
Sugar, or a sweetener with sugar in it
Flour or some other primary substrate
Leavening, usually baking powder or soda
So I was surprised when I looked over the ingredients for this recipe and didn't see anything to make the cookies rise. They had a nice dome shape in the pictures. Without baking powder or soda, wouldn't they just be crispy lumps? I have made cookies with leavening that still didn't rise as desired, so it was hard to imagine doing without it.
I didn't have much time to pivot since I had committed to making the cookies that evening after dinner, and others were waiting for me to finish to watch The Mandalorian. I also hadn't read ahead to see that Dorie recommended a two hour rest before scooping out the cookies.
The cookie concept was interesting. Rather than a normal 1.5 tablespoon scoop of cookie, these were mini one teaspoon cookies (about a quarter of the size of a normal cookie) with the dough balled up around a single chip.
The dough was easy enough to make: due to my lack of preparation, I had to use my usual trick of microwaving the butter cut into pieces to rapidly get it to room temperature appropriate for creaming with sugar.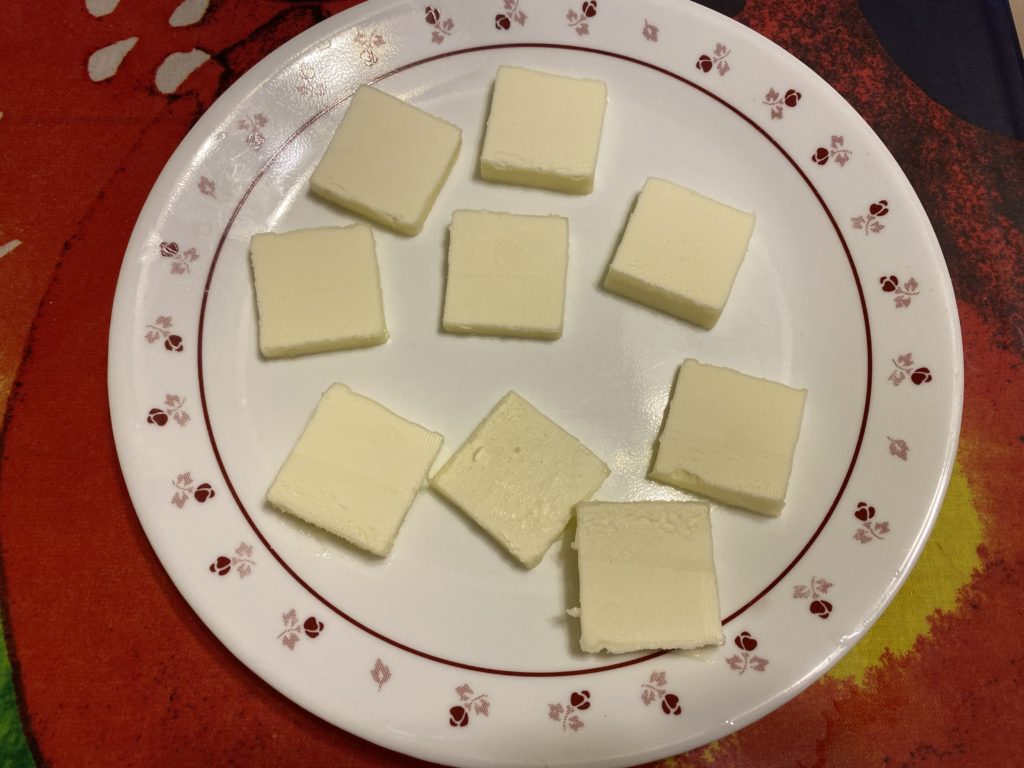 When I got to the final step, I quickly realized why Dorie recommended chilling then as the dough got sticky with all of the work to ball, fill, and ball again.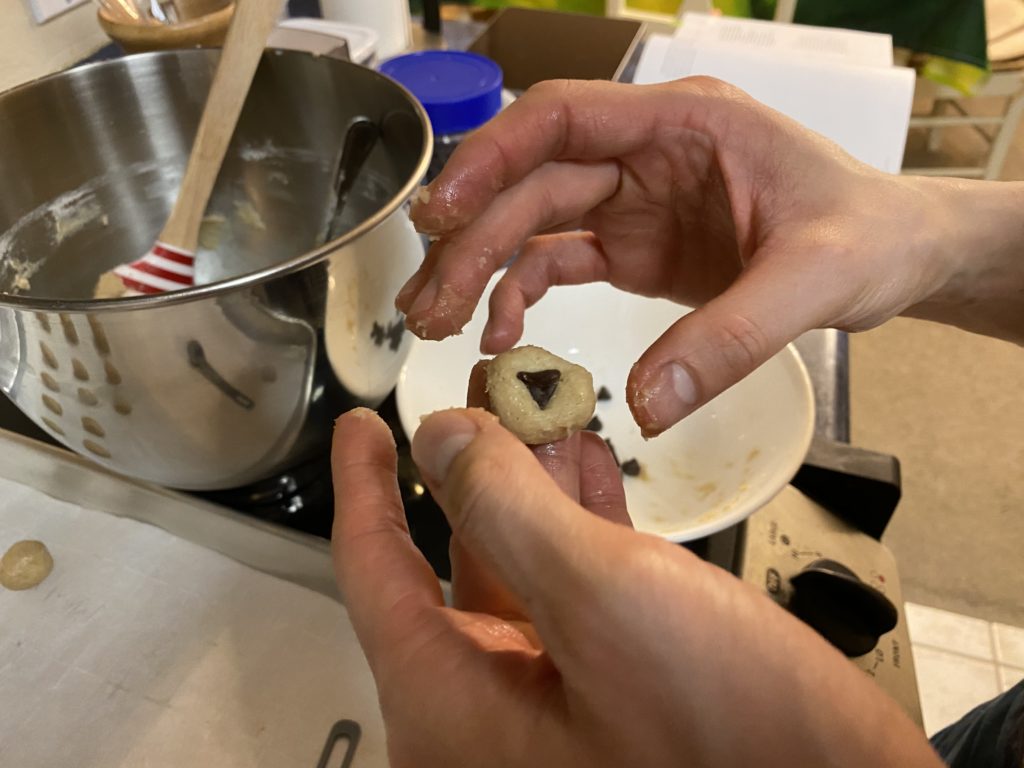 In the past, I looked down on cookies as a form of dessert because they frankly aren't too challenging to make. They are also quick and not a lot of work. These cookies were a surprising amount of work to ball out rather than just scooping 60 times.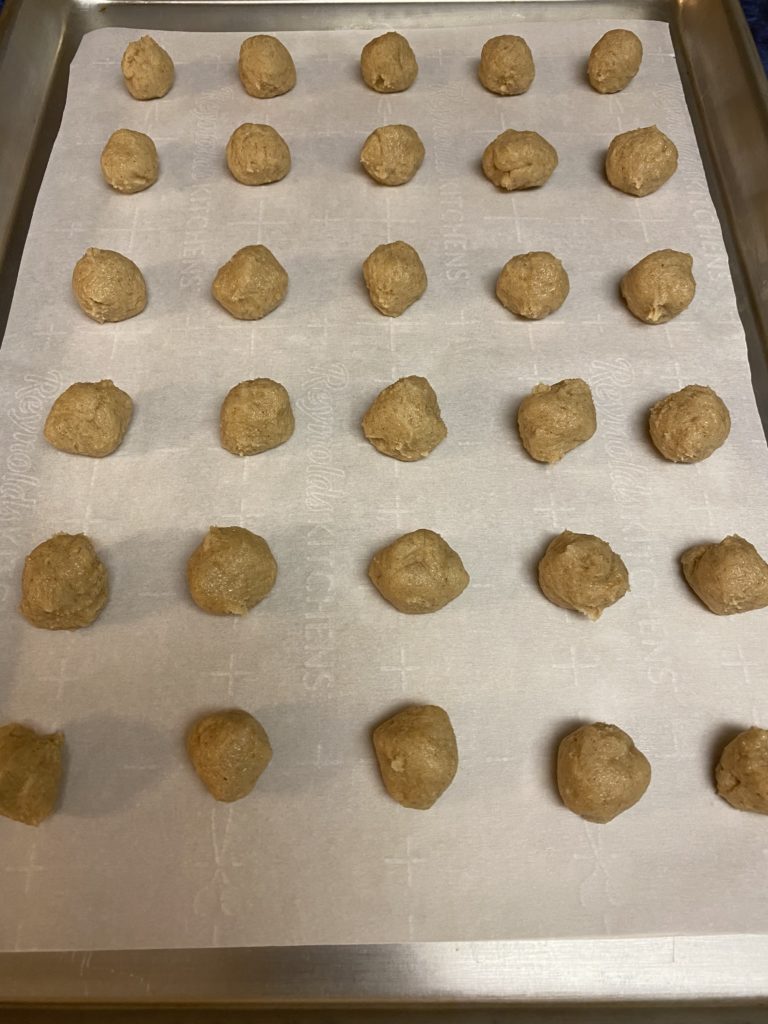 I started with a single teaspoon scoop as a reference and picked out chunks of similar size. However, I checked my sizing one tray later and realized I had been taking chunks close to twice as large. Fortunately, the cookies didn't really rise or spread too much and baked out into perfect little bites.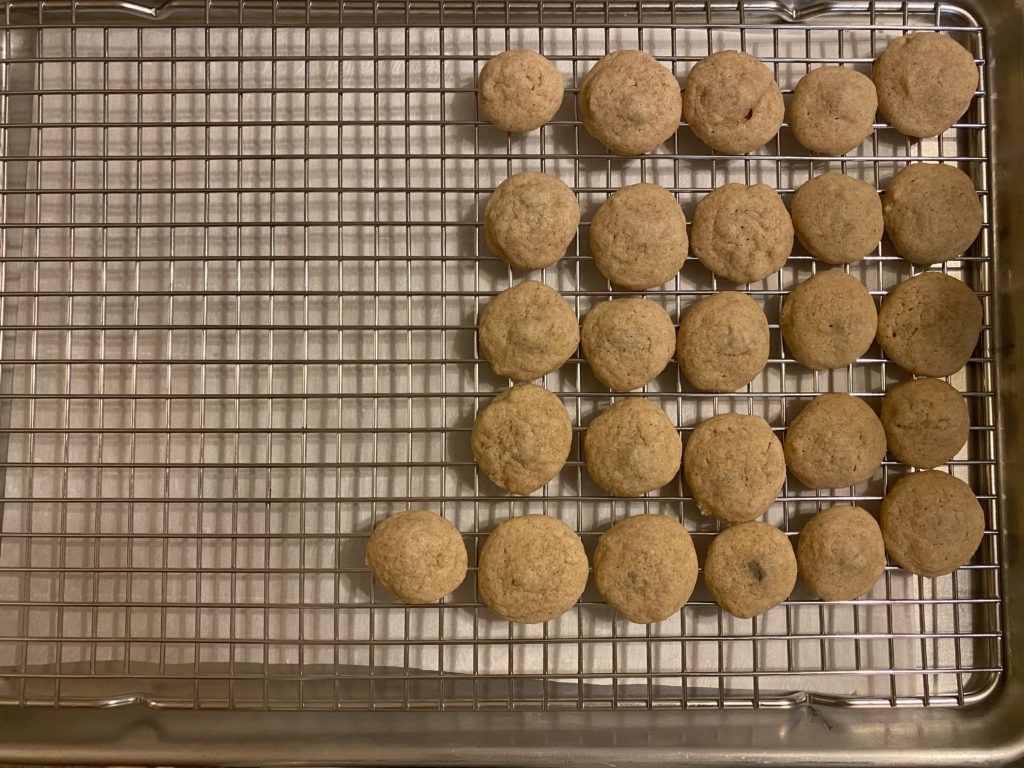 One of the greatest dangers of eating cookies is always wanting one more cookie. By their size, these cookies are a particularly slippery slope since you can easily go from one to an entire handful, one bite at a time.
But if you can keep yourself from eating more than three, you're coming out ahead.
You can find the recipe here