Among the everything that changes when having a baby, I have discovered whole new areas of retail just under my nose. A few months ago, I learned there was a Carters two doors down from the game store I went to every other week. I had driven and walked by it time and time again without notice until I had to exchange an outfit.
And Target has an entire baby section. I had gone from toiletries to cleaning supplies with a stop over in the board games section for years without peaking into those four aisles. And now that I have looked in there, they really do have everything for babies. There's the obvious stuff, like diapers, as well as the less obvious like baby sunscreen.
One surprise were the lactation cookies. I certainly didn't know they made cookies with ingredients to encourage breast milk production. Does it work? I have no idea. All I know is that $2 per cookie sounded kind of expensive, and I'm on the lookout for new types of cookies.
Julie found a recipe online, and it starts with dark chocolate chunks. I suspect that this ingredient is more about keeping the cookie consumer happy. We had previously stocked up on a variety of brands, so I figured we could use a mix. And might as well do a taste test at the same time.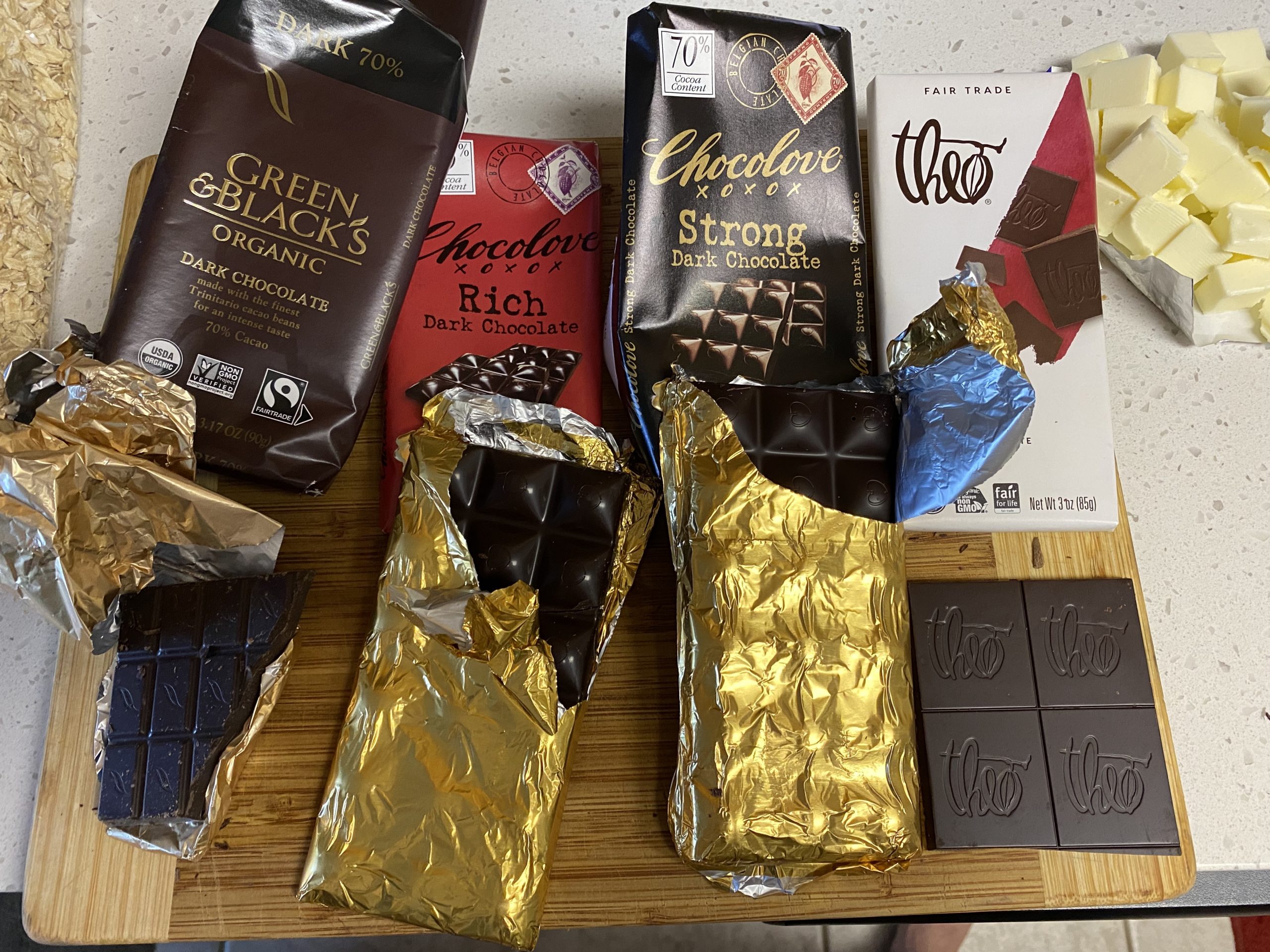 All of them were good. The Green & Blacks was our least favorite. I liked the Chocolove rich dark chocolate a little more since I generally like less dark chocolates anyways. After that, I chopped up most of it and filled it out with more of my bloomed chips.
Next was the first lactation ingredient: ground flaxseed. I don't have ground flaxseed, but I do have a large bag of unground flaxseed in bulk, so I tried to run it through the food processor.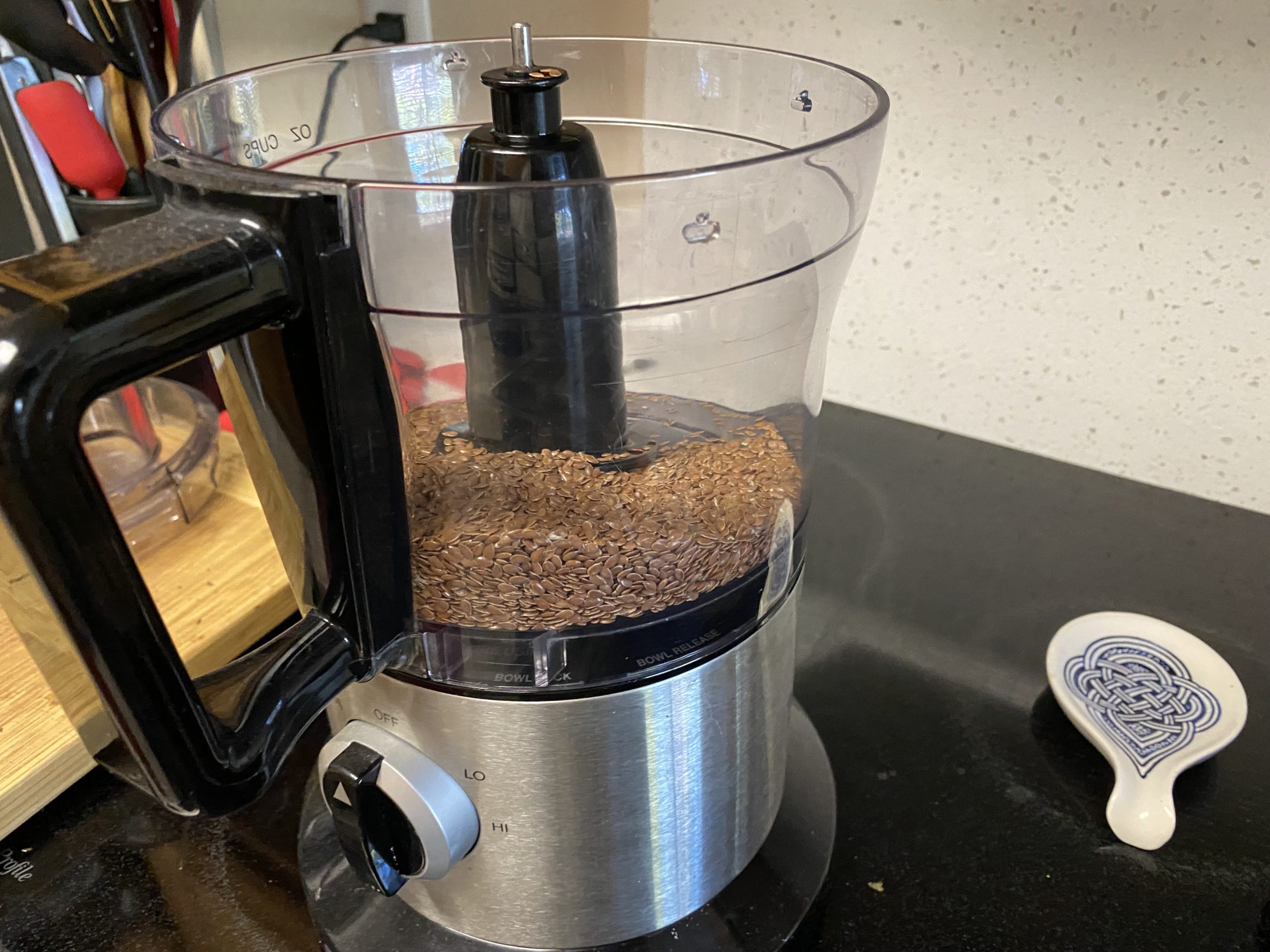 Note that I said tried. The flaxseed was no more ground than when I started, though I hope the seeds at least enjoyed the ride. I told Julie it was all the same, but she pointed out that perhaps the flaxseed would be more easily digested if ground, resulting in more nutrition and greater effect. And it would change the cookie texture, too. Oh well.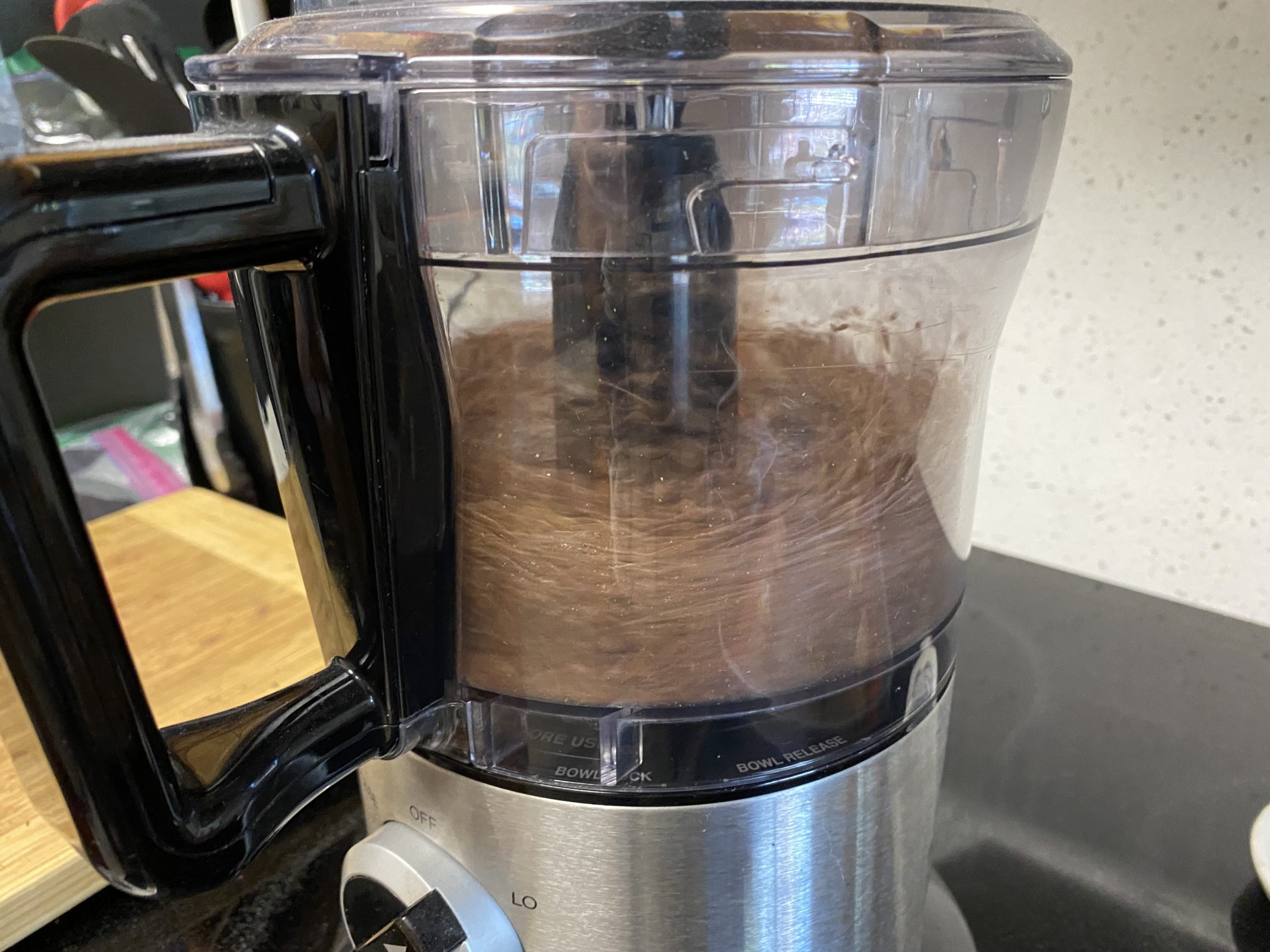 The most unusual ingredient is brewer's yeast: it's typically used by, well, brewers to make beer, but it also is a nutritional supplement. Apparently it's important because the recipe call for a full 5 tablespoons. That gets mixed into the other dry ingredients, including the not ground flaxseeds, oats, and other conventional cookie ingredients.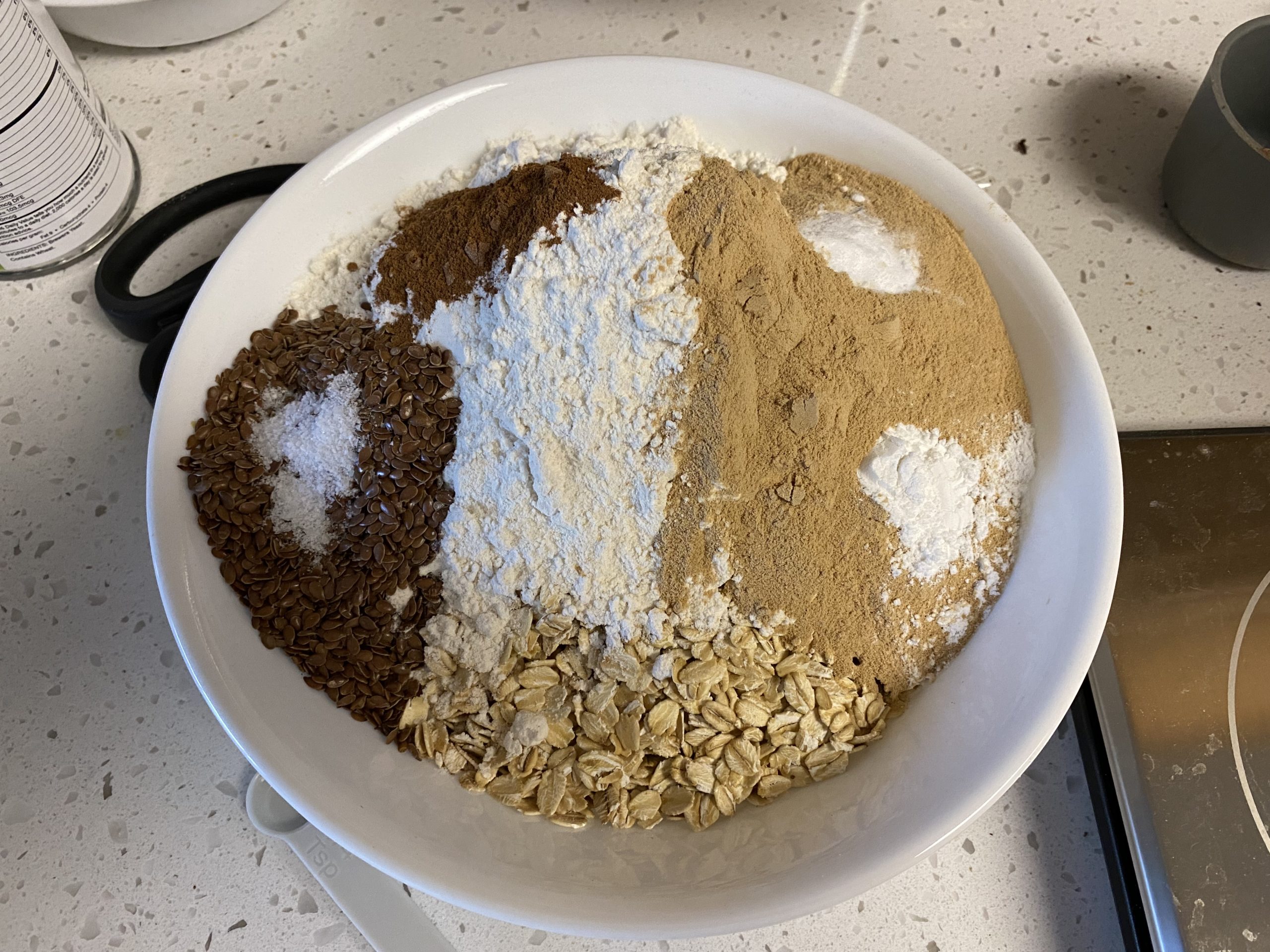 The last special ingredient is coconut oil, which is blended into the butter at the beginning of the recipe. That is creamed with the sugar, then has eggs and vanilla incorporated before the dry ingredients go in.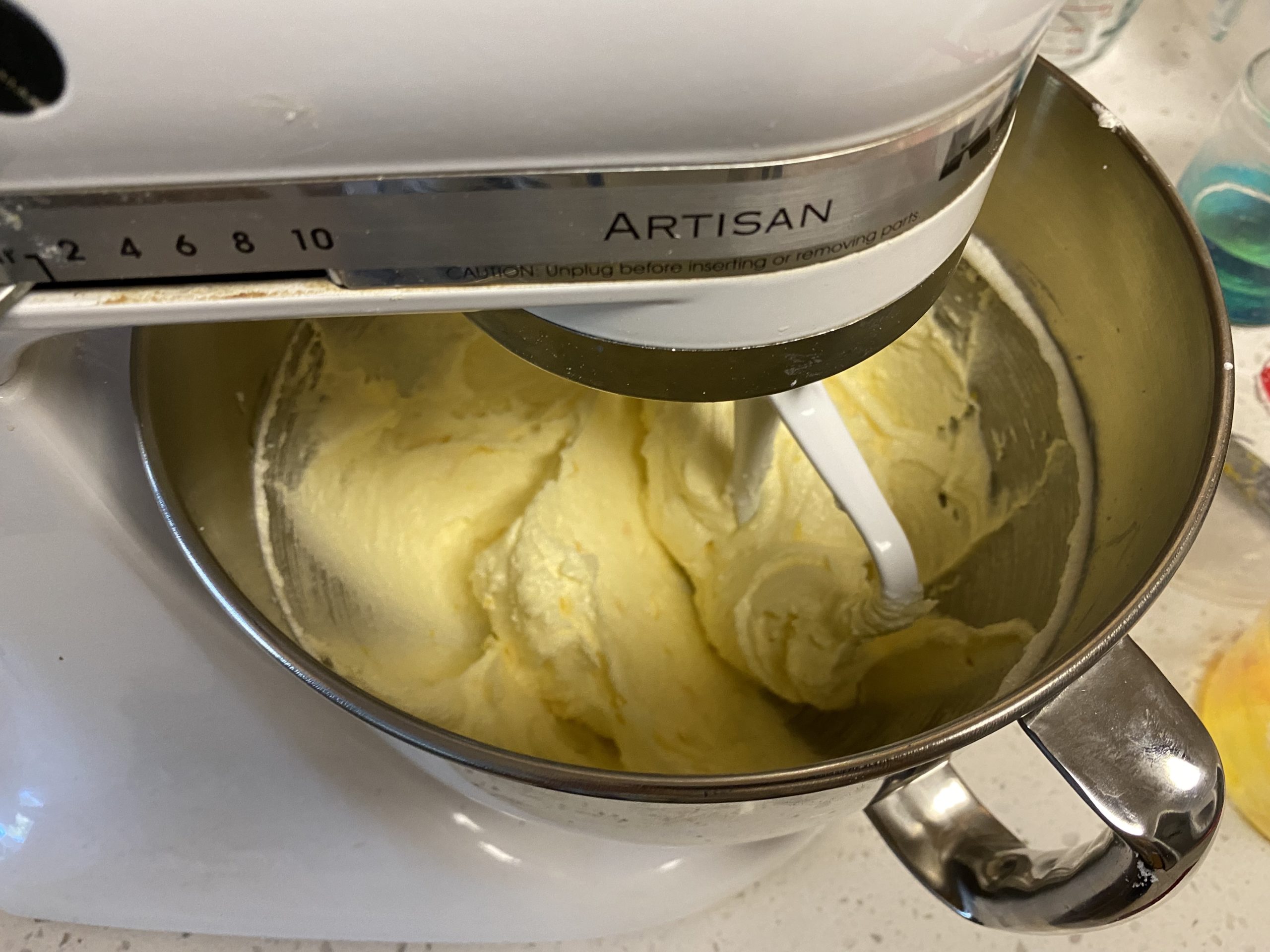 Dry ingredients then chocolate are all stirred into the thick dough. Another recipe recommended mixing in 2 tablespoons of water to help keep the dry dough together. I split the difference and mixed in one. The dough stuck pretty well.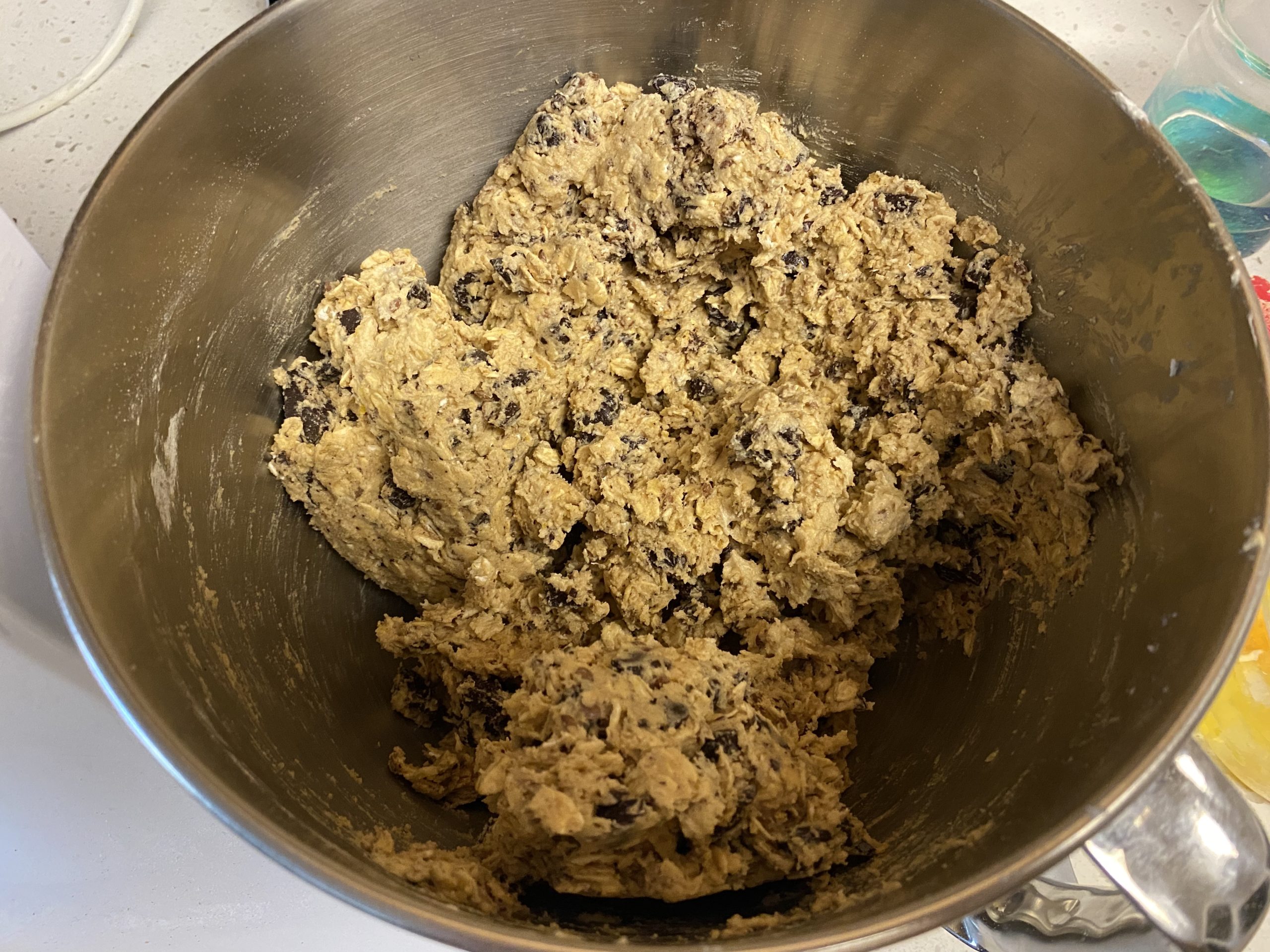 Due to their heft, the cookies scooped and stayed in mounds while baking.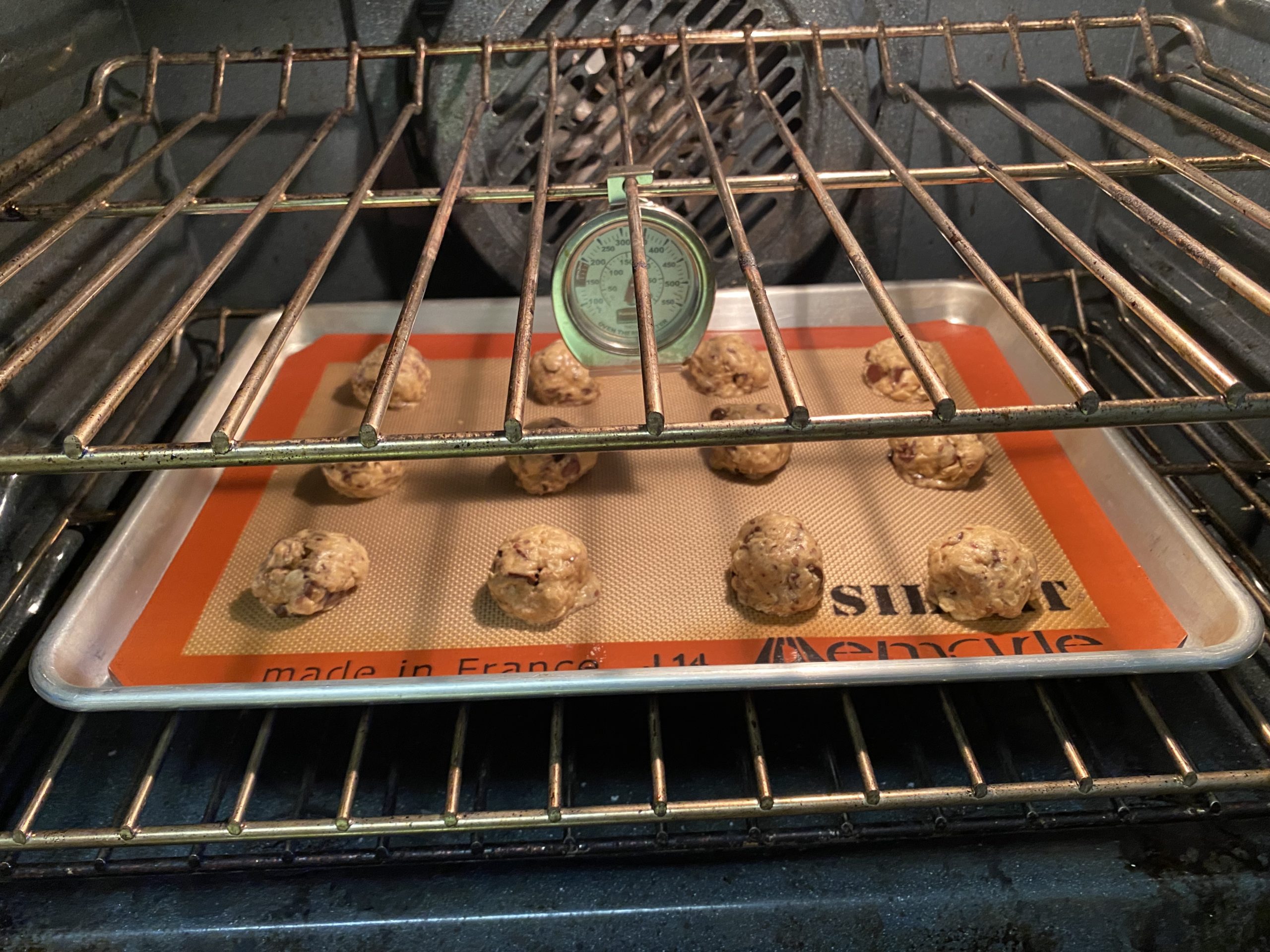 Since I figured lactation cookies weren't of general interest to most of my friends, I only ended up baking a single sheet of them and froze the rest of the dough.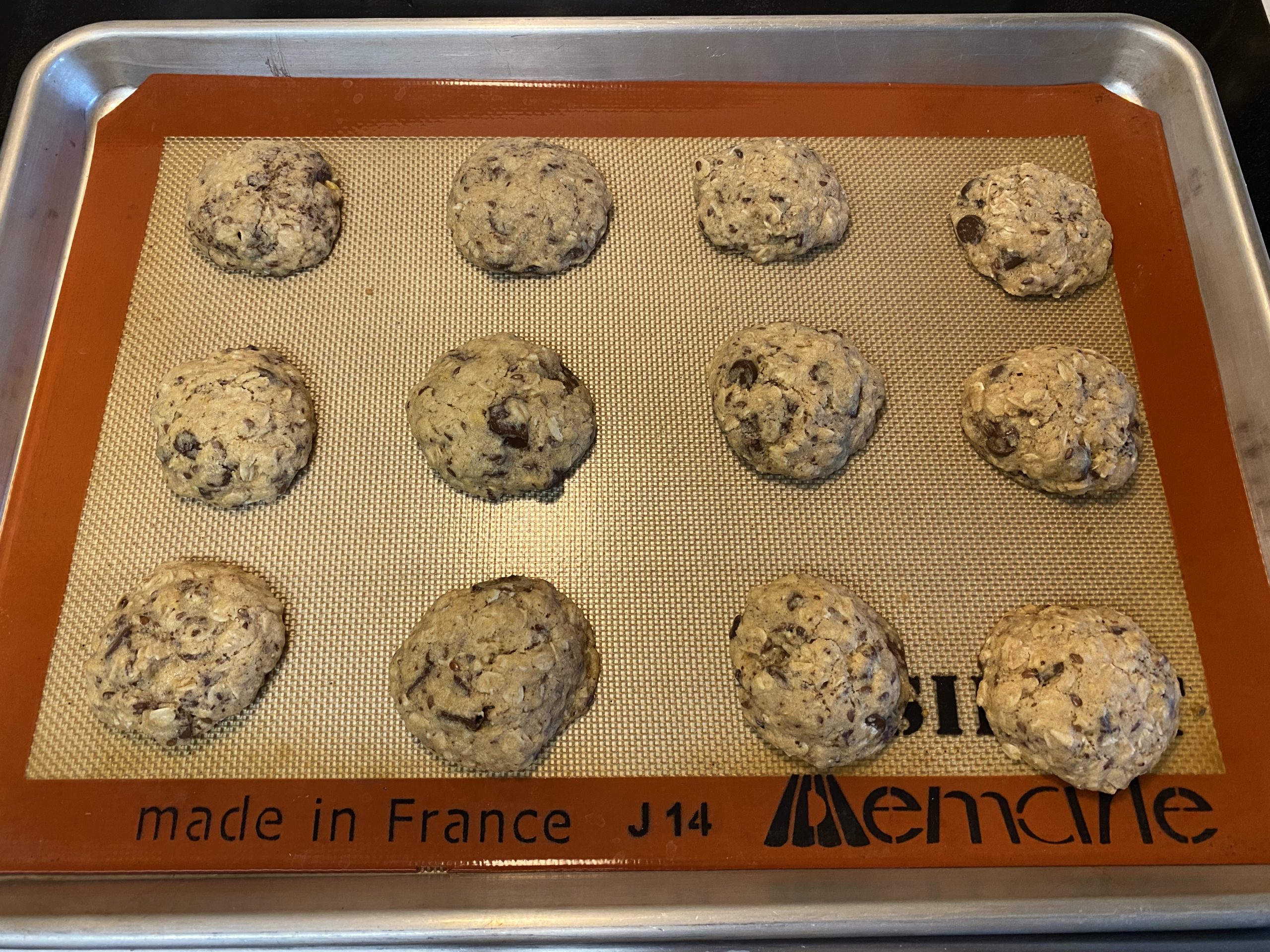 In the past, I have had some inconsistent results baking a few cookies at a time in my toaster oven. I think the main problem is that the heat isn't very even, so the cookies in the back came out burned, while the cookies in the front would have spread around the edges but still had a big raw lump in the middle.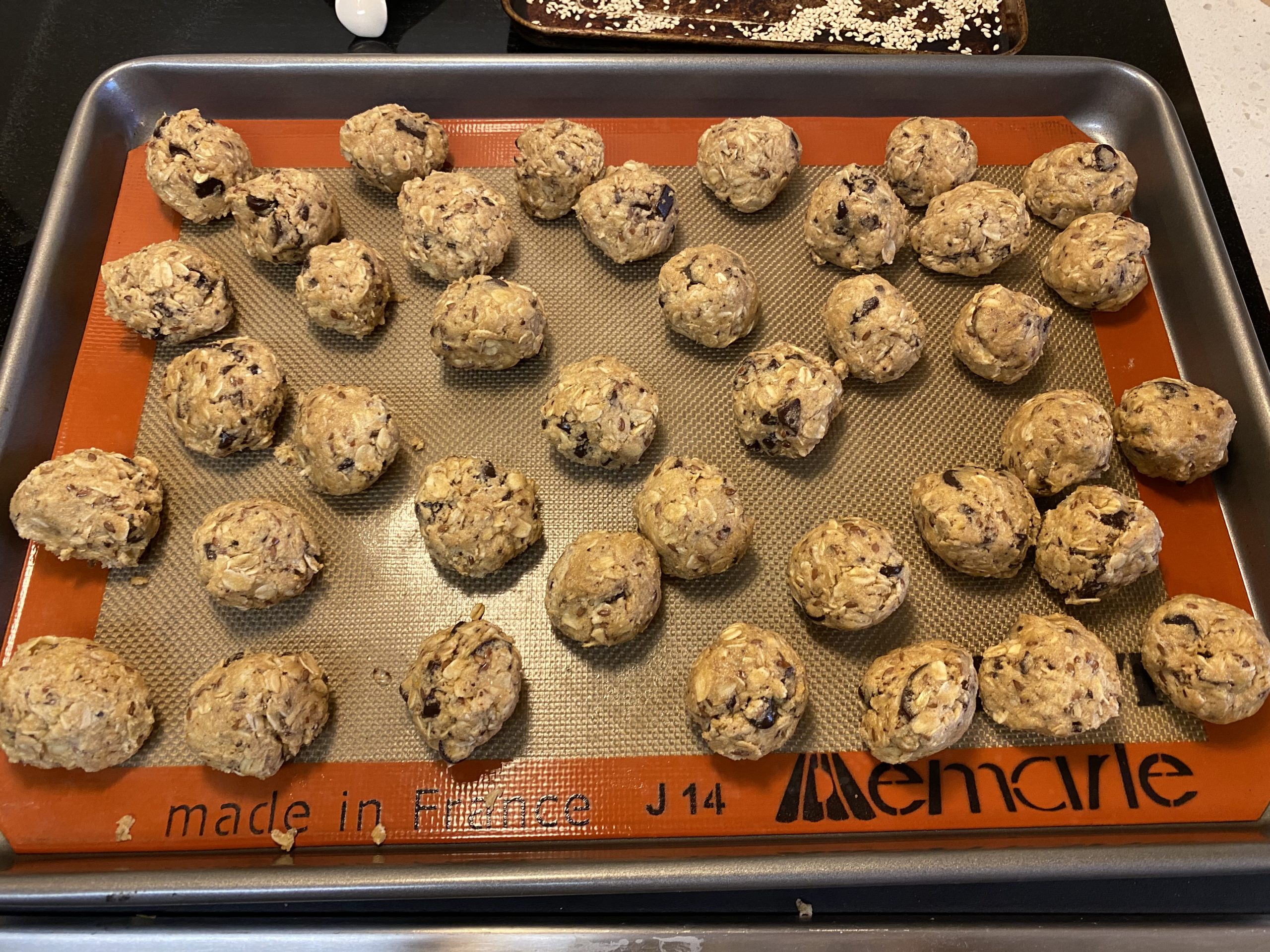 However, I have had better results by not being lazy. I now fully defrost the dough balls in the fridge overnight, use a properly cut piece of parchment paper, and definitely rotate the sheet in my toaster oven. Since then, I have had delicious, fresh cookies every time.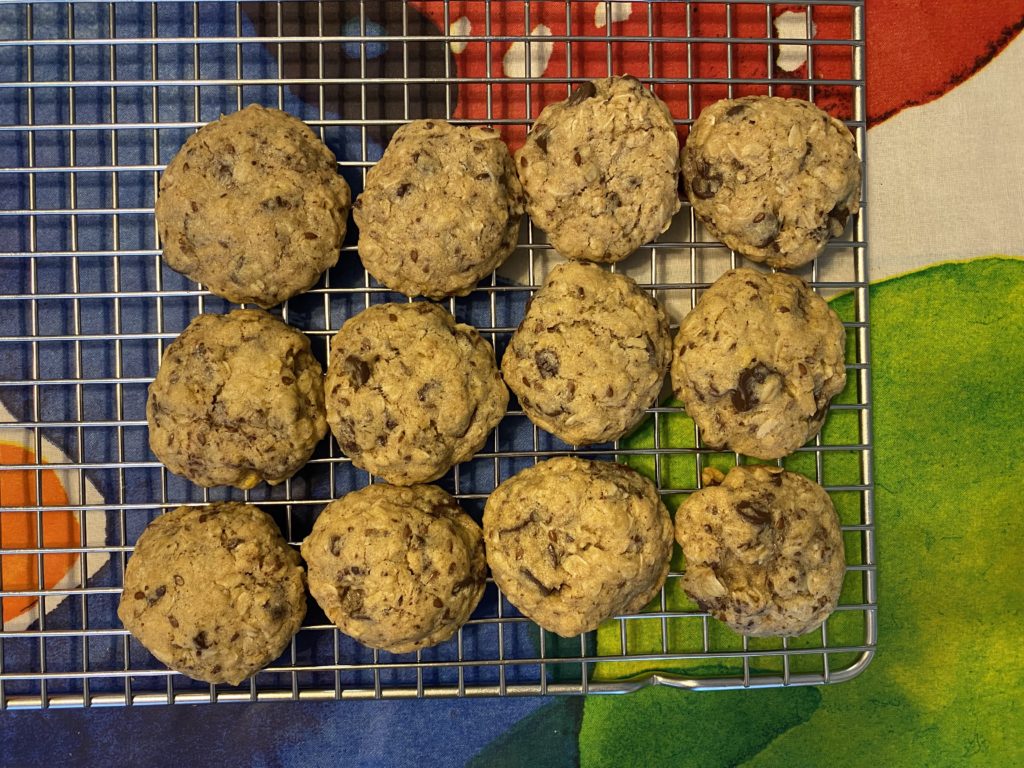 And the cookies turned out well! The dark chocolate bits are gooey in the warm cookies, and they're still oatmeal cookies. The brewer's yeast does leave a sour aftertaste, though not so problematic that a sip of water won't wash out.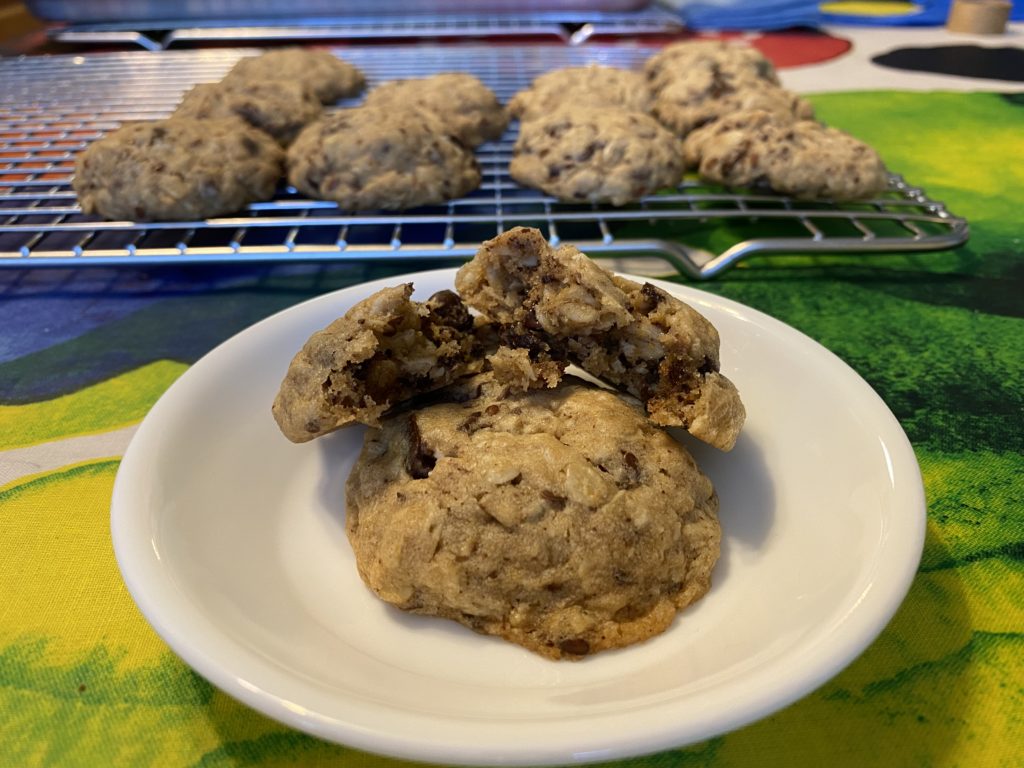 If you're interested, you can find the recipe on How Sweet Eats.