Since we had our first child, I have taken far more photos than ever before. I'm glad to have digital cameras because many of the photos are terrible. Sometimes I just miss a funny moment, sometimes it's blurry, or sometimes it looked better in the moment. These mistakes bother me, so I regularly go through my old photos to clean up and delete the extras.
While looking through those photos, I found a variety of food pictures from the second half of 2022. I usually take photos of exceptional dishes, so this isn't quite how I eat day-to-day, but they hopefully make for a good story.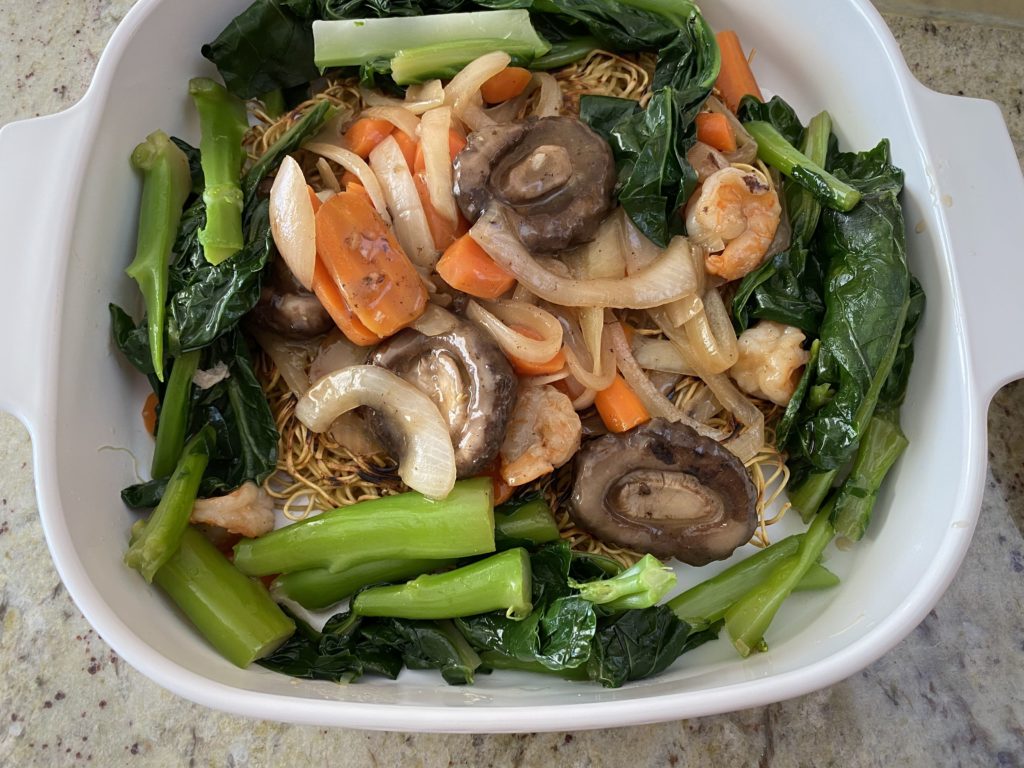 Growing up, "chow mein" meant thin, crispy egg noodles pan-fried with a light sauce and a pile of vegetables and meat. Later, I was confused when I learned that most people think of chow mein as thick, chewy noodles in a heavy gravy. I'm still not sure what to expect when I order chow mein at a Chinese restaurant.
However, I know what I like and can make it for myself. The noodles are fried for a long while with the gravy doing just enough work to soften them up for eating. The recipe calls for mixed seafood, but we used only shrimp.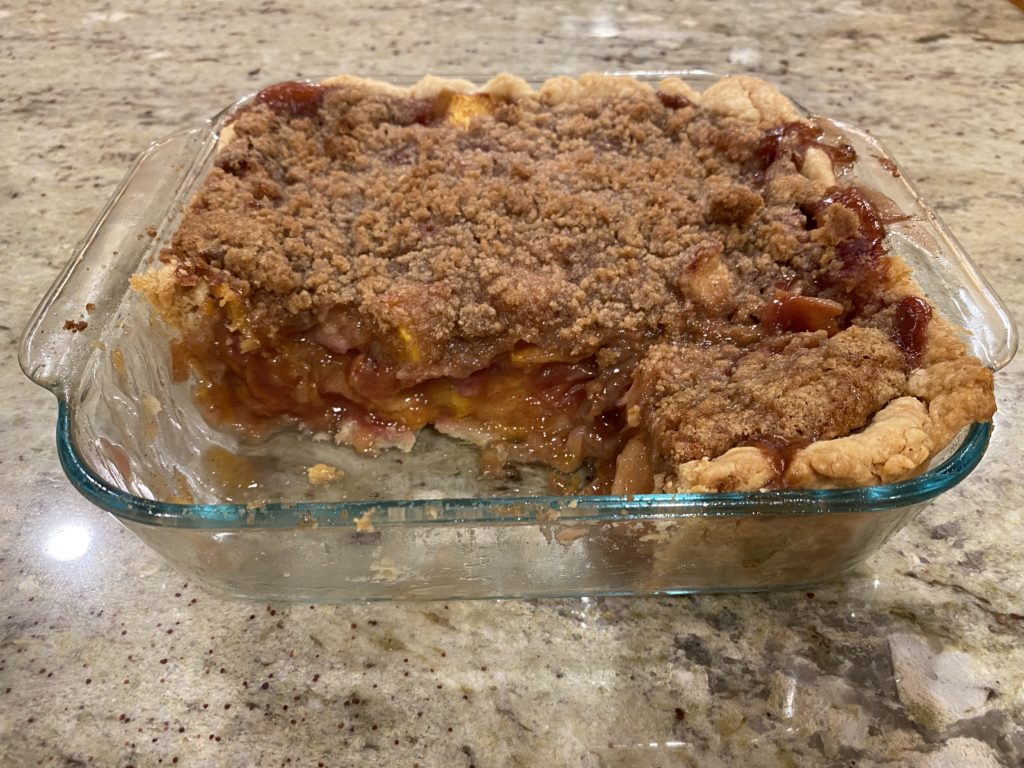 My sister recommended this recipe after serving it to her friends. When I soon after saw a bag of overripe stone fruits at the farmers market, I figured it was worth a shot.
The result was pretty good, but I'm not really sure I made the recipe. I frequently make minor substitutions in a recipe, but since I hadn't planned for this recipe, I just used what I had in my pantry. As such, I ended up:
halving the recipe to fit in a 8×8 instead of a 9×13 pan
using tapioca powder instead of instant tapioca
using cinnamon instead of nutmeg for the filling
I think I ran out of lemon juice
using vanilla paste instead of vanilla bean
There were at least two more steps that I improvised. Still, it was pretty good.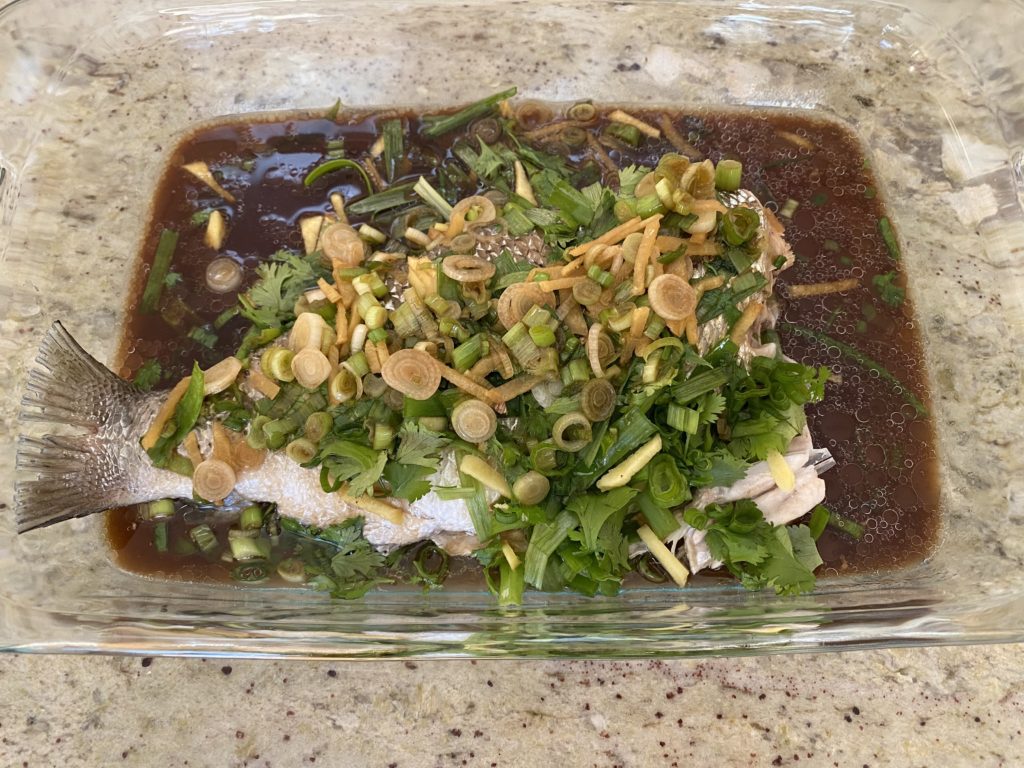 I also loved steamed fish as a child. My family would order it at restaurants, and later, my mom started making it at home, too. Steamed fish is all about perfectly cooking the fish and enjoying the fish itself.
I know the picture doesn't seem to show that focus on fish because it has a pile of garnishes. It only looks like that because I otherwise would have a bundle of green onions, cilantro, and ginger slowly going bad in my fridge.
We always did tilapia growing up, but Woks of Life said that bass is more traditional. I would have kept the head on, but it doesn't fit so well in my steamer setup.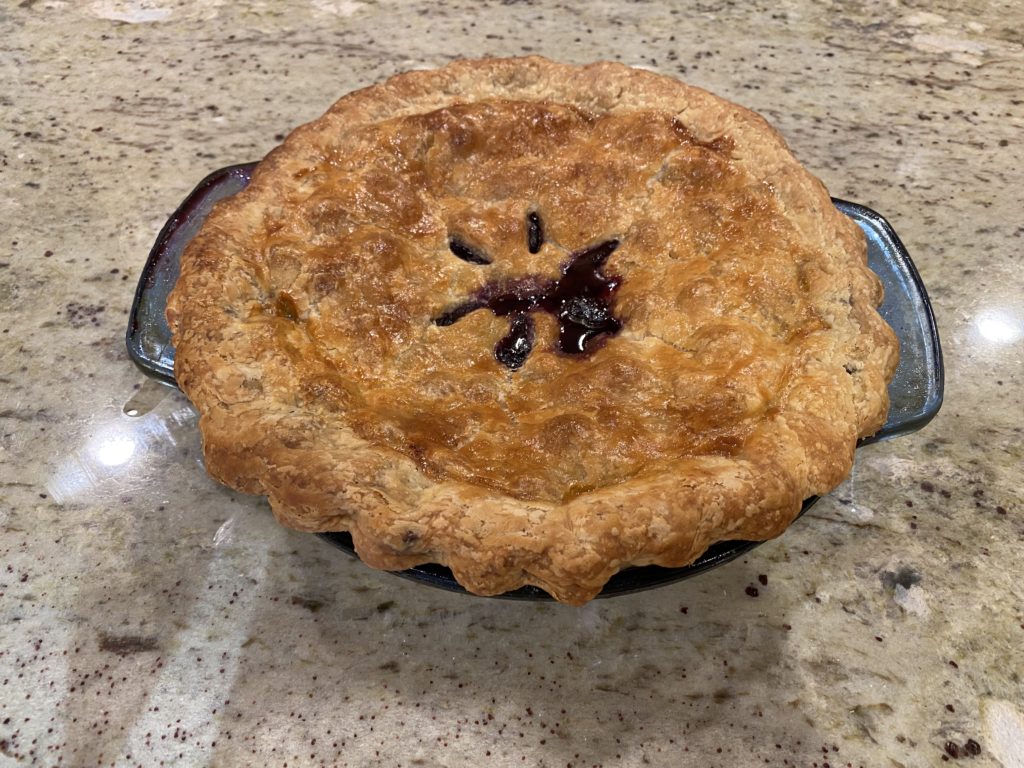 Like much of Bravetart's work, she both simplifies some things, like using weights and ratios, and has some surprises, like including coriander.
The result was delicious, but we also had problems with the filling not being fully set. Maybe we rushed the pie. Maybe it was because I used my cheap Chinese tapioca starch. I'm still not sure.
We ended up making it again a month later with Bob's Red Mill tapioca starch and waiting a full 18 hours for the filling to set. That time, the filling was perfect.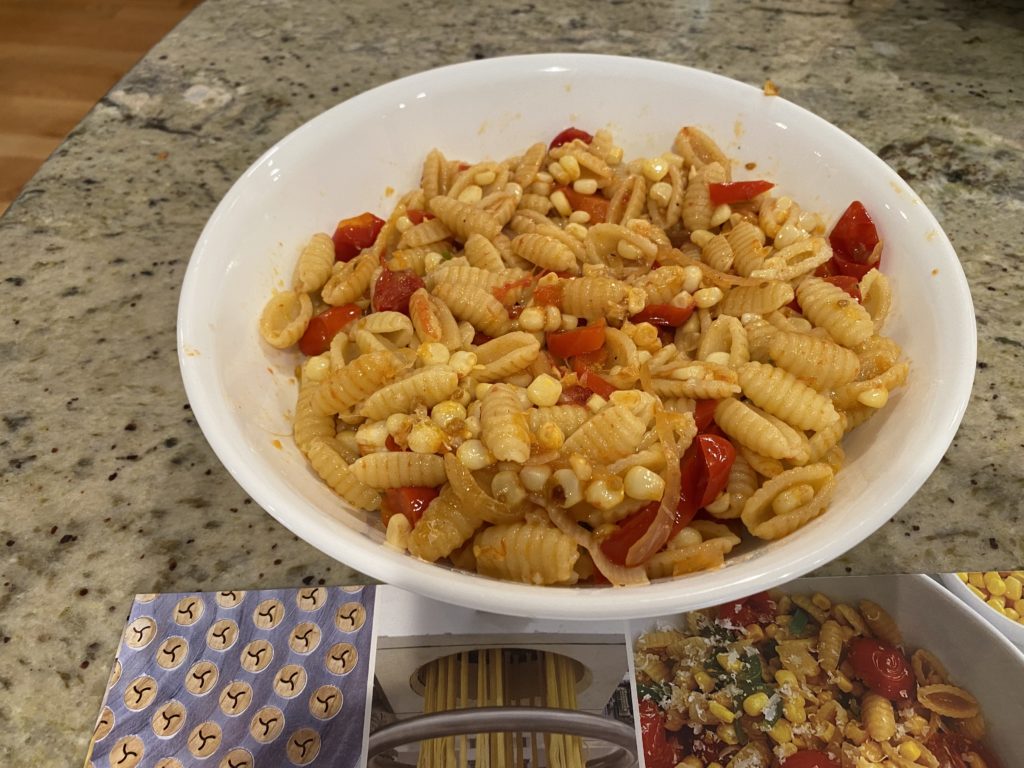 My in-laws got me a pasta of the month subscription from Sfoglini, so we tried many fun shapes and pastas. The pasta also came with recipes, and we tried to followed them just to get the full experience.
To be honest, we didn't love the recipes. The pasta was great, but we felt like we probably would have been happier picking our own recipes.
I honestly don't remember the results here very well, so I will not comment more.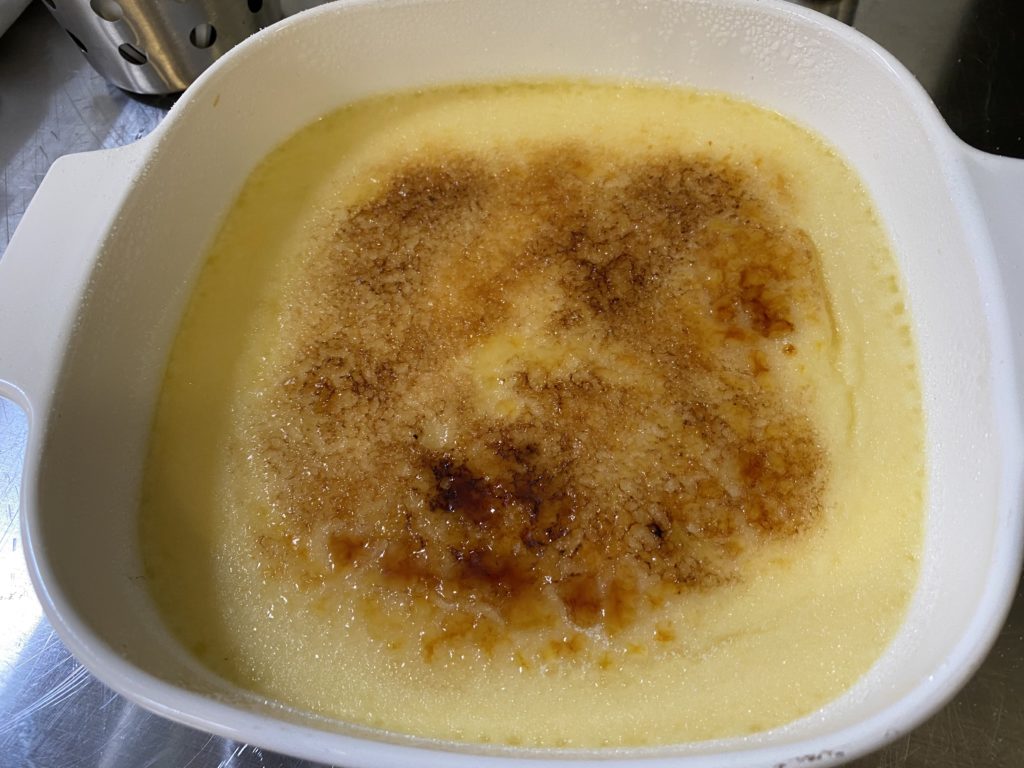 Creme Brûlée always seemed like a very fancy dessert to get at a restaurant. I knew it required using a torch, so I never bothered making it myself.
Well, it may be fancy, but it's not hard to make. It does require some patience to get it perfectly cooked and not to rush the process, but I didn't encounter any issues with that.
The first time I made it, I tried to use the broiler, and it didn't work. The sugar didn't caramelize on top, and the rest of the pudding got too warm and fell apart.
The second time, I bought a torch, and I got the nice color you see above. There's some technique to getting the sugar browned edge-to-edge, so I will continue to work on that.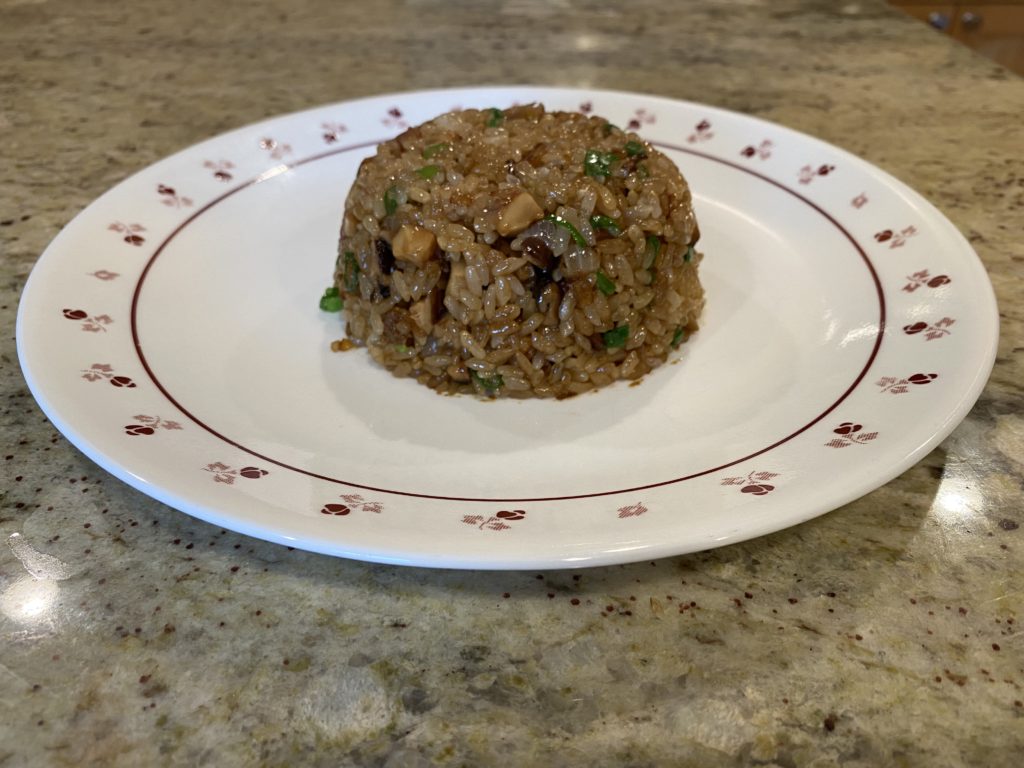 Also known as "lo mai fan", this dim sum standard is another dish out of my childhood. I felt like there was always a rivalry between this sticky rice dish and lo mai gai, the sticky rice wrapped in a leaf. Obviously the answer is to order both every time.
A lot of dim sum recipes are too laborious and finicky for little reward. This dish definitely isn't: it just requires a special type of rice. My mom made it a few years ago, and the magic disappeared, so I made it myself.
It looks really fancy in the perfect mound. However, it's just packed into a bowl and inverted. Presentation is everything.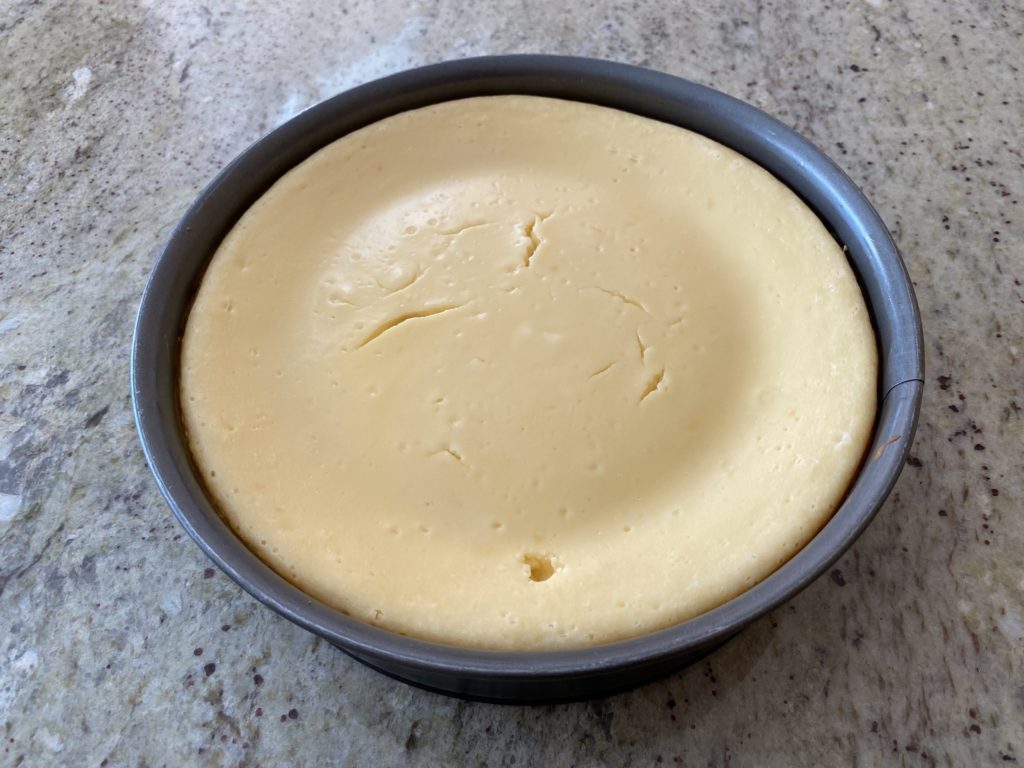 I have made a few cheesecakes in the past, generally with poor results. I generally wasn't patient or attentive enough.
This cheesecake turned out better. The cracks did spread more than this picture shows after it cooled, but the bake was pretty even. The lemon zest clumped in places, but the flavor was pretty good.
My first cheesecake ended up being slightly overbaked at the edges, so when I made another one a week later, I put it in for less time. That one ended up being underbaked in the middle.
We enjoyed eating both of them, especially with a strawberry sauce and raspberry sauce over the top. Still, I probably would find another recipe with a more even bake. Other recipes called for a water bath, so I might try that next time.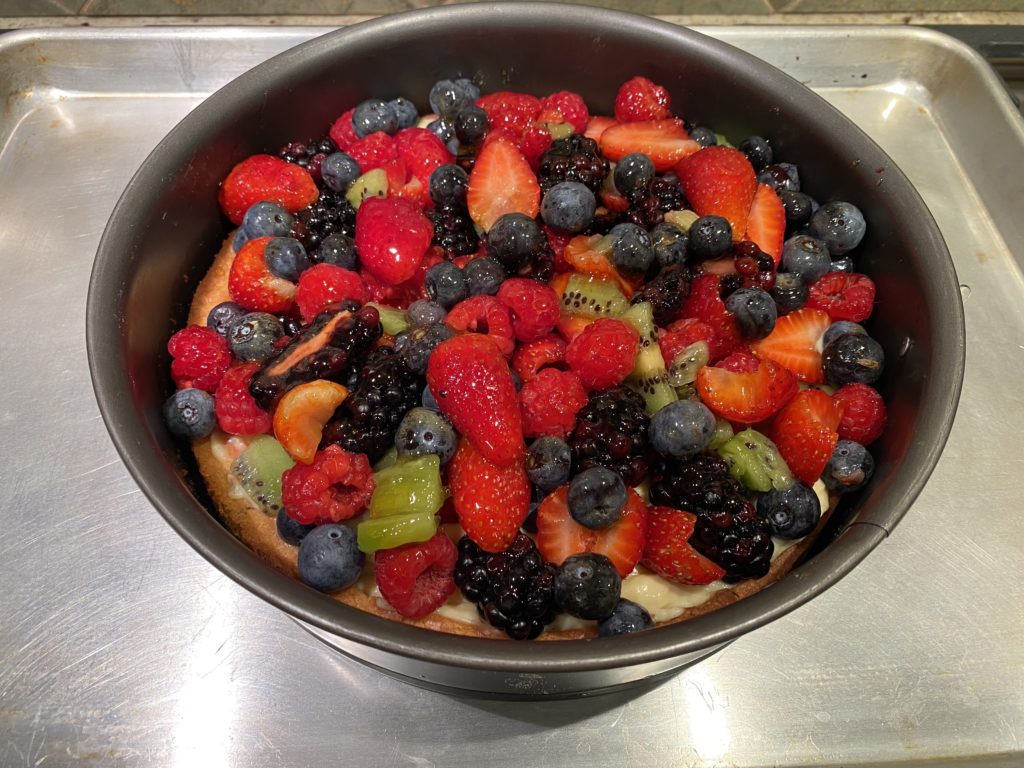 I first stumbled across Claire Saffitz in a Bon Appetit video making tater tots from scratch. I learned shortly after that she had something of a cult following, then promptly forgot about her until I was looking up fruit tart recipes.
I made it in a springform pan after a very unsuccessful afternoon trying to find a 9 inch tart pan. Still, I had no problems getting it out.
I think the recipe was great. My only regret was making it ahead of time. I made it the night before, and by the time I served it, the crust had gotten a little soggy, and the fruit had wilted.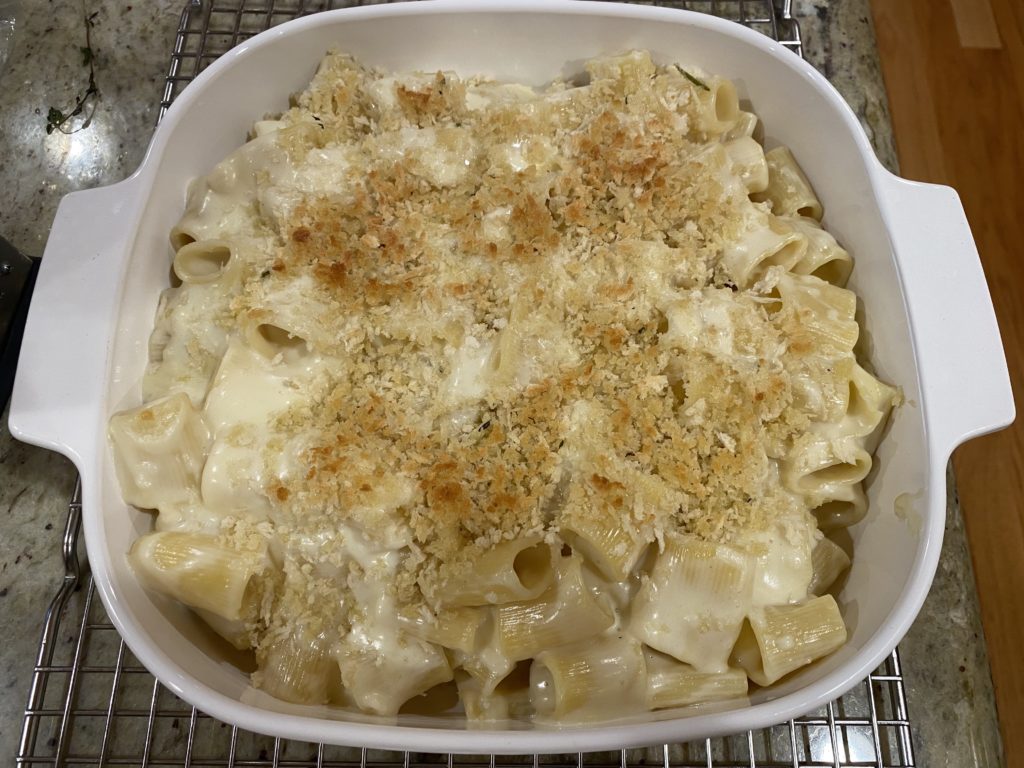 I hope I make up for my lack of precision in the kitchen with haste. Even then, I sometimes have days where the kitchen is crazy and I'm working on three things simultaneously to get food out as soon as possible.
This recipe was one of those days.
I had taken a longer than anticipated grocery trip and had a time crunch to serve dinner. It was only just before combining the cheese sauce and pasta that I took a breath and realized what I had made.
I had a bowl of pasta and a vat of sauce.
I looked at the pot, then back at the recipe, and confirmed that for one pound of pasta, I was indeed supposed to use four cups of milk and 1.5 pounds of cheese. I didn't make a mistake: the recipe just made a lot of sauce for a little pasta.
I made an executive decision to only use half of the sauce, which was absolutely correct. The resulting dish still had plenty of sauce, and I made another batch of pasta later on to give us four nights of mac and cheese.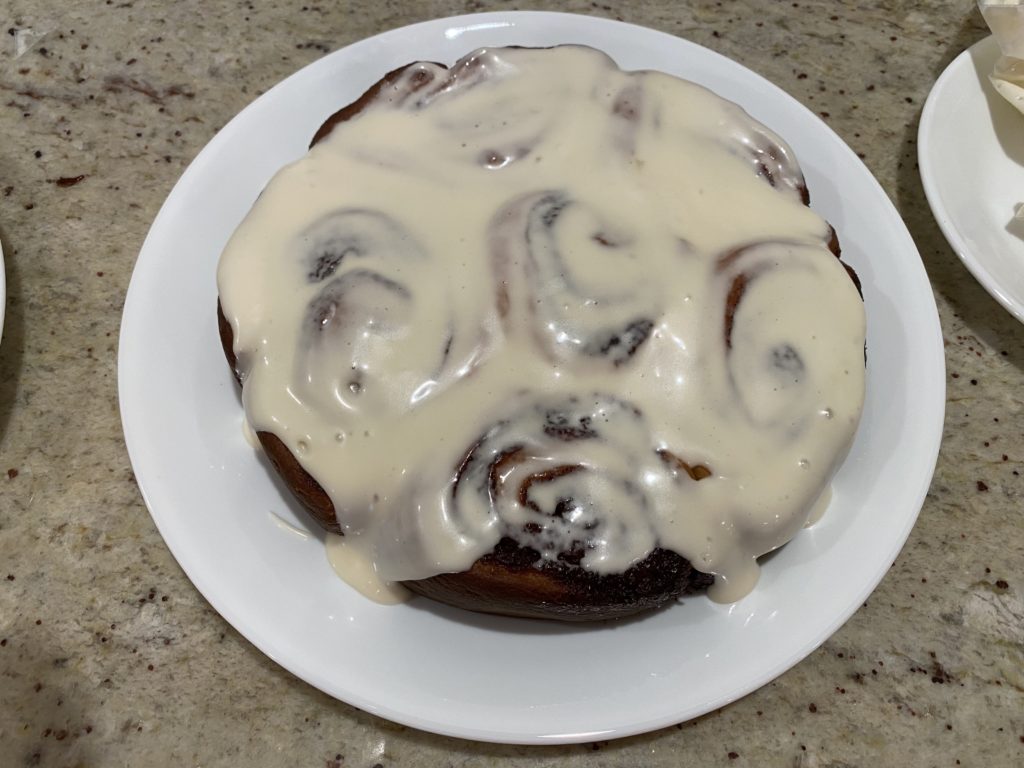 The worst part about cinnamon rolls is waking up early. As a yeasted bread, it presumably requires several hours of prep, rising, and baking before eating breakfast. Who has time for that?
Bravetart does it as a make-ahead recipe, so you can leisurely prepare and bake it fresh. It still takes an hour, but that's manageable. In this case, I woke up, walked to the kitchen, preheated the oven, took the cinnamon rolls out, then went back to lie in bed.
There is indeed a lot of icing on top. And that's not all of the icing: there's more to serve with in a bowl on the side. I do love icing.
Final Thoughts
As I look back at these pictures, I'm impressed with how much I remember about these dishes. I keep notes as a guide for repeat cooking in the future, but there's something very memorable about the process for me.
And again, these pictures are not reflective of my typical diet. In fact, many of the desserts were part of a work event that I will describe in an upcoming blog post. More dessert pictures to come!