Classic debate: cookies or brownies?
Well regardless of your answer, Dorie has you covered.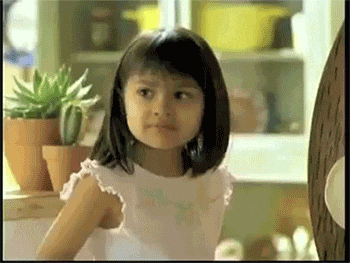 I considered doing this recipe last week, but since the semolina almond cookies were also dusted in powdered sugar, I decided to try something else in the meantime. On the other hand, this recipe had a notable similarity to the two-bite one-chip cookies in that it also didn't have leavening. I guess I was wrong about that.
Dorie mentions that the recipe is derived from her brownies. These brownie drops have more chocolate, less flour, and no nuts in them, but otherwise are indeed very similar.
Like brownies, the recipe starts out using a double boiler to melt the chocolate and butter together. I actually can't remember the last time I have done this because brownies from a mix are delicious, and it doesn't seem worth the effort to make them from scratch.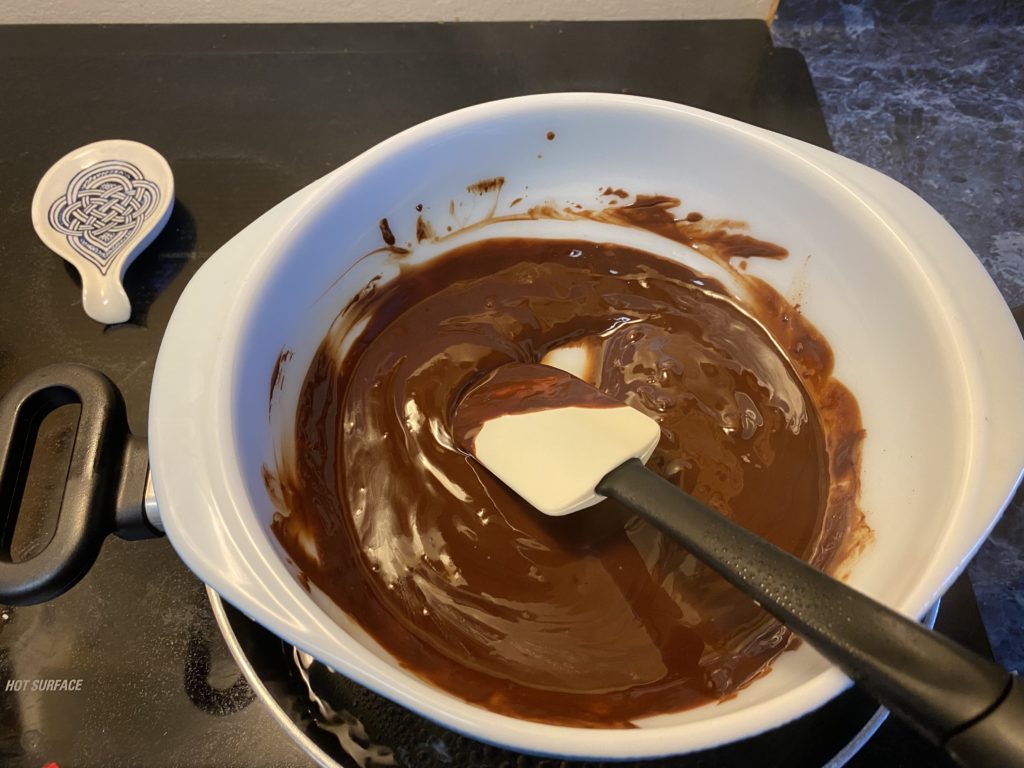 Whenever it was, I have since acquired a steamer insert for making steamed fish, so I used that inside a pot to get the bowl out of the water. If you don't have an insert, I learned a nifty trick from Bravetart to use a ring of aluminum foil as a rest instead.
I kept up the spirit of cleaning out my pantry by combining leftover bits of Baker's chocolate bars, Guittard baking wafers, and Kirkland chocolate chips as the chocolate. The chocolate chips are a notable step down since chips typically have a different composition for some important baking effect, but I don't recall the details.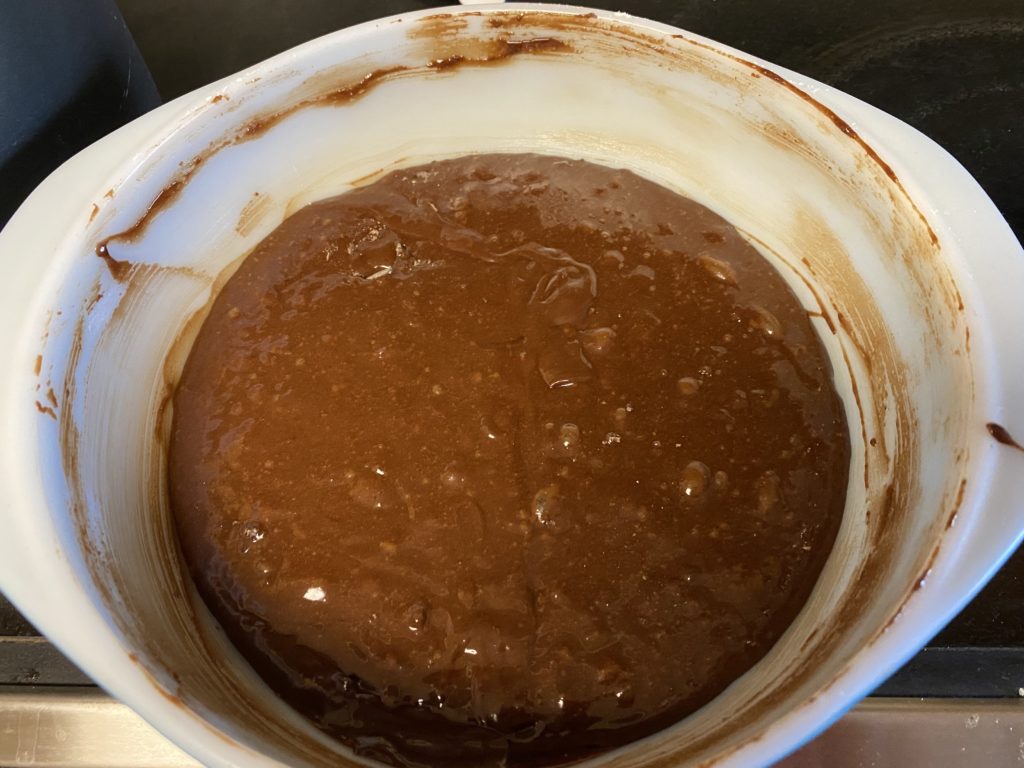 I have one more fun fact. "Baker's chocolate" isn't called "Baker's" as a descriptor of how to use the chocolate (for baking): the company was founded by a Walter Baker, and they named the product after him.
Dorie said the dough should be refrigerated for 3 hours, and by the time I pulled it out, it was the consistency of fudge. As I dragged my cookie scoop across it, it left thick trails like scooping ice cream and also formed nice solid dough balls. I wonder if it was supposed to be this easy to do the two-bite one-chip cookies, too.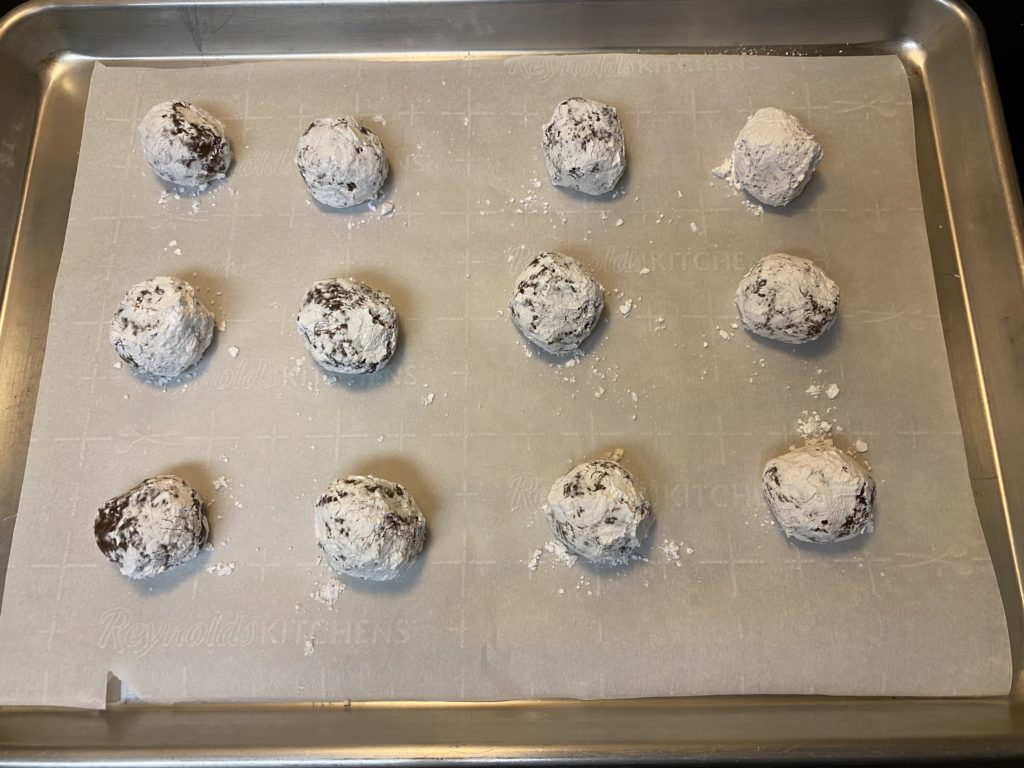 These looked roughly as I thought they should. After they baked, however, they turned out quite different from Dorie's pictures.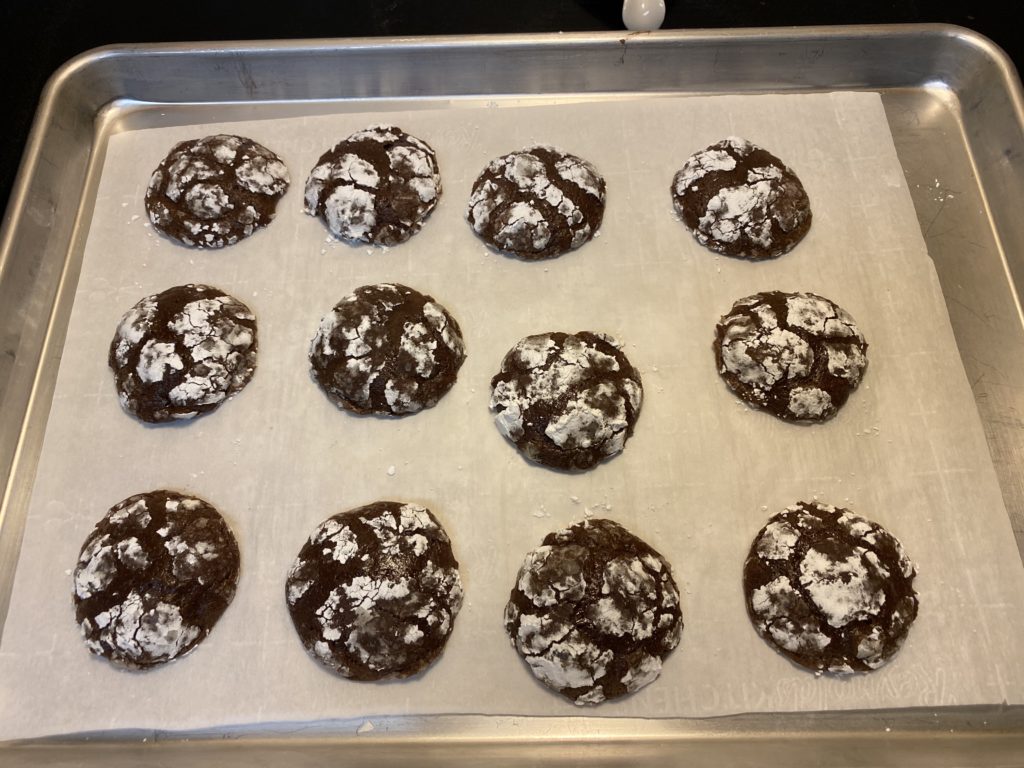 Her cookies were much more densely snowy. I'm not quite sure how that's possible since as the cookies spread, large segments would be exposed that weren't already dusted. If I hadn't made the second tray already, I would have tried to flatten the dough balls before dredging in (more) powdered sugar to the get the same effect.
But regardless, they were delicious. As someone who likes brownie edges, the extra crisp of being a cookie was only a positive. Of the two I tried on baking, one actually wasn't baked all of the way through, though some people like their brownies that way. The second came out baked as expected. Either way, Julie picked these cookies as an easy favorite among all recipes so far.
Finally, Dorie recommended making ice cream sandwiches with them. We tried it with the Tillamook Oregon Dark Cherry ice cream, and the flavor was good. My main gripe with ice cream sandwiches is the tendency for the ice cream to squeeze out when you bite in. The cookies were soft enough (at least on the first day) to sort of work, but I'll still pass on the concept. Or at least go open-faced, if you still consider that a sandwich. Maybe that's just cookies a la mode.
If you don't want to choose between cookies or brownies, you can find the recipe here.
(Also, here's a bonus picture of the pizza we had for dinner since we had the oven on. Recipe courtesy of Serious Eats)